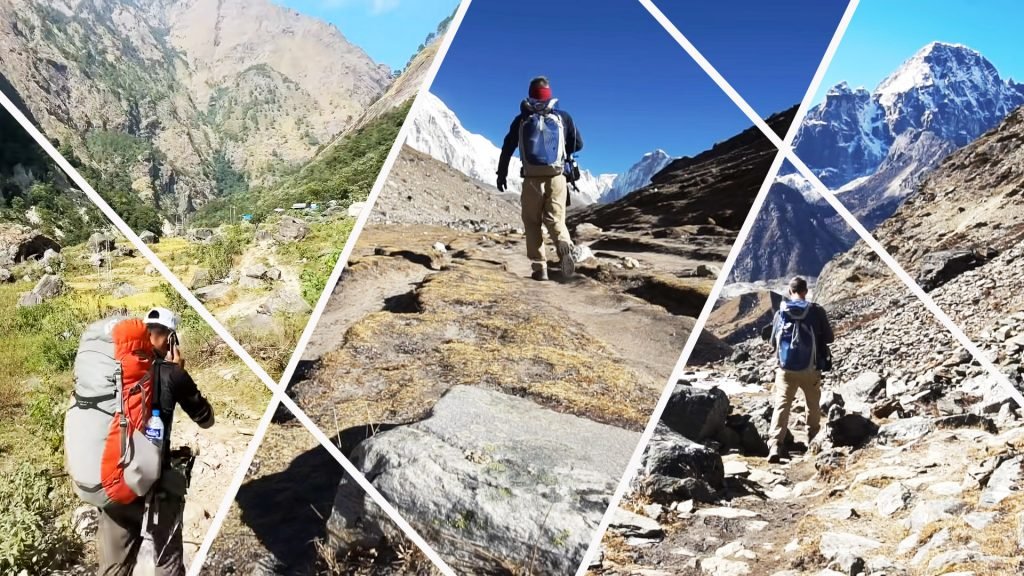 Ban on trekking in Nepal without a guide
Are you thinking of trekking in Nepal without a guide? If yes, then it is better not to plan trekking in Nepal without a guide from now on. the Nepal Tourism Board (NTB) has implemented a rule from April 1, 2023, that foreigners must take a guide while trekking in Nepal. Yes, earlier you could do solo trekking in Nepal but now the era of solo trekking has come to an end. Yes, Ban on trekking in Nepal without a guide.
The ban on trekking in Nepal without a guide has been debated since 2012, but it has finally been implemented. So now you cannot do any trek without a licensed guide including popular treks like the EBC trek, Annapurna circuit, and Langtang Valley trek.
Many of Nepal's most popular trekking trails are in remote areas. Human settlements are sparse in these remote areas and cellular connectivity is unreliable. Natural disasters like sudden weather changes and landslides are more likely in remote mountainous areas. Such natural disasters pose a great risk to solo trekkers who are unfamiliar with the conditions of the area.
Trekking is unsafe without a guide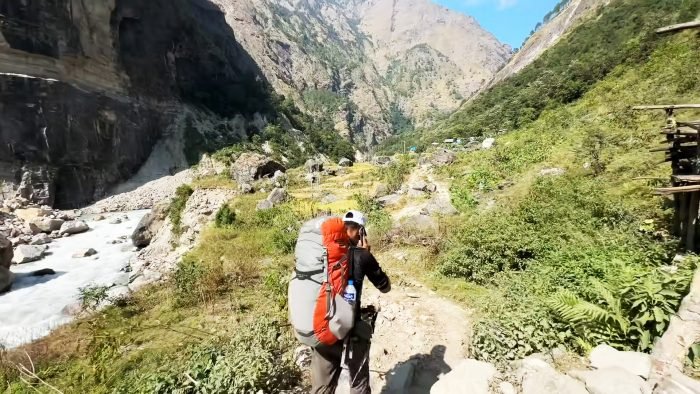 Every year around 10 to 15 trekkers go missing while trekking in Nepal without a guide. Most of the missing are FIT (Free Independent Trekkers) which was a serious matter. Tourists can get lost or unsafe when trekking in Nepal without a guide. To minimize this problem, the Nepal Tourism Board has decided to have a mandatory guide while trekking in Nepal.
According to the Nepal Tourism Board, making guides mandatory for trekking also creates more employment opportunities in the country. In the financial year 2019-20, out of 171,000 trekkers in Nepal, about 46,000 were solo trekkers. If there was a compulsion to have a guide for trekking, more Nepali guides would get employment.
With this rule in place, all solo or group travelers must book a licensed guide for any type of trekking activity. The Nepal Tourism Board believes that this rule has also helped in environmental protection and the promotion of sustainable tourism.
But this rule does not seem to apply in practice in the Everest region. A TIMS card is required for the Everest region but the local municipality rejected it in 2018. The local municipality introduced Khumbu Pasang Lhamu Rural Municipality Entrance Permit by replacing TIMS in 2018.
That entry fee money goes to maintaining the trails and infrastructure of the Everest region. So, it is not clear whether solo treks and treks without a guide will be banned in the future for the Everest region.
TIMS card is available at Nepal Tourism Board Kathmandu and Pokhara. You can also get this card from the Trekking Agencies Association of Nepal (TAAN). The TIMS card fee is Rs 1000 per person for SAARC nationals and Rs 2000 for the rest of the world.
Visit Also: How to choose the best trekking company in Nepal
How to hire a trekking guide in Nepal?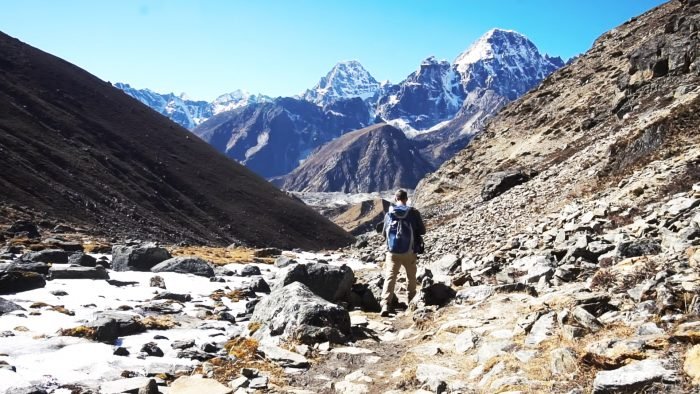 Now you may have a question in your mind how to hire a trekking guide in Nepal? There is a clear rule that solo and FIT must hire a guide from a government-authorized trekking agency. You are free to choose any trekking company of your choice. But while choosing a trekking company, it is important to ensure that they have a license to operate trekking in Nepal.
There was some risk while trekking in Nepal without a guide and now this rule has reduced the risk. Apart from reducing risk, trekking with a company and a guide has many other benefits. So, it is always a good idea to go through a trekking company and an experienced guide while trekking in Nepal.
Trekking without a guide in Nepal can be a wonderful experience for those seeking solitude, self-discovery, and personal growth. But a trekking guide is a good option to explore the beauty of Nepal in a safe and reliable way. So, we also recommend trekking through a reliable trekking company and an experienced guide. Here are some reasons why we recommend trekking with a professional guide:
You May Like: Everest Base Camp Trek in 14 Days, Full Itineary, Package, Difficulty
1. Safety:
Trekking in Nepal without a guide is even riskier especially if you are unfamiliar with the terrain and weather conditions. A reliable trekking company has experienced and knowledgeable guides. An experienced guide can help navigate the trail safely and avoid potential hazards. High-altitude trekking can cause altitude sickness. Guides can recognize altitude sickness and know how to prevent it.
The company has emergency protocols including communication systems and evacuation plans. Guides are also trained in first aid and emergency response. So, they can provide assistance in case of any health problem or accident. Trekking requires quality equipment, including sturdy boots, warm clothing, and proper other equipment. The trekking company provides such equipment and the guide ensures that it is suitable for the trek and weather conditions.
The weather in Nepal can be unpredictable. A good trekking company and an experienced guide can monitor the weather conditions and adjust the trek. The guide has knowledge of the local area and helps keep you safe on the trails.
2. Local Knowledge
Trekking in Nepal offers views of the Himalayas, diverse landscapes, and cultural experiences. The guide has extensive knowledge of the terrain, local culture, and lifestyle of the respective trekking area. They provide information about the history and culture of the region. Such useful information makes your trek more interesting and informative.
3. Local Language Skills
Many local people in Nepal do not speak English which may cause you problems. A guide can help you communicate with the local people by speaking the local language. Effective communication will make your trek more enjoyable and meaningful.
4. Food and Accommodation
You may not have good information about food and accommodation on trekking trails. Guides can help you find the best accommodation and food options on the trek. They can also advise on the best places to stop for rest and refreshments along the way.
5. Emergency response
You may face emergency or medical problems while trekking. Guides help in providing first aid and getting to the nearest hospital. If you need any kind of transportation, they will also arrange it. They can also help you get back home with your family and friends.
Let's Join Odyssey Treks
Odyssey Treks is the best trekking agency in Nepal providing trekking, tours, and other tourism-related services. The main aim of the company is to provide the best trekking and tour services to visitors. Let's celebrate your holiday in the Himalayan country of Nepal with a safe and reliable company. We ensure that your trip will be one of life's unforgettable memories with Odyssey Treks. For more information feel free to contact [email protected]
Visit Also: top 6 Places in Nepal for Bird-watching