Trip Overview
Introduction to All Nepal Tour
All Nepal Tour can also be called a real Nepal tour that covers famous and popular places in Nepal. In the land of splendid nature and rich culture, you get the opportunity to explore its various aspects. For those who want to experience Nepal's culture, traditions, rituals, religion, and way of life, this All Nepal Tour is the perfect travel package.
This All Nepal Tour takes you to various UNESCO World Heritage Sites inside the Kathmandu Valley and Bandipur, Pokhara, Lumbini, and Chitwan outside the Valley. All the places included in this package have historical, cultural, and religious significance. This tour is an easy and exciting travel package for Nepal that is suitable for travelers of all ages.
The journey of the All Nepal Tour begins with a visit to the Swayambhunath Stupa inside the Kathmandu Valley. The stupa at the small hilltop in the middle of Kathmandu is an important place for Buddhists. As it is the home of monkeys, it is also known as the 'Monkey Temple'.
Another UNESCO World Heritage Site is the Bouddhanath Stupa which is 36 meters high and is the largest Stupa in the world. Pashupatinath is another attraction inside Kathmandu which is the largest Hindu temple in Nepal and an important religious site for Shiva devotees.
You like to visit: Annapurna Base Camp Trek – 14 Days
Kathmandu Durbar Square, Patan Durbar Square, and Bhaktapur Durbar Square are palaces built during the reign of the Malla kings. All these Durbar Squares are the most charming architectural showpieces of medieval art in the valley. After visiting the valley, you head towards Bandipur.
Visit places outside Kathmandu Valley
All Nepal Tour Package also includes Bandipur, a popular tourist destination, is located between the capital Kathmandu and Pokhara. This is a small, authentic village famous for its pure and natural surroundings. This natural beauty village is a settlement of the Newar community which offers a panoramic view of Annapurna, Dhaulagiri, Manaslu, and Langtang Himalayas.
Another destination is the beautiful tourist city of Pokhara where you can visit various places like World Peace Pagoda, David Falls, Phewa Lake, Rupa Lake, Begnas Lake, Mahendra Cave, Bindabasini Temple, etc. Besides, Sarangkot, a famous place for sunrise, offers you a spectacular view of the sunrise.
The ancient hill town of Tansen is another destination between Pokhara and Lumbini. In Tansen, you walk to the old bazaar and explore the Srinagar hills. Visit Rani Mahal, a vibrant palace on the banks of the Kali Gandaki River in its tranquil surroundings. Then you continue your journey to Lumbini, the birthplace of the Buddha.
Gautam Buddha is a symbol of peace and Lumbini is the birthplace of the Buddha. So this place is an important pilgrimage site for every Buddhist as well as an attractive destination for every tourist. The main attractions here are the garden, Mayadevi temple, Ashoka pillar, sacred pond, monasteries built by different countries, etc.
After visiting Lumbini, you will reach Chitwan National Park, which is world-famous for its one-horned rhino. The park offers you the opportunity to go on a jeep safari and get close to many animals such as one-horned rhino, Royal Bengal Tiger, wild boar, jungle cat, sloth bear, langur monkey, deer, etc.
You can also visit: Annapurna Tilicho Lake Trek – 15 Days
Trip Highlights
15 Days All Nepal Tour, Kathmandu, Chitwan, Pokhara, Itinerary, Cost.
Why not list the price?
Each client's needs may be different. The price of the trip varies according to the size of your group and the service you want. The cost of the trip is calculated according to the type of service and accommodation chosen by our customers.
Each trip is customized to fit the client's needs and group size, so the price of each organized trip is different. Please let us know the service you want and the size of the group. We create trips to suit your taste and travel budget per your requirements. Hope you find our price calculation reasonable according to your needs and preferences.
Google Review
Guest Review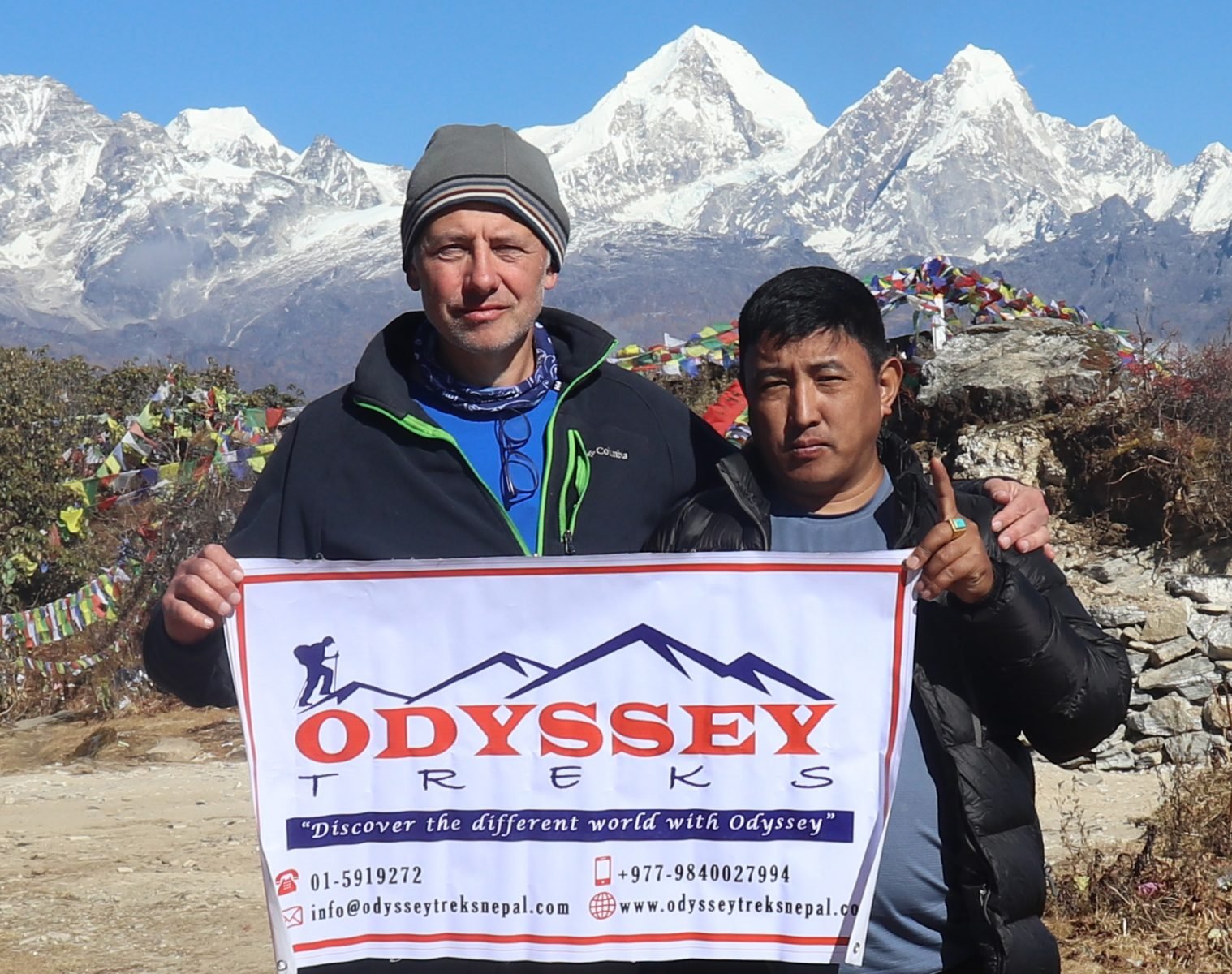 Dom Miller
2022-12-10
Nepal
*****(5 star)
Have just returned from my fourth trip to Nepal and as always Odyssey Treks organized everything superbly. We visited Makalu relatively late in the season and were rewarded with empty trails and amazing weather. Karma was as entertaining, friendly, and informative as ever along with Ang Dawa Sherpa who together made the three weeks perfect.
They also organized a few days to Helambu at short notice as I had some time spare, all done easily and professionally. Thanks for the company both and I will be back again. I cannot recommend Odyssey highly enough as a genuinely friendly, locally based company that provides not only unforgettable experiences but also great service at a very reasonable cost.
Thanks.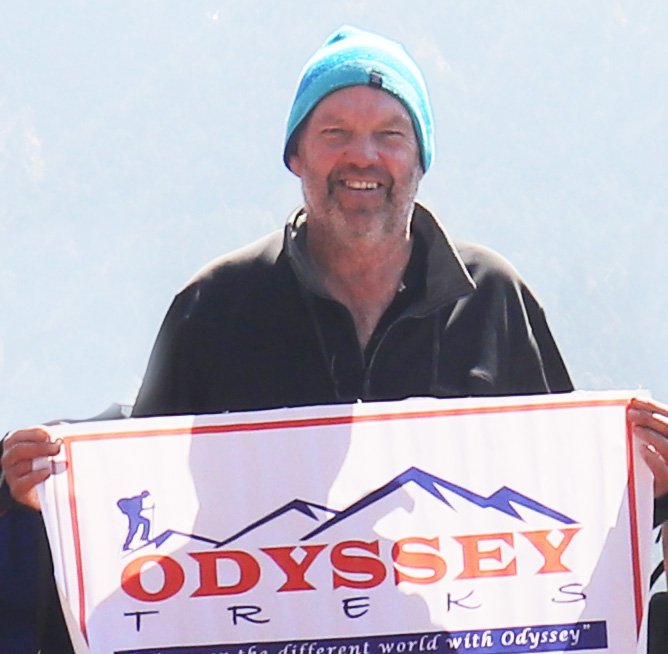 Alex Matthew
Tsum Valley Trek
I have just returned from the trip of a lifetime. Always wanted to visit and see the Himalayas and to have completed the trip with the most excellent hosts really made the trip come alive. Odyssey took care of everything and ensured that we experienced real Nepalese hospitality. We climbed up to 3700 meters, saw Ganesh Himal, experienced true excitement on the trek, ate superbly produced fresh food along the route..and above all met some amazing people. Thanks to Karma, Rinji, and our fantastic porters…without you guys it wouldn't have happened!! All the best. Alex
---
Trip Highlights

Trip Durations 15 Days
Trip Destination Nepal
Group Size 1-20
Accomodation Star hotel
Trip Style Nepal Tour
Trip Grade Easy
Best Season Sept–Dec, March–May
Max Altitude 2,195m
Trip Start Kathmandu
Trip End Kathmandu