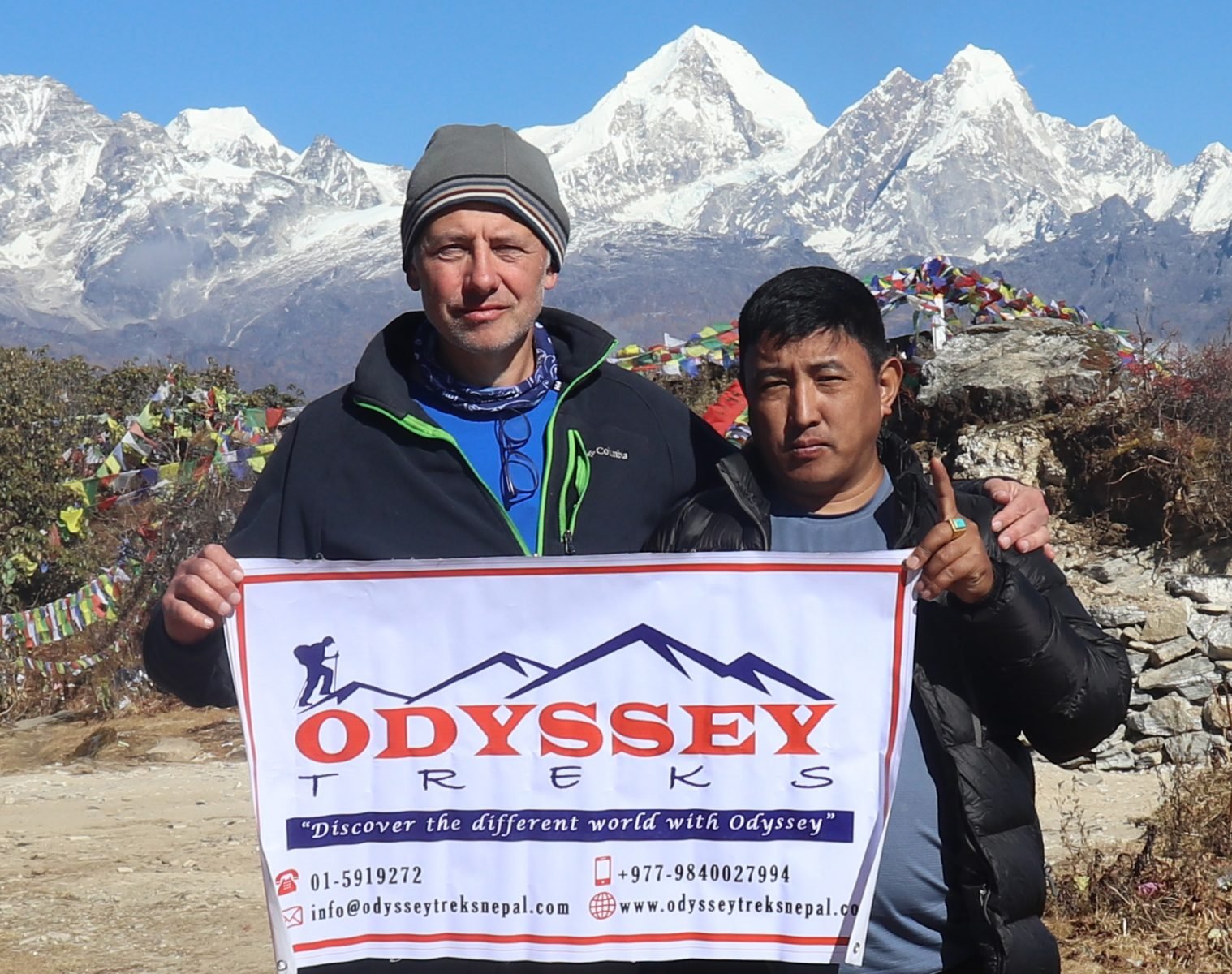 Dom Miller
UK
December 13, 2022
Have just returned from my fourth trip to Nepal and as always Odyssey Treks organized everything superbly. We visited Makalu relatively late in the season and were rewarded with empty trails and amazing weather. Karma was as entertaining, friendly, and informative as ever along with Ang Dawa Sherpa who together made the three weeks perfect.
They also organized a few days to Helambu at short notice as I had some time spare, all done easily and professionally. Thanks for the company both and I will be back again. I cannot recommend Odyssey highly enough as a genuinely friendly, locally based company that provides not only unforgettable experiences but also great service at a very reasonable cost.
Thanks.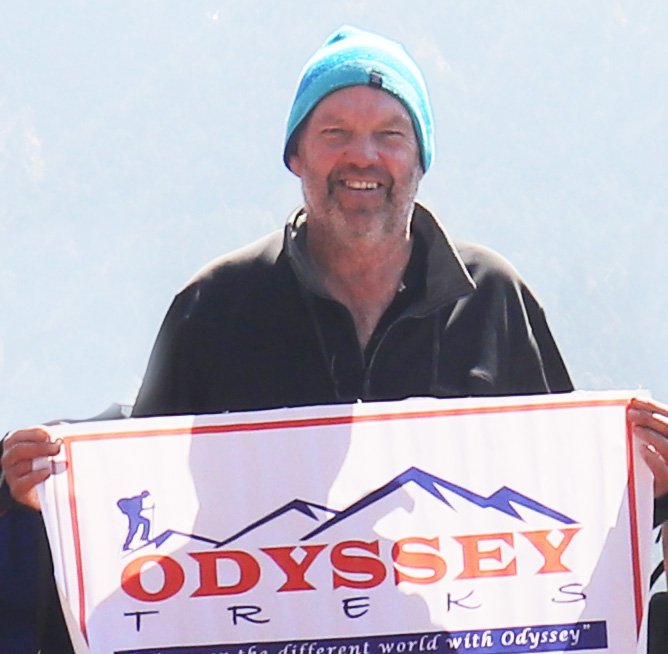 Alex Matthew
UK
April 14, 2022
I have just returned from the trip of a lifetime. Always wanted to visit and see the Himalayas and to have completed the trip with the most excellent hosts really made the trip come alive. Odyssey took care of everything and ensured that we experienced real Nepalese hospitality. We climbed up to 3700 meters, saw Ganesh Himal, experienced true excitement on the trek, ate superbly produced fresh food along the route..and above all met some amazing people. Thanks to Karma, Rinji, and our fantastic porters…without you guys it wouldn't have happened!! All the best. Alex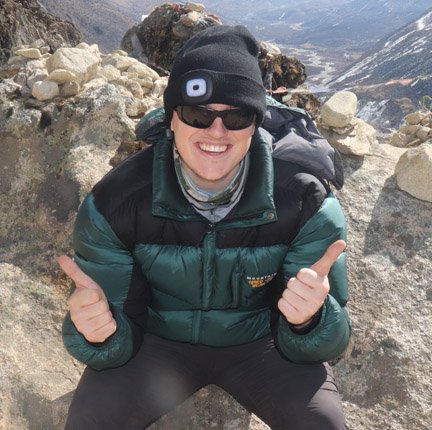 Henry Charles Tilney
UK
April 5, 2022
When I return to Nepal, I will not be choosing any other trek provider than Odyssey Treks. Their professionalism and attention to detail were impeccable. Our guide, Karma, was funny, trusting, and above all, safe. They have certainly left a lasting impression and that is evident in the relationships we witnessed they had made while on our trip. Our enjoyment is dedicated to them and their work must be celebrated. Thank you, Odyssey Treks!
Oliver Glenn Tilney
UK
April 5, 2022
What a fantastic time I had in Nepal and all thanks to odyssey! Karma 'our guide' was very knowledgeable, reliable, and funny! Can't recommend odyssey enough!
Michel and Rita
Belgium
November 22, 2021
We are a couple who have been several times (7) in Nepal for trekking with professional guidance from Karma. Mostly individual, with Karma as a guide and 1 porter, and one time with a group (12/trekking to Gokyo – 24/cultural trek in Kathmandu area) in 2017. We went to Langtang, around Manaslu, Poon Hill, Gokyo Ri, EBC (3 times in the Everest area), and ABC.
Our last trek was to ABC in 2019, Covid-19 stopped us from traveling to Nepal so far.
He knows these regions very well and with his knowledge and friendship, he gave us a perfect view of the Himalayas. They are also very keen on organizing a cultural trip in and around the Kathmandu area, which is recommendable. Due to his responsible attitude and behavior, you feel safe and comfortable under his guidance. As a result of this experience, they started together with Rojesh their own small company. This makes it for the future a very lean and economical organization with high quality.
We can only recommend these people for your future trekking and cultural trips to Nepal !!!
Andrew McGrath
Australia
November 16, 2021
I have been on two treks with Karma and his team, and both were fantastic. Everything was organized beautifully, staying in the best and warmest lodges, and eating the best sherpa stew. The guides are very good and know every step of the treks. Highly recommended.
Roger Gambotto
Australia
November 9, 2021
We have traveled to Nepal twice in the last 5 years and Odyssey Treks is our only go-to for guidance and support throughout our visits. The team is so welcoming and supportive through the booking process,  from the moment you step off the plane and to the moment you fly out of the country. Karma and his team are super friendly and extremely knowledgeable. Not to mention overwhelmingly caring, especially when dining to ensure that we get the best quality food for the area we are trekking through. We will be returning to Nepal as often as possible and will only contact Odyssey Treks as we have an immense amount of trust in the company and the team. Thank you guys for making our journeys to Nepal stress-free and easy!!
Shannon Baker
USA
April 1, 2021
I trekked in Nepal through Odyssey Treks in 2019 which was unforgettable for me. Our team was greatly assisted by the guide and porter of Odyssey Treks. From arrival to departure at Kathmandu Airport, the members of the company took all the responsibilities well and welcomed in the traditional way.
The guide of this company is very experienced, skilled, knowledgeable, and has the ability to handle even in difficult situations. I am fully satisfied with the service provided by this company and do not hesitate to recommend this company to my family and other friends. In the near future, I am planning another trip with this company with my close friends. Thank you so much to all the members of Odyssey Treks for making my trip unforgettable.
Elena Garcia
UK
February 19, 2021
Last year, I had the opportunity to spend my vacation in Nepal with 5 other friends. On the recommendation of my relative, I chose Odyssey Treks for trekking. I got more help and support from this company than my relative said. The journey was more enjoyable and unforgettable than I thought. The transportation, hotels, guide, and porters provided to us were all excellent. Satisfied with the good service provided by the company, I can confidently recommend this company to everyone. I am also planning to do Annapurna trekking in the near future. Thank you, Odyssey, for making my journey enjoyable and complete.