How to choose the best trekking company in Nepal
If you are coming to Nepal for trekking for the first time, you need to pay attention to many aspects. Choose the best trekking company in Nepal for a successful and safe trek. Choosing the best trekking company in Nepal can be a difficult task for you.
If you are not able to choose a reliable and good trekking company, then you may face a lot of problems. So, we always recommend you choose the best trekking company while trekking in Nepal. Due to the following reasons, it is necessary to choose a good trekking company in Nepal.
Hassle-Free:
For trekking in Nepal, you have to arrange many things like permits, hotels, transport, and guides. If you choose a good trekking company, all these things will be arranged by the company. Depending on the trekking area in Nepal, you need different permits.
For example, if you want to visit Everest Base Camp, you need to get permission from the local government. If you want to visit Annapurna Base Camp, you need to get Annapurna Conservation Area Project Permit (ACAP). Along with ACAP, Trekkers' Information Management Systems (TIMS) are also required. You need a special permit if you want to trek in a restricted area like Upper Mustang. A good trekking company will support you in obtaining such permits.
The company arranges food and accommodation during the trekking. So, you don't have to worry about not getting a room or booking in advance. Getting a package through a good company is easy and less expensive. The company also arranges road transport and air transport for the entire trip. As the trekking company arranges these things well, you are hassle-free.
Safety:
Some trekking routes are remote and difficult and can be dangerous if proper safety measures are not taken. A reputable trekking company has experienced guides and porters. They can assist with first aid, navigation, and emergency response. They have quality equipment and follow strict safety protocols to ensure your safety. It is the responsibility of the company to protect you and your belongings during trekking.
Experienced guide:
A good trekking company has trained, experienced, and hospitable guides. Experienced guides can explain the history of the trekking area. They also have a good knowledge of the culture, tradition, and religion of the local people. They can provide insight into the history and significance of the landmarks and monuments you encounter along the trail. An experienced guide will make your trip more familiar and you will have a much richer experience.
Assist in communication:
Nepal is home to many ethnic groups and different ethnic groups speak different languages. Communication can be a challenge in remote areas of Nepal. In remote areas, many locals do not speak or understand English. An experienced guide will talk to the locals and help you order food and make other arrangements.
Visit Also: Mera and Island Peak Climbing-19 Days, Package, Itinerary, Cost
How to choose the best trekking company in Nepal
After deciding to trek in Nepal, the second step is to choose a good trekking company that meets your needs. There are thousands of agencies in Nepal and choosing the best trekking company among them can be a hectic task. So, we guide you through some best tricks and techniques to decide on the right trekking company. These tricks and techniques will help you decide whether the company is genuine.
Registration and license
There are also many unregistered trekking companies in Nepal. They can cheat you using their fancy websites without registering the trekking company. Trips with unlicensed companies may not be safe. Trekking at high altitudes is sometimes dangerous if you use an unlicensed company. So, if you are trekking with those companies then always check their license.
You need various permits for trekking in Nepal. The government issues permit only in the name of registered trekking companies. So, check the legal documents on the company website to see if the company is registered. A reliable company should be registered with these bodies of the Nepal government. It is also important to cross-check the validity and authenticity of the legal documents found on the website.
Samples of legal documents:
Social Medias
It is important to check the company's social media presence before choosing a trekking company in Nepal. Checking their social media presence is a good way to ensure their credibility. The number of followers on social media accounts is low but this will give a general idea if the company is running well or not. You can also evaluate the company according to the activities posted on various social media. The company website has links to these social profiles from where you can check.
An active social media presence shows that they are legitimate. These social media allow you to read reviews and comments from previous customers. Such reviews and comments provide potential customers with an insight into the quality of the company's services. Social media like Facebook, Instagram, Twitter, and LinkedIn are popular in Nepal. So, it is a bad idea to check the trekking company on other social profiles like VK, Xing, etc. in Nepal.
Client reviews and testimonials
Online reviews and testimonials give you a general idea of what kind of service the trekking company has provided to past customers. Popular review websites for trekking companies in Nepal are TripAdvisor and Google. It's also a good idea to read client testimonials on the company's website.
Reviews from previous customers are a valuable resource for analyzing the legitimacy and quality of a company. Reviews on TripAdvisor provide information about the quality of a company's service. One thing to note is that there may be a large number of reviews but few quality reviews. So, it is important to look at the quality of reviews rather than the number of them.
Visit Also: Makalu base camp trekking – 16 days, Package, Difficulty, Itineary
Company's team profile
When choosing the best trekking company in Nepal, it is also important to check about the company's team. To make the company successful, team members must be experienced
By checking the company's team, you can get an idea of the experience and expertise of the people leading the company. A company led by experienced and expert personnel can provide you with a safe and enjoyable trekking experience.
So, check the profile of the company's team and know how experienced they are. You can get information about their experience from the company team profile on the website.
Experience years of the company
When choosing a trekking company in Nepal, it is also important to know how many years the company has been operating. A company that has been in operation for a long time is more likely to have extensive knowledge and expertise in operations. A company with many years of experience may have more safety protocols that help reduce the risk of accidents and ensure safety.
These companies have built a reputation over the years for providing high-quality service. This can give you confidence that you are choosing a reliable and reputable company. Trekking can be physically demanding, and a company with long experience can provide the necessary help during the trek. So, choose a company that has been operating for many years to ensure a safe, enjoyable, and memorable trekking experience.
Expert and certified sherpa guides
Nepal is a Himalayan country where most of the trekking trails are at high altitudes. So, it is a good idea to choose a guide familiar with the Himalayan region for trekking. Sherpas are world-famous for their mountaineering skills and expertise. Sherpas are the local inhabitants of the high Himalayan region. They are naturally adapted to high-altitude environments due to which they can work well at high altitudes.
They also have good knowledge of the customs, language, culture, and traditions of the Himalayan region. So, when choosing a trekking company in Nepal, take information about whether the company has experienced guides. Also, check whether the trekking guide with the company is a license holder or not. An expert and certified Sherpa guide can make your trekking safe and enjoyable in Nepal.
Sample of Trekking Guide License: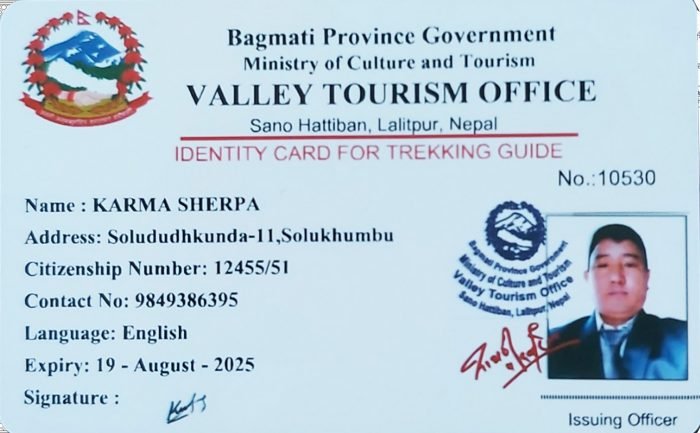 Landline number and address
Checking the landline number and address can help ensure that the trekking company is reputable and reliable. Some trekking companies operate online without a physical presence which is not reliable. A company's landline number and address can confirm that the company is operating. So, a good trekking company should have a proper office address and a working landline number.
Go to the website of company and look at the contact page where the address and phone number are listed. You can use an online phone directory to verify the landline number and address. You can also use Google Maps to confirm the location of the company's address.
You May Like: Top 10 Major Attractions of Everest Base Camp Trek
short conversation by email, social media, or call
Email, social media, and phone calls are good mediums to get information about the company. So, write a short email or have a phone conversation with them to make sure everything is fine. Get all the information about the service you need by mail. This helps you check their customer service.
Also ask about the company's address, service, experience, etc. even by calling. This ensures that the company is physically present. Reputable companies are often active on social media. So, it is also a good idea to inquire with the company using social media like Facebook and Instagram. Thus, a short conversation through email, social media, or call helps in deciding which trekking company to choose.
payment method and cancelation policy
Get information about the payment method of the trekking company. A company that demands payment to a personal account is not trustworthy. So, choose a trekking company that has a bank account in the company's name. Bank transactions are always safer and more reliable than cash transactions.
Sometimes you may have to change or cancel your plans for some reason. So, check the cancellation policy of the company. A trip once confirmed is almost impossible to cancel without penalty. You have to pay a certain percentage amount as a penalty for canceling the trip.
Note that the penalty for canceling a trek during peak trekking season may be high. Some fraudulent companies may even charge a 100% penalty for the cancellation. So, choose the company only after you are sure about the payment method and cancellation policy.
Visit Also: Panchase Trek, Short and Easy Trek in Annapurna Region, Package, Itineary
Safety Standards of The Company
Many trekking trails in Nepal are at high altitudes and can be dangerous if you are not careful. Although trekking in Nepal is safe, there can be risks without proper precautions and proper equipment. So, safety should be the priority when choosing a company. It is necessary to analyze the security standards provided by the agency.
Good trekking companies follow the following safety standards for trekking:
Provides oximeters, oxygen tanks, and first aid kits.
Guides appointed by the company are trained in first aid.
Provides satellite phones to contact family members if needed during the trek.
When preparing an itinerary, include acclimatization days prioritizing altitude sickness.
Provides essential trekking gear that ensures a safe and comfortable trekking experience.
Provides helicopter services during medical emergencies.
Blog and news updates
Checking the blogs on their websites also helps to know if the company is good or bad. Good trekking companies in Nepal update blogs and news on their website. Don't expect the website to be very user-friendly or have great designs but check if the content is updated regularly. Checking blogs can provide some valuable insights into the company and its level of commitment to its customers.
The blog page is a platform to share the latest news and updates about the company's services, destinations, and events. If the company's blog is updated, it can be sure that the information is current and accurate. A well-maintained blog can showcase a company's expertise and knowledge. This can help gauge a company's level of experience and professionalism. An updated blog also shows that it is transparent about operations and wants to share information with its customers.
Comparison of cost, facilities, and quality of service
Most trekkers put the price at the top of their list when choosing a trekking company. Of course, price is a key factor but pay attention to the package's inclusions. Some companies do not include some services in the package to make the package look cheaper. Some companies offer cheap packages and provide poor-quality services. So, choose the trekking agency only after getting detailed information about these things.
The cost of packages offered by trekking companies may vary from company to company. So, check what is included in the package and what quality of service the company provides. Some companies put the price of the package on their website and some don't. Ask for costs with companies that don't list package prices on their website. Compare the package prices, facilities, and services offered by the companies, and choose the best company.
You May Like: 17 important things you need to know before trekking in Nepal
service included and non-included
If you are taking a trekking package, check what is included and not included in the package. It is important to check whether the company has included the services you need in the package. Choose a company that offers a complete package of services. By choosing a company that provides complete service in the package, you don't have to worry about anything during the trip. Note that some companies may not include some services to make the package look cheaper.
Local or international trekking company
In Nepal, you can find international trekking companies and local trekking companies. It is better to choose a local trekking company than an international company. If you choose a local company in Kathmandu, you will get a better price than an international company.
Local trekking companies have extensive knowledge of the local terrain, culture, and customs. Since the guides are from Nepal, you will also get authentic information on trekking. Local trekking agencies are smaller and tend to offer a more personalized service. They are also more flexible with itinerary changes.
Sustainable Trekking
Every trekker and trekking company should be responsible for environmental sustainability. The company you choose must follow the "Leave No Trace" rule. It ensures that the company is responsible for the conservation of natural and cultural diversity. The practice of sustainable trekking helps to preserve the natural beauty and cultural heritage of the region. So, it is better to choose a trekking company that prioritizes sustainable trekking.
Conclusion
Many trekking companies in Nepal offer packages for various destinations. Some trekking companies are also operating illegally. So, it is most important for you to avoid bad companies. You may have a problem with how to choose the best trekking company in Nepal. The above points will help you to choose the best trekking company in Nepal. Choose the best trekking company and make your holiday in Nepal a lifetime memory. For more information feel free to contact Odyssey Treks at [email protected]
You may like: Langtang Circuit Trek-19 Days, Package, Cost, Itinerary