Trip Overview
Introduction of Sikles Trek
Are you looking for a short, easy, and exciting trek near Pokhara city? So, Sikles Trek is the perfect trekking destination that takes you on an exciting journey to the Himalayas. Sikles trek is an adventurous and exciting journey in Nepal. This trek is an interesting trekking destination in the Annapurna region.
Sikles is one of the oldest villages in the Annapurna region. This beautiful Gurung settlement is a well-preserved village located on a small hill at an altitude of 2,000 meters. Situated above the Mardi River, this village was visited by Prince Charles of England in 1980 to admire the Gurkhas. The village is mostly occupied by former Gurkhas who took part in World War II. If you want to enjoy the peaceful experience of nature in a short and easy trip then this trek is for you.
Sikles trek is one of the least explored destinations in the Annapurna region of Nepal. This is a recently introduced trek and is gaining popularity these days. Beautiful villages, terraced fields, and rhododendron forests are the main features of this trek. This trek is a good option for trekkers who want to explore the great nature and culture around Pokhara.
This Sikles trek offers you a chance to enjoy lush forests of rhododendrons, beautiful mountain ranges, and landscapes. After crossing the height of 2,000 meters you can get a close view of Annapurna and Lamjung Himal.
The trek also provides information about the culture, traditions, and lifestyle of this region. Being an easy trek, it is also suitable for novice trekkers. As the highest point of the trek is 2,550 meters, there is less chance of altitude sickness.
Start Trek
The Sikles Trek starts in Kathmandu, the cultural center of Nepal. After a 7 to 8-hour drive, you will reach Pokhara, the lake city of Nepal. On the way, you can see beautiful landscapes of rivers, green fields, small villages, waterfalls, and mountains. The rest of the day you can explore the lakeside city.
Pokhara is a popular tourist town located on the banks of Phewa Lake. Lakeside is one of the vibrant parts of Pokhara where you can find many restaurants, bars, cafes, and shops. You can find budget luxury hotels in Pokhara. You will spend the first night of the trip in the beautiful lake city of Pokhara.
On the second day of the trek, you will start your journey by driving towards the Vijayapur River. After about 2 hours drive you will reach Vijayapur and from there you will start walking toward Kalikasthan. The trail continues through rice fields where you can see a panoramic view of the mountains and landscape. After 4 to 5 hours of walking, you will reach Kalikasthan and spend the night at a lodge or tea house.
On the third day, the journey will start from Kalikasthan towards Lamakhet. The trail passes through a small village of mixed castes and reaches the Mardi River. From there you will follow the trail along the river and reach Lamakhet. Lamakhet is a small beautiful village surrounded by green hills.
Visit Also: Panchase Trek in 6 Days, Easy and Short Trek, Full Package, Itinerary
Catch your Main Destination
On the fourth day of the journey will reach your destination Sikles Village. After breakfast, you will start walking from Lamakhet toward Sikles. After 4 to 5 hours of walking, you will reach Sikles village. It is a beautiful village inhabited by the Gurung community. You can interact with the locals in the village and learn more about their culture, tradition, and lifestyle.
On the fifth day, you will walk from Sikles through forest paths full of rhododendrons and oaks. You will also cross small hills and flat lands to reach the forest camp. A forest camp is a beautiful place surrounded by forests. From this place, you will get stunning views of the surrounding mountains. You will spend the night at a teahouse in the forest camp
The next morning you will start your trip by entering the beautiful forest of rhododendron. After 5-6 hours of walking, you will reach Ghale Gaun which is another traditional Gurung village. The next day you will reach Pokhara which is the last day of trekking. You will trek from Ghalegaon to Khudi and from there catch a bus or jeep to Pokhara. It takes about 4 to 5 hours to reach Khudi from Ghale Gaun passing through many small villages. It takes 1 hour to drive from Khudi to Pokhara.
You can spend the rest of the time doing various activities in Pokhara. There are many options available for tourist activities in Pokhara. You can visit World Peace Pagoda, Davis Falls, Mahendra Cave, and International Mountain Museum. In the evening you can also enjoy a boat ride on Phewa lake. The next day you will drive from Pokhara to Kathmandu.
Top 10 Highlights of Sikles Trek
1. A less crowded trekking trail
2. An easy and short trek suitable for all age groups.
3. An exploration of a traditional Gurung village
4. A least explored but amazing village inhabited by former Gurkhas.
5. The warm hospitality of the Gurung community.
6. Bird-watching during the trek.
7. A beautiful forest of rhododendrons
8. Scenic views of the landscape and valleys
9. Scenic views of Pokhara, a beautiful city with authentic food, culture, and tradition.
10. Magnificent views of Annapurna II (7,937m), Annapurna IV (7,535m), Dhaulagiri Himal (8,167m), Hiuchuli (6,366m), Fishtail (6999 m), Lamjung Himal.
Visit Also: Ghorepani Poon Hill Trek 8 Days Itineary, Package, Cost
Food & Accommodation During Sikles Trek
While trekking you can expect to find basic accommodation and a variety of food options. There are many teahouses and lodges to stay on the Sikless trek route. These teahouses provide simple rooms with basic amenities like beds, blankets, and pillows. Some teahouses also provide charging facilities for electronic devices and hot water for bathing.
You can find various food options including Nepali, Tibetan, and Indian cuisines. These teahouses and lodges often serve food like Dal Bhat (rice, lentils, and vegetables), momos (dumplings), and noodles. You can also find snacks like biscuits, chocolates, and energy bars at these places. It is always a good idea to carry some snacks and water with you to keep yourself hydrated and energized. It is also advisable to carry a water filter or water purification tablets.
Best Seasons
Spring and autumn are the best seasons for the Sikles trek. The spring season includes the months of March, April, and May. While autumn includes the months of September, October, and November. Weather and temperature are favorable during these seasons which attracts many trekking lovers. The weather in spring and autumn is neither too hot nor too cold. The sky is clear and the view of the landscape and the mountains is magnificent. The chances of snow and rain are also low.
The difficulty of Sikles Trek
It is an easy-to-moderate trek but can be a bit difficult for beginners. Although it is an easy trip for experienced trekkers. Sikles village is located at a low altitude so chances of altitude sickness are also less. There are some uphill and downhill climbs so fitness is important. If you can walk for 5 to 6 hours a day and have good fitness then you can complete this trek easily. It is better to prepare well before trekking. Activities like jogging, swimming, and cycling help increase your stamina.
Permits for Sikles Trek
You need 2 types of permits for the Sikles trek. One is the Annapurna Conservation Area Permit (ACAP). This permit is required for all trekkers entering the Annapurna Conservation Area. You can get an ACAP permit from the Nepal Tourism Board office in Kathmandu or Pokhara. It costs 3000 Nepalese rupees per person for foreigners. But for citizens of SAARC countries, it costs 1000 Nepalese rupees per person.
Another is the TIMS (Trekkers Information Management System) card. It is implemented to ensure the safety of pedestrians and to keep records. The cost of a TIMS permit is USD 10 per person. You can get a TIMS permit from the Nepal Tourism Board office in Kathmandu or Pokhara. You can also get it from the Trekking Agencies Association of Nepal (TAAN).
Security, Guide, Porter, and Luggage During the Trek
Trekking in Nepal is an exciting and unforgettable experience, but it is important to ensure your safety. It is necessary to pay attention to some things to stay safe during your trek in Nepal. Create a program considering route, elevation, weather conditions, and potential hazards.
You will feel safe while trekking through a reliable and reputed trekking agency. A good trekking agency will provide you with an experienced guide which can be invaluable for your safety. Guides help you navigate the trail, identify potential hazards, and provide first aid in case of an emergency.
If you have little luggage with you, you can carry it yourself. But if the luggage is heavy, you may need porters. Porters can carry heavy gear such as tents, sleeping bags, food, and other equipment. This can lighten your load and make the trek easier and more enjoyable. As per the rule in the trekking area, the maximum weight of the load carried by the porters is 20 kg. If your luggage is more than 20 kg, you can hire more porters.
Explore the beauty of Nepal with Odyssey Treks. For more information about trekking and tours, feel free to contact us at [email protected]
You May like: Dhampus Trek in just 5 Days, Itinerary, Package, Short Trip
Why not list the price?
Each client's needs may be different. The price of the trip varies according to the size of your group and the service you want. The cost of the trip is calculated according to the type of service and accommodation chosen by our customers.
Each trip is customized to fit the client's needs and group size, so the price of each organized trip is different. Please let us know the service you want and the size of the group. We create trips to suit your taste and travel budget per your requirements. Hope you find our price calculation reasonable according to your needs and preferences.
Google Review
Guest Review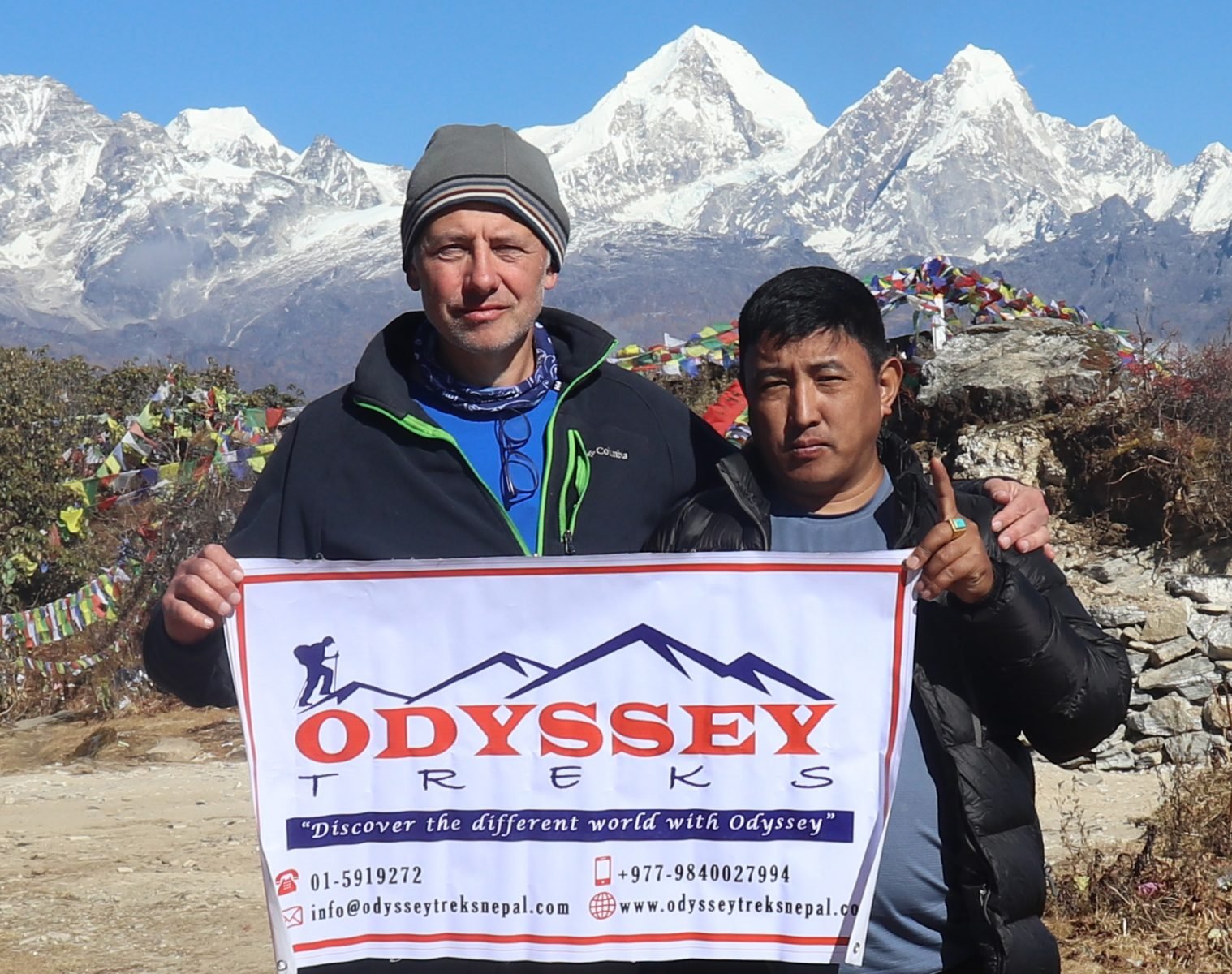 Dom Miller
2022-12-10
Nepal
*****(5 star)
Have just returned from my fourth trip to Nepal and as always Odyssey Treks organized everything superbly. We visited Makalu relatively late in the season and were rewarded with empty trails and amazing weather. Karma was as entertaining, friendly, and informative as ever along with Ang Dawa Sherpa who together made the three weeks perfect.
They also organized a few days to Helambu at short notice as I had some time spare, all done easily and professionally. Thanks for the company both and I will be back again. I cannot recommend Odyssey highly enough as a genuinely friendly, locally based company that provides not only unforgettable experiences but also great service at a very reasonable cost.
Thanks.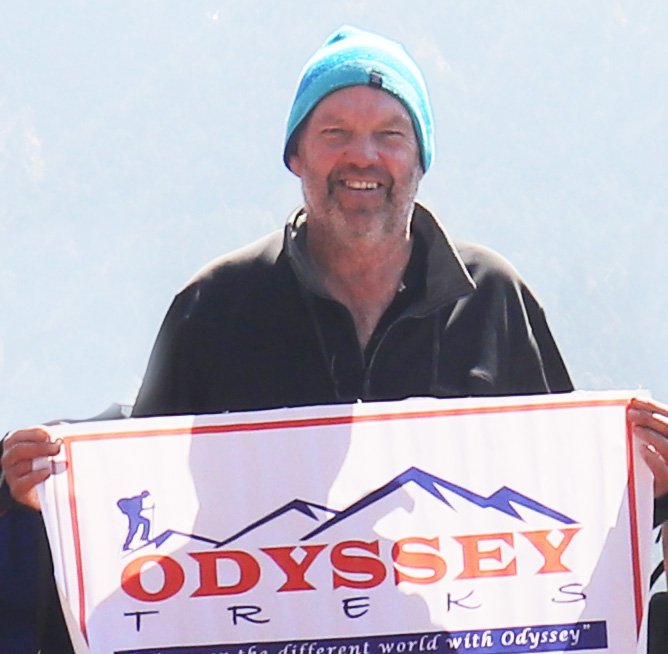 Alex Matthew
Tsum Valley Trek
I have just returned from the trip of a lifetime. Always wanted to visit and see the Himalayas and to have completed the trip with the most excellent hosts really made the trip come alive. Odyssey took care of everything and ensured that we experienced real Nepalese hospitality. We climbed up to 3700 meters, saw Ganesh Himal, experienced true excitement on the trek, ate superbly produced fresh food along the route..and above all met some amazing people. Thanks to Karma, Rinji, and our fantastic porters…without you guys it wouldn't have happened!! All the best. Alex
---
Trip Highlights

Trip Durations 8 Days
Trip Destination Nepal
Group Size 1-20
Accomodation Tea House
Trip Style Trekking in Nepal
Trip Grade Easy
Best Season Sept–Nov, March–May
Max Altitude 2,550m
Per Walking Day 4-5
Trip Start Kathmandu
Trip End 4-5 Kathmandu