Trip Overview
Panchase Trek in Nepal
Panchase Trek is a popular trekking route in the Annapurna region of Nepal. It is a beautiful destination near the tourist town of Pokhara. The trek offers you a stunning view of the Annapurna Himalayan range. This trek is a short and easy trek that you can complete in 6 days. Panchase trek in Nepal is the best option for those who want to experience the beauty of the Himalayas in a short time.
This trek is named after Panchase Hill, located at an altitude of 2,500 meters above sea level. The trek offers panoramic views of Dhaulagiri, Annapurna, and Machhapuchhre. The trail takes you through dense forests, traditional villages, and terraced farmlands to the top of Panchase Peak. This trek also provides an opportunity to experience the culture and lifestyle of the local people of the region.
Popular among novice and experienced trekkers, this trip combines nature, culture, and adventure. As the trekking is easy and short, people of all ages can participate from children to old people. It is suitable for trekkers who don't have more time or ability to complete popular treks like Ghorepani Poon Hill Trek or Annapurna Base Camp.
Start Trek
On the first day of the trip, you will go to Pokhara from Kathmandu. There are 2 options to reach Pokhara, drive or take a flight. You can reach Pokhara in 7-8 hours by driving and 45 minutes by flight. A drive is a better idea than a flight to see the picturesque scenery of rivers, forests, settlements, and mountains up close.
Pokhara is a beautiful tourist town situated on the banks of Phewa Lake. It is also the gateway to the Annapurna region. Spend the evening exploring the beautiful lakeside. There are many famous places to visit in Pokhara such as World Peace Pagoda, Davis Falls, International Mountain Museum, etc. You can also find many bars and restaurants that offer live music and entertainment in the evenings. You can enjoy some local music and dance performances along with your favorite drink.
Next morning after breakfast you will drive to Khare Khola. Khare Khola is the starting point of trekking. From Khare Khola, you will start walking towards Bhumdi Village. Bhumdi is a beautiful small village situated on the top of a hill at an altitude of 1520 meters. The trail takes you through lush forests and offers a panoramic view of the surrounding landscape. After 3 to 4 hours of walking, you will reach Bhumdi and spend the night in a guest house or tea house.
Sunrise view from Panchase Hill
On the third day of the trip, you will trek from Bhumdi to Panchase Bhanjyang. Panchase Bhanjyang is also the highest point of the trek. You will continue walking up green hills through lush forests of rhododendrons. The trail is somewhat steep and challenging, but the view from the top makes it all worth it. Panchase Bhanjang offers a beautiful view of the snow-capped mountains as well as Pokhara Valley.
On the morning of the fourth day of the trek, you will make a short climb to Panchase Hill for sunrise views. Panchse Hill is a viewpoint from where you can get the best view of the breathtaking sunrise. You can also enjoy stunning views of Annapurna, Dhaulagiri, and Manaslu from here. If you are into professional photography then this might be an ideal place for you.
After some time, you will have breakfast and walk from Panchase to Bhadaure. The trail takes you through local traditional villages and terraced farmlands. After 5-6 hours of trekking, you will reach Bhadaure, a small village in a beautiful valley. Bhadaure village is known for its traditional architecture and warm hospitality.
On the fifth day, you will walk from Bhadaure to Naudanda. Naudanda is a small village situated on the top of a hill. You can reach this village in a 4-5 hour trek through lush green forests and traditional villages. The trekking trail descends through several villages and joins the road at Naudanda. From there you will drive back to Pokhara. You can spend the rest of the day exploring the city.
Return to Kathmandu
The sixth day is the final day of your entire trip. On this day you will return to Kathmandu after breakfast. Even when returning you have the option of either driving or flying. After reaching Kathmandu, your short and enjoyable trekking of 6 days will end.
Note – Some trekking agencies include different routes in Panchase trekking itineraries but this route is a perfect option.
You May Like: Royal Trek in 6 Days, Short and Easy treks, Detailed Itineary, Package
Highlights of Panchase Trek in Nepal
A less crowded trekking trail
Amazing view of sunrise and sunset
An easy and short trek suitable for all age groups
Explore traditional villages
A beautiful forest of rhododendron
Scenic views of landscapes and valleys
Panoramic view of the beautiful tourist city of Pokhara
Magnificent views of Annapurna, Dhaulagiri, Hiunchuli, and Fishtail mountains
Food and accommodation during Panchase Trek in Nepal
You can find basic to-star hotels in Kathmandu and Pokhara. But it is better not to expect tourist standard hotels on trekking routes. Although you can find simple hotels, guest houses, and teahouses on these routes. Teahouses are popular among trekkers for food and accommodation on Nepal's trekking trails.
Teahouses are like simple guesthouses that provide food and accommodation to trekkers. These teahouses are basic but comfortable. Teahouses usually provide basic amenities, such as beds, pillows, blankets, and shared bathrooms. Some teahouses also offer hot showers at an extra cost.
These teahouses often serve Dal Bhat (rice, lentils, and vegetables), Momos (dumplings), and noodles. You can also find snacks like biscuits, chocolates, and energy bars. Apart from these, you can also find Tibetan, Indian and Western cuisines in some teahouses. It is a good idea to carry some snacks and water to keep yourself hydrated and energized.
Visit also: 15 Best Places to Visit in Kathmandu Valley
Best seasons for Panchase Trek in Nepal
The best seasons for Panchase trekking are spring (March to May) and autumn (September to November). Weather and temperature are favorable during these seasons which attracts many trekking lovers. The weather is neither too hot nor too cold and the chances of snowfall and rain are also low.
In spring the sky is clear and the views of the Himalayas are stunning. Now time the rhododendron forests are in full bloom and the trails look beautiful.  This is also the busiest time for trekking in Nepal so the trails are often crowded. Autumn is also the best time for Panchase Trek. During this time the sky is clear and the temperature is mild. Autumn is less crowded than spring which is ideal for those who prefer a quieter trek.
Winter (December to February) and monsoon (June to August) seasons are not recommended for Nepal trekking. During the winter season, it is colder due to which there is a possibility of snowfall. And there is a possibility of rain throughout the monsoon season. So, it is important to note that winter and monsoon seasons can be challenging for trekking in Nepal.'
You May Like: 5 Best Short Trks Near Kathmandu Valley
Difficulty
The Panchase trek is an easy-moderate trek though may be a bit difficult for beginners. The highest point of this trek is Panchase Hill, which is 2,500 meters above sea level.  Since it is not at high altitudes, the chances of altitude sickness are also less. Although it is not very high, some hikers may get altitude sickness. So, it is important to take proper precautions like climbing slowly and staying hydrated.
There are some uphill climbs so fitness is important. If you can walk for 4 to 5 hours per day and have good fitness then you can complete this trek. It is better to prepare for trekking before trekking. Activities like running, swimming, and cycling help increase stamina.
Permits for Panchase Trek in Nepal
You need to get two main permits for the Panchase trek in Nepal.
Panchase Trek is located within the Annapurna Conservation Area. So, this permit is mandatory for all hikers entering this area. You can get an ACAP permit from the Nepal Tourism Board office in Kathmandu or from Pokhara. It costs Rs. 3000 per person for foreigners and Rs. 1000 for citizens of SAARC countries.
You need a TIMS card for the Panchase trek. This permit helps in keeping a record of trekkers and ensuring their safety. You can get a TIMS card from the Trekking Agency Association of Nepal (TAAN). It costs Rs. 2000 per person for foreigners and 1000 for citizens of SAARC countries.
It is important to note that trekking in Nepal without a guide or trekking company is prohibited. These permits are issued by the Government of Nepal only in the name of trekking companies. So, to get the permits you need to choose the best trekking company for the Panchase trek. The trekking company you choose will handle all the permit procedures for you.
Security During Panchase Trek in Nepal
Trekking in Nepal is an exciting and unforgettable experience, but ensuring safety is important. It is important to pay attention to some things for safe trekking. For safe trekking choose a reputable company that provides various safety measures.
Reputable companies can create a program considering the route, elevation, and weather conditions. They have licensed and experienced guides who are familiar with the routes of the trekking area. They also help you in case of emergency. Trekking companies provide you with first aid kits and quality trekking equipment.
Read Also: Mohare Danda Trek, 8 Days Itineary, Full Package, Altitude 
Guides, porters, and luggage for Panchase Trek
Choose a good trekking agency that can provide you with experienced trekking guides. It is also important to ensure that the guide is licensed. Guides are locals in the trekking area who know the trekking trail better than others. They can also provide good information about local culture, customs, and festivals. Guides arrange accommodation and meals as well as provide security on the trail.
You may also need porters to carry your luggage during trekking. Porters carry heavy gear like tents, sleeping bags, food, and trekking equipment. This will lighten your load and make the trek easier and more enjoyable. According to the rules of Nepal, a porter can carry a maximum weight of 20 kg during the trek. If your luggage is more than 20 kg, you can hire extra porters.
Altitude sickness and acclimatization
Altitude sickness is common when trekking in high mountains. This is a serious condition that can affect hikers. Generally, going above 2,500 meters can lead to the risk of altitude sickness. But the maximum altitude of the Panchase trek is 2,500 meters so there is less chance of altitude sickness.
However, it is important to take the necessary precautions to avoid altitude sickness. Acclimatization days are not necessary for the Panchase trek but it is important to ascend slowly and stay hydrated. Drink plenty of water and avoid alcohol and caffeine to stay hydrated at altitude.
Equipment and packing list
Equipment and packing list may vary from season to season depending on the time of year you plan. However, here is a list of essential items you should consider bringing for the Panchase Trek in Nepal:
Clothing:
Waterproof and breathable jacket
Fleece jacket or warm sweater
Hiking pants or trousers
Shorts
T-shirts
Long-sleeve shirts
Thermal underwear (for colder months)
Hiking socks
Warm hat
Sun hat
Gloves or mittens
Sunglasses
Footwear:
Hiking boots or shoes
Sandals or flip-flops (for wearing around the lodge or showering)
Gear and Accessories:
Daypack or backpack
Sleeping bag (depending on the time of year)
Sleeping bag liner (optional)
Trekking poles (optional)
Headlamp or flashlight
Water bottle or hydration system
Water purification tablets or filter
Personal first aid kit
Sunscreen
Insect repellent
Lip balm
Personal toiletries (toothbrush, toothpaste, wet wipes, hand sanitizer, etc.)
Camera or phone for taking pictures
Power bank or spare batteries for electronic devices
Personal snacks (energy bars, chocolate, nuts, etc.)
Cash (there are no ATMs on the trek, so bring enough cash to cover your expenses)
It is always a good idea to check the weather forecast and consult your trekking company for any additional recommendations.
Payment, money, credit card
Most trekking companies accept credit cards or bank transfers for payment. Hotels in Kathmandu and Pokhara also accept credit cards. But in Nepal, cash is mostly used for trekking expenses like accommodation, food, and transportation. Most trekking trail lodges, restaurants, and shops do not accept credit cards.
There are also limited ATMs along the trekking routes for cash withdrawals. Hence, it is important to bring enough cash to cover your expenses during the trek. If you take the full package, the trekking company will cover all your expenses, although it is a good idea to carry cash for extra expenses. Note that there may be extra charges for credit card transactions or bank transfers.
Nepal is full of natural beauty which makes it an ideal destination for trekking enthusiasts. Odyssey Treks offers Panchase trekking packages with experienced guides and comfortable accommodations. Join Odyssey Treks and make the Panchase Trek in Nepal a lifetime memory. Feel free to contact [email protected] for more information.
Visit Also: Annapurna Circuit Trek, 19 Days Itinerary, Full Package, Altitude, Difficulty
Why not list the price?
Each client's needs may be different. The price of the trip varies according to the size of your group and the service you want. The cost of the trip is calculated according to the type of service and accommodation chosen by our customers.
Each trip is customized to fit the client's needs and group size, so the price of each organized trip is different. Please let us know the service you want and the size of the group. We create trips to suit your taste and travel budget per your requirements. Hope you find our price calculation reasonable according to your needs and preferences.
Trip Map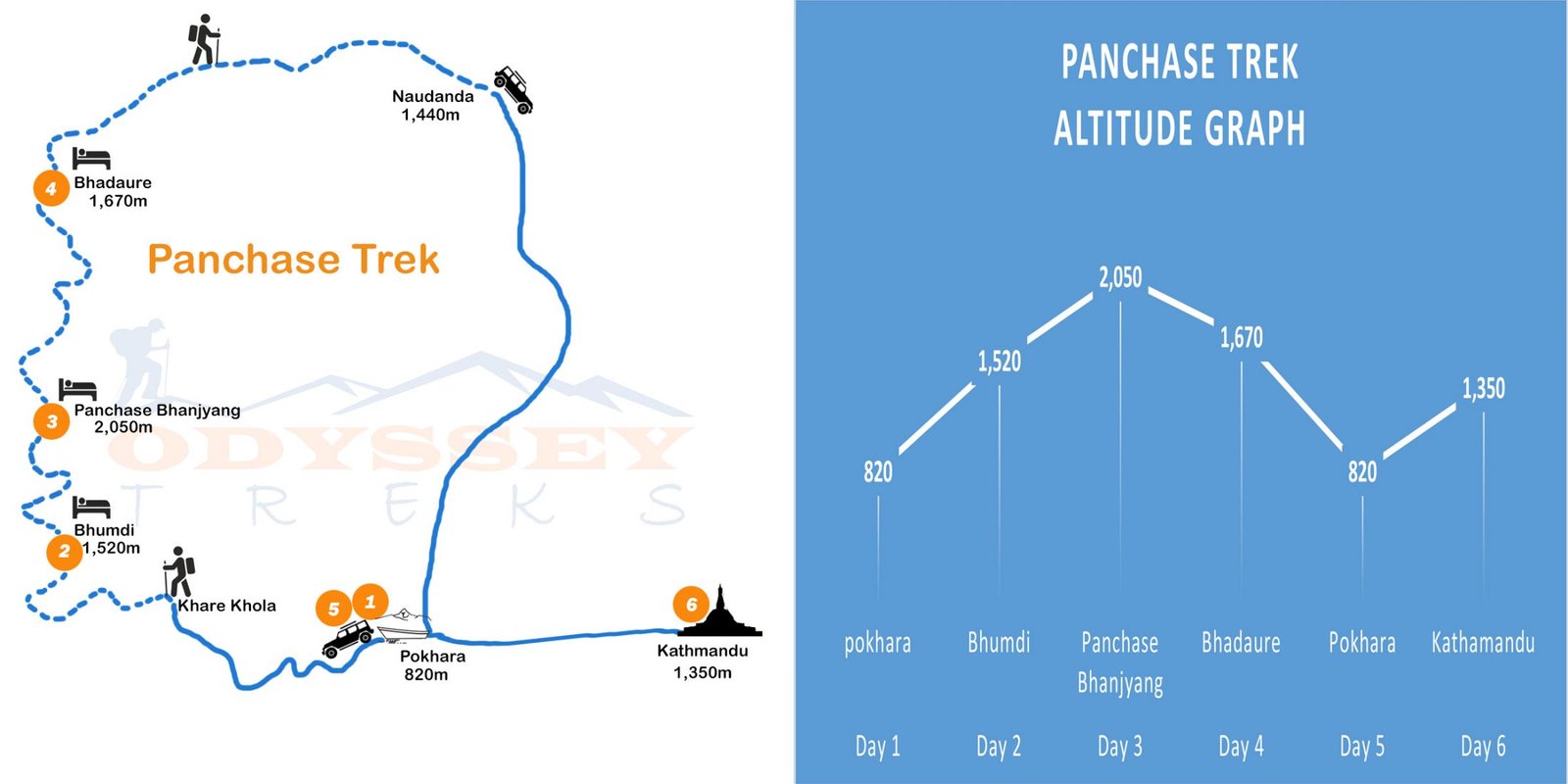 Google Review
Guest Review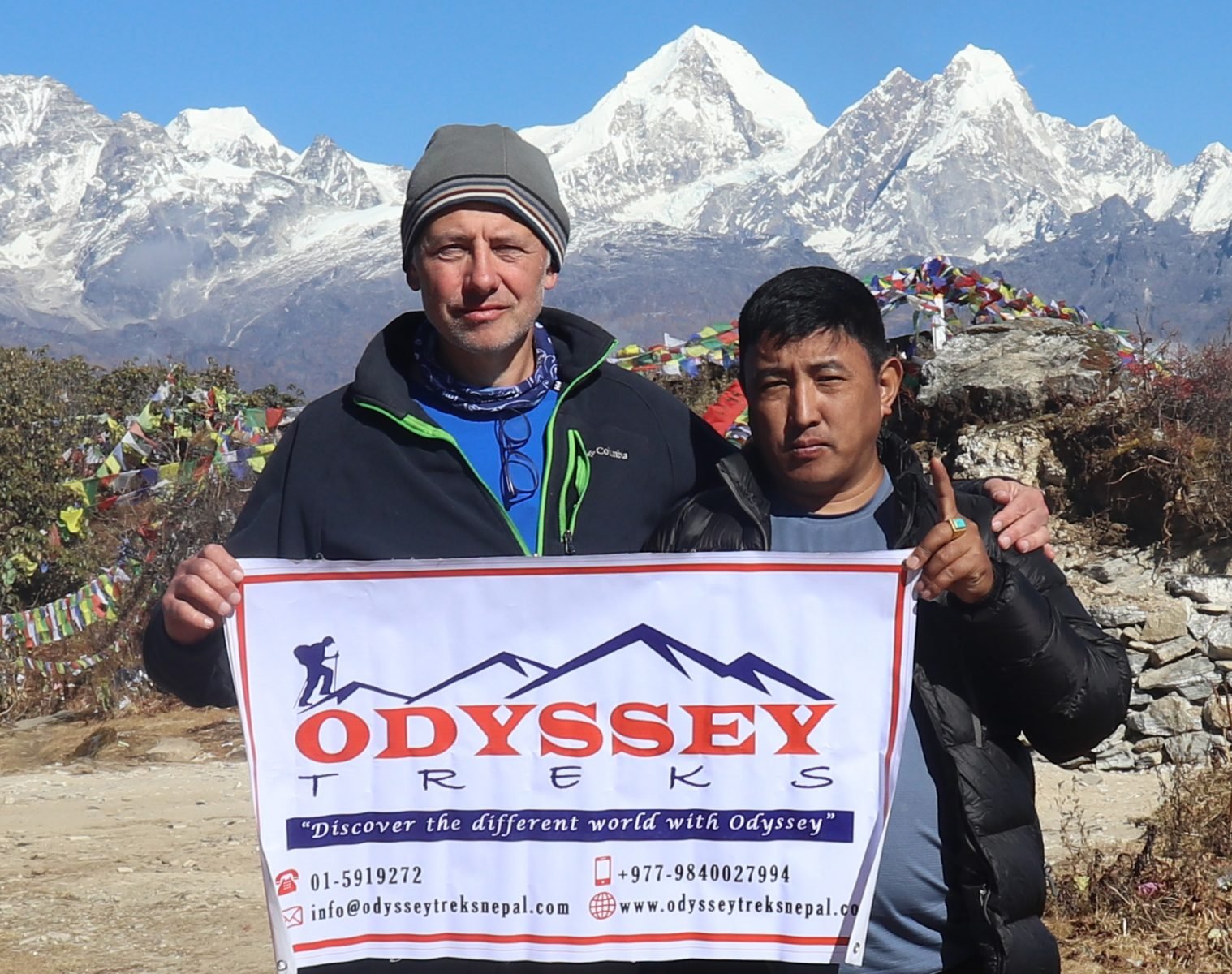 Dom Miller
2022-12-10
Nepal
*****(5 star)
Have just returned from my fourth trip to Nepal and as always Odyssey Treks organized everything superbly. We visited Makalu relatively late in the season and were rewarded with empty trails and amazing weather. Karma was as entertaining, friendly, and informative as ever along with Ang Dawa Sherpa who together made the three weeks perfect.
They also organized a few days to Helambu at short notice as I had some time spare, all done easily and professionally. Thanks for the company both and I will be back again. I cannot recommend Odyssey highly enough as a genuinely friendly, locally based company that provides not only unforgettable experiences but also great service at a very reasonable cost.
Thanks.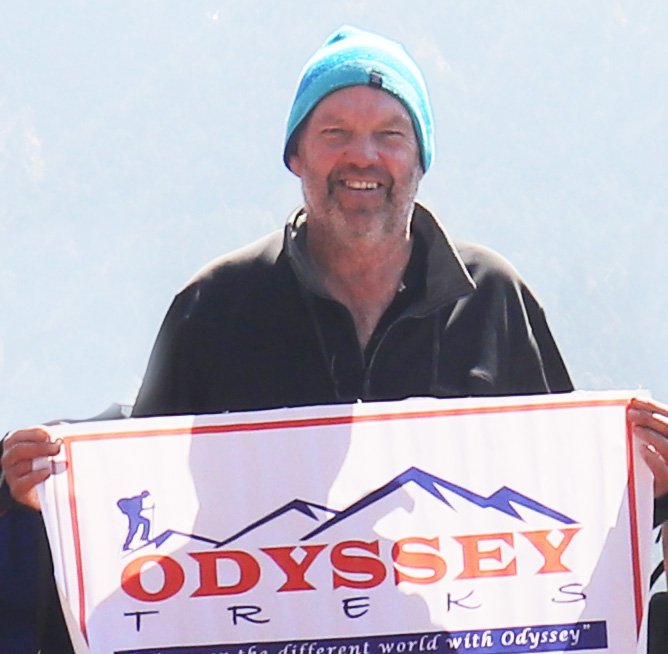 Alex Matthew
Tsum Valley Trek
I have just returned from the trip of a lifetime. Always wanted to visit and see the Himalayas and to have completed the trip with the most excellent hosts really made the trip come alive. Odyssey took care of everything and ensured that we experienced real Nepalese hospitality. We climbed up to 3700 meters, saw Ganesh Himal, experienced true excitement on the trek, ate superbly produced fresh food along the route..and above all met some amazing people. Thanks to Karma, Rinji, and our fantastic porters…without you guys it wouldn't have happened!! All the best. Alex
---
Trip Highlights

Trip Durations 6 Days
Trip Destination Nepal
Group Size 1-20
Accomodation Tea House
Trip Style Trekking in Nepal
Trip Grade Easy-Moderate
Best Season March - May and Sept - Nov
Max Altitude 2,500m
Per Walking Day 4-5
Trip Start Kathmandu
Trip End 4-5 Kathmandu