Introduction of Nepal Tour
Nepal Tour is one of the popular activities to explore the country. Nepal is an excellent tourist destination for adventure travel. Here tourists can enjoy a cultural tour of Nepal with the warm hospitality of the locals. Nepal Tour allows you to explore the religion, culture, traditions, and way of life. There are many UNESCO sites in Nepal, of which the sites within the Kathmandu Valley are the most popular. UNESCO World Heritage Sites are a great place to explore art and architecture.
Major Tour Site is Kathmandu Valley
Nepal Tour is suitable for travelers with limited time in Nepal. Also, for those who are less interested in trekking, mountaineering, and climbing. Kathmandu Valley is an excellent point for travelers to visit with different perspectives. It takes a tour of modern urban areas that still follow cultures and traditions. Kathmandu, Bhaktapur, and Patan are major places to visit within the Kathmandu Valley. And Pokhara, Chitwan, Lumbini, Gorkha, Nagarkot, and Dhulikhel are outside the Kathmandu Valley. You can see wonderful sunrise and sunset views from Nagarkot and Sarangkot.
The presence of 8 magnificent peaks above 8,000 meters makes Nepal more attractive. Mountains, forests, waterfalls, and rivers add even more beauty to your Nepal Tour. Covered by seven UNESCO World Heritage Sites, Kathmandu Valley is a tourist hub of Nepal. Hundreds of temples have been the most important architecture for centuries. That is why Kathmandu is also known as the City of Temples.
Lumbini is an important place for the Buddhist pilgrimage. During your visit to Lumbini, you can visit the Maya Devi Temple and the Eternal Flame. You will also visit the monasteries built by various nations around the world. You can combine outdoor adventure activities with cultural and historical tours. Combining tours makes your trip more exciting. You can take the Mountain Flight service. From Mountain Flight, you can see a panoramic view of Mount Everest and many other mountains.
Various Tour Packages
We arrange incredible tour packages such as the best of Nepal Tour, heritage tour, cultural tour, historical tour, pilgrimage tour, Buddhist tour, Kathmandu valley tour, and Nepal adventure tour. During the tour, the guide provides accurate information about the various places. This kind of information helps to understand the history, culture, tradition, and festival. The Nepal Tour package includes a short trip of 3 days to a length of 15 days. You can choose one of the packages or if the above is not suitable for you, please let us know. We will customize the package for you.
Autumn and spring are the best time for Nepal Tour, but we arrange all tour packages throughout the year. Travel to Nepal during your vacation and make it the most unforgettable trip of your life.
Some aspects related to Nepal Tour.
Why Nepal Tour is Famous in the World
10 UNESCO World Heritage Sites
Land of the Mountains.
Kathmandu, the city of temples
Birthplace of Lord Buddha.
Home to 8 of the world's 10 highest mountains above 8,000 meters.
Everest (8,848m), the highest mountain in the world.
Many viewpoints for magnificent views of the Himalayas.
Favorable Weather for Tour.
Unique Flora and Fauna.
Rich in culture and tradition.
Choice of Long day or short-day tour.
5 Popular Tour Packages in Nepal
5 Popular Tour Packages in Nepal
Nepal Tour offers many packages. We have presented here 5 tour packages based on the most popular among tourists. Take a detailed look at the most popular Nepal Tour packages.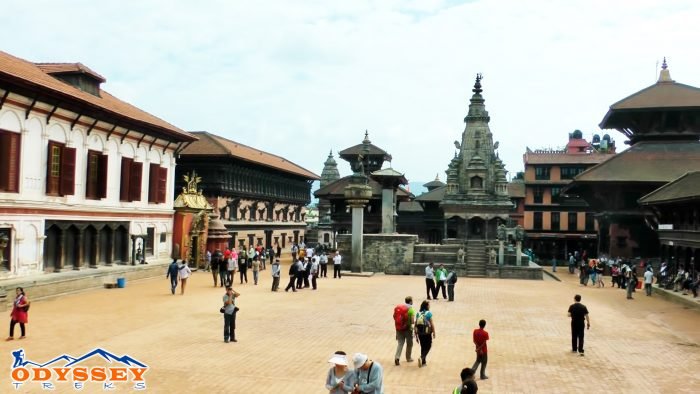 Kathmandu valley tour is the most famous Nepal Tour package. This tour takes you to the beautiful historic tourist towns of Kathmandu, Bhaktapur, and Patan inside the valley. These three cities Kathmandu, Bhaktapur, and Patan are close to each other. Kathmandu, the capital of Nepal, is a beautiful valley surrounded by green hills. In this Nepal Tour Package, you will visit historical and heritage sites. The historic temples and palaces are the best display of unique art, culture, architecture, and design.
This tour provides an opportunity to explore temples, monasteries, gompas, and cultural heritage. You can see a temple while visiting every street in Kathmandu. That is why Kathmandu is also known as the city of temples. On this tour, you will visit Pashupatinath Temple, Boudhanath Stupa, Swayambhunath (Monkey Temple), Kathmandu Durbar Square, Patan Durbar Square, Bhaktapur Durbar Square, and Nagarkot. If you are in Kathmandu and the time is short, this tour package is a good option. The Kathmandu Valley tour is easy and short which is suitable for travelers of all age groups.
Nepal has 10 listed natural and cultural World Heritage sites. Tour takes you to 9 of Nepal's 10 World Heritage Sites. You will visit three cities in Kathmandu Valley, Kathmandu, Bhaktapur, and Lalitpur. There are 7 World Heritage Sites in Kathmandu Valley. You will also visit Chitwan National Park and Lumbini which are outside the Kathmandu Valley.
Kathmandu Durbar Square, Bhaktapur Durbar Square, Patan Durbar Square, Pashupatinath, Bouddhanath, Swayambhunath, and Changunarayan are the heritage sites inside the Kathmandu Valley. Kathmandu Durbar Square, Patan Durbar Square, and Bhaktapur Durbar Square are the best displays of unique art, culture, architecture, and design. Pashupatinath Temple is a pagoda-style temple built in the 5th century. This temple is the holiest place of pilgrimage for Hindus in Nepal. Pashupatinath is also an important place for Shiva devotees.
Bouddhanath Stupa is another place that is 36 meters high. It is the holiest and largest Buddhist stupa in the world. Another place is Swayambhunath Stupa which is located on a small hill in Kathmandu. It is also a holy place for Buddhists. It is a glorious example of ancient religious architecture. Another site is the Changunarayan Temple which is believed to be the oldest temple in the history of Nepal.
Tour also takes you to Lumbini, a world heritage site outside the Kathmandu Valley. Lumbini is the most important historical heritage site of Nepal. Lumbini is also the birthplace of Lord Buddha. Another destination included in this tour package is Chitwan National Park. A jungle safari in Chitwan National Park takes you up close to wild animals. This park also offers an opportunity to ride elephants.
All Nepal tour package covers famous and popular places of Nepal. This 15-day all-Nepal tour can also be called a real Nepal Tour. In a country rich in nature and culture, you will have the opportunity to explore its various aspects. This is a perfect package for those who want to experience the culture, tradition, customs, religion, and lifestyle of Nepal. The tour takes you to various places within the Kathmandu Valley and outside the valley. All the places included have historical, cultural, and religious significance. This is an easy and exciting tour suitable for travelers of all ages.
The tour starts from the World Heritage Sites inside the Kathmandu Valley. It takes you out of the valley after sightseeing at various places in Kathmandu. A popular tourist destination outside of Kathmandu is Bandipur. Bandipur is located between Kathmandu and Pokhara. It is a small authentic village famous for its natural surroundings. In Pokhara, you can visit World Peace Pagoda, David Falls, Phewa Lake, Mahendra Cave, and many more. After visiting Pokhara city, the tour will take you to the ancient hill town of Tansen. Walk to the old market of Tansen and explore the hills of Srinagar. Also, visit the Rani Mahal on the banks of the Kali Gandaki River.
After Tansen, you continue your tour to Lumbini, the birthplace of Lord Buddha. This place is an important pilgrimage site for Buddhists. After visiting Lumbini the tour will take you to Chitwan National Park. Chitwan National Park is world famous for its one-horned rhinoceros. A jungle safari in a national park offers an opportunity to get up close to many animals.
Everest Base Camp Helicopter Tour
Have you dreamed of an Everest base camp tour in 1 day? Everest Base Camp Helicopter Tour will make your dream come true. This tour takes you to a height of 5,545 meters. This trip is a luxurious way to explore the beauty of the Everest region. The Everest base camp helicopter tour is suitable for those who do not have enough time to trek but want to see Mount Everest up close.
This exciting tour offers incredible views of the world's highest peaks as well as some other famous peaks. The journey starts from Kathmandu Tribhuvan International Airport. The helicopter will land at Lukla airport for some time to complete some procedures. Enjoy the views of the Himalayan range surrounding Lukla village. After a while, the helicopter will fly to the Everest base camp. After a while the helicopter land at Everest base camp. You can see Ama Dablam, Thamserku, and Lhotse high mountains along with the Khumbu glacier.
Also, visit: 5 Best Climbing Peaks in Nepal
A helicopter will take you to Kalapatthar from the base camp. Kalapatthar is a great vantage point to enjoy 360-degree views of Everest and other peaks. From Kalapatthar, a helicopter will take you to Everest View Hotel to enjoy breakfast. After breakfast, the helicopter will take you back to Kathmandu.
Nepal Adventure Tour includes various interesting and exciting adventure activities. This tour package includes mountain flight, rafting, paragliding, mountain biking, jungle safari, and UNESCO world heritage sites. This tour is a good option for those who want to do adventure activities in Nepal. You also take short walks in the countryside. This gives you an opportunity to learn about Nepalese rural life, traditions, customs, and culture. Nepal Adventure Tour starts with a morning mountain flight. This flight is one of the most unique mountain flights in the world. Mountain flight takes you close to Everest and many other high Himalayas.
After the mountain flight, you will visit various world heritage sites of Kathmandu. The trip will also take you to Nagarkot, a famous tourist spot near Kathmandu. Nagarkot is a famous place for its sunrise view. From there you can see a distant view of Ganesh Himal, Langtang Himal, Gaurishankar Himal, Dorje Lalpa, and other peaks. After a day's stay in Nagarkot, the tour will take you to the starting point of rafting. Enjoy the real river rapids in the river of Nepal. The next destination after rafting is Chitwan National Park. A jungle safari will provide an opportunity to encounter various animals up close. The cultural program of the local Tharu community in Chitwan is another attraction.
Another place is Pokhara which is a beautiful tourist city. In Pokhara, you can visit various places like World Peace Pagoda, David Falls, Phewa Lake, Rupa Lake, Begnas Lake, Mahendra Cave, and Bindbasini Temple. This tour also includes a 1-day short Australian Champ hike. The hike offers beautiful villages and stunning views of the Annapurna mountain range. You will also do paragliding in Pokhara. Paragliding offers beautiful lakes of Pokhara, picturesque jungles, settlements, and Mountains.
Tour Company and Guide
When planning a Nepal Tour, you may be confused about which tour company and guide to choosing. You can get many tour companies and guides in Nepal but you should choose the best one. Choose a good tour company and do the tour through the company. Check all documents whether the company is genuine or not. you can do a tour without any company or tour guide. But it is always better to tour through a company.
Touring through a company will make you feel safe and comfortable. There are many freelance guides available in Nepal but always using a company guide is the best option. The tour guide gives you complete information about the local culture and traditions.
The best time for Nepal Tour
If you are coming for a Nepal Tour, it is important to know which is the best time. The time to visit a place depends on the weather. So, it is necessary to know what kind of weather occurs in which season in Nepal. The winter season (December, January, and February) brings cold, dry weather and snow in the mountainous regions. It is difficult to travel in this weather when it is cold. Although the sky is clear and the view is beautiful, few people come to visit Nepal because of the cold weather.
Summer (June, July, and August) is the monsoon season. It rains a lot during this season which makes trips difficult. So, this season is not a good time to visit. Rain can cause landslides and road closures that can make your tour difficult. Spring season (March, April, and May) is the best time for a Nepal tour. The beginning of this time is a little cold and slowly warms up. The weather is stable which creates favorable conditions for the tour.
Autumn (September, October, and November) is the most popular and best season for Nepal tours. Now, summer is over and winter has not yet started. The weather is clear and the climate cool. The green valleys and forests look natural and the scenery is breathtaking. This time is also suitable for any tourist activities. In conclusion, we can say that spring and autumn are the best seasons for a Nepal tour. So, you can plan your Nepal Tour during these seasons.
Food and Accommodation During Nepal Tour
You can find a hotel according to your choice in Kathmandu. Various types of hotels are available from luxury international hotels to budget hotels. Most of the tourists prefer to find accommodation in Thamel. There are many options in Thamel and it is easy to find travel companions for the tour. The tourist hub Thamel offers many hotels and restaurants. If you prefer to stay in a quiet environment, you can choose a traditional hotel around Durbar Square. Good hotels are also available in tourist places outside Kathmandu Valley. Pokhara, Chitwan, Nagarkot, and Lumbini also have many tourist hotels. You can book the hotel by yourself or through your tour agency.
Nepali cuisine is influenced by India and Tibet. Rice is the main food of Nepali people. Here you can enjoy traditional Nepalese food like Dal, Bhat, and Tarkari (rice, lentils, and curry), momo (dumplings), roti, etc. Apart from Nepali food, continental food is also available. Chinese, Thai, Indian, Korean, Japanese, etc. restaurants are also available in Kathmandu.
Insurance and Safety
Safety and insurance are important when visiting any place. Nepal is a very safe country to visit. According to the law of Nepal, insurance is not mandatory for visiting Nepal. But, it is better to have insurance for your personal and financial security. It is advisable to have travel and medical insurance when visiting Nepal. Such an insurance policy should cover the cost of all aspects of the Nepal Tour. For a safe tour, it is always recommended to go through a good tour agency. Touring through an agency will make you safer in every way. Tour agencies are registered by the Nepal government and guides are licensed. The guide will also protect you and your belongings during the tour.
Transportation During Nepal Tour 
Public Transport and Taxi
Nepal is a landlocked country surrounded by India in the south, east, and west and China in the north. So apart from sea transport, you can find all other means of transport in Nepal. Short-distance public transport in Nepal is not so luxurious and organized. But you get more facilities on long-route buses. Public transportation fares are cheap but sometimes it is impossible to get a seat. If you don't get a seat, you have to travel standing in the middle of the bus. Public transport includes buses, vans, and tempos. Taxis are also available which are more expensive than public transport. A good option is to use a taxi for short trips.
Tourist Vehicle and Private Vehicle
You can also use tourist vehicles. Tourist vehicles are more comfortable, luxurious, and well-maintained. A bit more expensive than public transport but tourist vehicles are very comfortable. Seats are guaranteed and they do not bring extra people beyond the seating capacity. Tourist vehicles include tourist buses, vans, and cars. You can also hire a private vehicle in Nepal. Jeeps, cars, and motorcycles are popular means of private transportation in Nepal. These are more luxurious, well-maintained, and clean. But are more expensive than public and tourist vehicles.
Rickshaw and Air Transport
For short trips and within specifications, you can also use a rickshaw. It can be a great choice for a new experience. Rickshaws are available in the streets of Thamel. Another means of transportation in Nepal is air transport. Air transport is very popular among tourists. Using air transport is an opportunity to experience a bird's eye view of the diverse landscape of Nepal. There are many flights to major cities of Nepal such as Pokhara, Chitwan, Bhairahawa, and Nepalgunj.  Flights are also available to remote areas such as Lukla, Jomsom, Dolpa, Rara, etc. There is also a helicopter service available. Helicopters are very expensive in Nepal. But taking a helicopter tour can be one of the most memorable adventure tours of your lifetime.
Visa for Nepal Tour
If you are coming to visit Nepal, it is necessary to know about Nepal visas. All foreigners except Indian citizens need a visa to enter Nepal. Visas are available on arrival at Kathmandu International Airport and at land border crossings. Your passport must be valid for at least six months to get a visa. You can pay the visa fee in Euro, Swiss Franc, Pound Sterling, US Dollar, Canadian Dollar, Australian Dollar, Hong Kong Dollar, Japanese Yen, and Singapore Dollar. But Indian currency, Nepali currency, and credit cards are not accepted as payment.
Citizens of Ghana, Zimbabwe, Nigeria, Swaziland, Somalia, Liberia, Ethiopia, Cameroon, Iraq, Palestine, and Afghanistan do not receive a visa on arrival. They have to get a visa from the Nepalese embassy or diplomatic mission in their respective countries. On arrival visa fee at the entry point is USD 30 for 15 days. USD 50 for 30 days and USD 125 for 90 days. You can extend your visa by paying USD 45 for a minimum of 15 days and USD 3 for extra days. Extra USD 5 per day as a late penalty in case of a delay.
You may like: Top 10 Best Treks in Nepal