Trip Overview
Introduction to Everest Base Camp Helicopter Tour
Best Tour Package in Nepal
The Everest base camp helicopter tour is one of the famous tour packages in Nepal. Have you ever dreamed of a helicopter tour of Everest Base Camp? Then come and join us, we will make your dream come true. Tour takes you through the Himalayan region of Nepal to the Everest base camp. This is a luxurious way to explore the beauty of the Khumbu region at a reasonable cost. This is one of the best travel packages to visit the world's highest mountain Everest (8,848 meters).
Mount Everest base camp is the first choice of many who choose Nepal as a tourist destination. The magnificent view of Mount Everest attracts trekkers from all over the world. Everest is in the Khumbu region and this region is the most popular trekking region in Nepal. So, every year thousands of tourists prefer to visit Everest base camp on their vacation. Everest is located in Sagarmatha National Park. This national park is the highest national park in the world and a UNESCO World Heritage Site.
Most of the tourists prefer to reach the base camp by trekking. There are many ways to reach Everest base camp by trekking. First is the drive from Kathmandu to Jiri and trekking to the base camp. The second is to drive from Kathmandu or fly to Phaplu (Salleri) and trek to base camp. The third is the flight from Kathmandu to Lukla and trekking to the base camp. But trekking requires physical fitness as well as two weeks' time. So, the Everest Base Camp Helicopter Tour is suitable for those who do not have enough time. This tour is also for those who cannot trek for hours and hours at high altitudes for many days. It is the best option for disabled people.
Enjoy the view of the majestic mountains from the sky
The window seats are designed in such a way that allows you to enjoy the breathtaking. This exciting tour offers incredible up-close views of the majestic peaks. This tour is a great opportunity to experience the thrill of standing in the lap of Mount Everest in a short time. The great thing about this day trip is that anyone can do it regardless of age. The major attractions of the tour are the world's highest peaks along with some other famous peaks like Lhotse, Nuptse, Makalu, Kanchenjunga, Ama Dablam, Island Peak, Cho Oyu, Thamserku, Cholatse, etc.
You May Like: Everest Base Camp Trek Full Package in 12 Days, Cost, Itinerary, Difficulty, Service
The beautiful landscape and stunning snow-capped mountains will make you feel the freedom of the Himalayas. The tour offers the best views of the natural beauty of the Khumbu region from the sky. From the sky, you can get a panoramic view of the white snow mountains, glaciers, and monasteries. Every second of this tour offers a different view of the valleys, villages, forests, and mountains of the Everest region on this journey.
Start the trip
The Everest Base Camp Helicopter Trip starts around 7 am from the capital city of Kathmandu. Our representative will drive you from the hotel to the airport. The main reason to start the tour early in the morning is that the mountains look enchanting in the morning sunlight. Most mornings provide clear visibility with less wind. From a safety point of view, it is better to take off as early as possible.
The Everest base camp helicopter tour starts from the domestic terminal of Kathmandu. While flying from the airport, you can have an eagle-eye view of many heritage sites of Kathmandu Valley. In the first phase, a helicopter will take you to Lukla airport (2,860m). As the flight moves ahead toward Lukla, magnificent peaks begin to appear. After about an hour of flight, the helicopter will reach Lukla. The helicopter will land at Lukla airport for some time to complete some procedures. Another purpose of the helicopter landing at Lukla is refueling. During your break, you can enjoy the scenery around Lukla Airport.
After a short rest, your adventure journey to Everest base camp starts again. The flight will take you to Kala Patthar (5,545m) via the base camp. The helicopter flies almost over the Khumbu Glacier and the base camp. After a flight of 20-25 minutes, the helicopter lands at Kala Patthar. It is an excellent place to enjoy 360-degree views of Mt Everest and other surrounding peaks. Kala Patthar is also famous for its amazing sunrise views over Everest and other peaks. From here you can get the best view of Mt. Everest. You can take some photos and videos as a memory of the best trip to the Everest region.
Enjoy Delicious Breakfast in Hotel Everest View
After a few moments, the helicopter will take you from Kala Patthar to Everest View Hotel (3,880m). At Everest View Hotel you can enjoy a delicious breakfast with a panoramic view. After breakfast, the helicopter will take you back to Lukla airport. The helicopter will land at Lukla Airport to refuel and finally return to Kathmandu.
So, enjoy this adventure with us at the best price. We provide our visitors with quality helicopter services at reasonable prices. An experienced pilot who has been flying for a long time will be with you. We assure to fulfill your every need and desire during the entire tour. Our Everest base camp helicopter tour program will make you enjoy every moment. The cost of this trip is somewhat expensive compared to the Everest base camp trek. But the experience you get during the flight is worth every moment.
You can also opt for various helicopter tours to other popular trekking areas of Nepal. Annapurna Base Camp Helicopter Tour, Gosainkund Helicopter Tour, and Manaslu Helicopter Tour are also famous helicopter tour packages in Nepal.
Major Attractions of Everest Base Camp Helicopter Tour
1. A visit to Mount Everest, the world's highest peak.
2. Experience Mount Everest by helicopter in a short time of 4 to 5 hours.
3. Flight with a panoramic view of Kathmandu Valley.
4. A great view of the Himalayan range from the sky.
5. Helicopter landing at Lukla, Kala Patthar, and Hotel Everest View.
6. Hotel Everest View, located at the highest point in the world.
7. Beautiful scenery of rhododendron forests and majestic snow-capped mountains.
8. Land at Kala Patthar, a famous viewpoint at an altitude of 5,545 meters.
9. Sagarmatha National Park, the highest national park in the world.
10. Bird's-eye view of Mount Everest and surrounding high peaks.
11. Magnificent view of Khumbu Glacier and Khumbu Icefall.
12. Beautiful view of Sherpa settlements.
13. Delicious breakfast at Hotel Everest View with amazing views at an altitude of 3,880 meters.
Everest Base Camp Helicopter Tour Route
The duration of an Everest Base Camp Helicopter Tour is 4 to 5 hours. The journey starts in Kathmandu and ends in Kathmandu. During the journey the helicopter lands at some places. You can get down from the helicopter at the landing places and enjoy the scenery.
1st Phase: The flight starts from Kathmandu and lands at Lukla via Kathmandu Valley, Nagarkot Hills, and Jiri Alpine Forest.
2nd Phase: Take off from Lukla and fly over Namche Bazar, Tengboche, Pheriche, Khumbu glacier, and land at Kala Patthar.
3rd Phase: fly from Kala Patthar and land at Hotel Everest View for breakfast via Everest Base Camp.
4th Phase: After lunch fly to Lukla via Namche to refuel. After refueling in Lukla, return to Kathmandu airport.
Detail Itinerary of Everest Base Camp Helicopter Tour
Hotel to airport
The flight takes place at approximately 7:00 am. So, our representative will pick you up from your hotel in the morning. About 20 minutes from Thamel Hotel you reach the Kathmandu domestic terminal. Flight timing may vary or delay due to weather conditions.
Flight from Kathmandu to Lukla
The helicopter takes off from Kathamndu to Tenzing Hillary Airport Lukla. It is a very small airport located at an altitude of 2,860 meters above sea level. You cannot miss the aerial views of snow-capped mountains, monasteries, and stupas. Landing at the world's top Lukla airport, you immediately feel the change in the climate. The helicopter lands in Lukla for approx. 15 minutes to refuel. During this period, you can enjoy the beautiful scenery around Lukla Airport.
Flight from Lukla to Kala Patthar
After refueling you will take off to Kala Patthar from Lukla airport. Flight duration from Lukla to Kala Patthar is about 15 minutes. You will fly over the famous Namche Bazaar, exploring all the hidden rivers and beautiful flora and fauna of Everest National Park. You will reach Kala Patthar at a height of 5545 meters. Here you will have 10 minutes. This is the best place to admire a close-up view of Mount Everest. You can take photos and videos during this time. Due to the windy environment and high altitude, the helicopter engine cannot be turned off. So, landing at this place cannot be more than 10 minutes.
Flight From Kala Patthar to Hotel Everest View
From Kala Patthar, you fly to Hotel Everest View (13,000 ft.) in Gorakshep for breakfast. This hotel is one of the major attractions of the Everest Base Camp Heli Tour. It is the highest hotel in the world listed in the Guinness Book of World Records. The hotel offers a 360-degree view of the awe-inspiring Himalayas. From here you can see views of Mount Everest along with some other spectacular mountains.
The helicopter landing will be for 30 minutes. During this period you will have a delicious breakfast with a beautiful view around. This hotel is most famous in the Khumbu region for serving delicious food. The hotel's unique location and warm hospitality will make your visit a wonderful experience.
Flight from Hotel Everest View to Lukla Airport
After breakfast, you will fly to Lukla from Hotel Everest View. You will stop at Lukla Airport to complete some procedures and refuel. After 15 minutes, the helicopter will take off for Kathmandu's Tribhuvan International Airport.
Airport to hotel
Your tour will be complete with a landing at Kathmandu airport. Hope this tour will be the most memorable tour of your life. Our representative met you at Kathmandu airport. Our representative will meet you at Kathmandu Airport and take you to your hotel.
Packing List for Everest Base Camp Helicopter Tour
A visit to Everest Base Camp is a high-altitude tour where it is cool throughout the year. So, it is necessary to pack some essential items for the trip. Since this journey is not as difficult as trekking, you don't need a lot of items. But traveling at high altitudes requires something important. We have prepared a packing list with the relevant gear required for the EBC Helicopter Tour:
1. Windproof down jacket
2. Woolen hat
3. Sun lotion
4. UV protection sunglass
5. A bottle of water
6. Lip balm and moisturizer
7. Silk/nylon scarf and gloves
8. Full-sleeve shirt
9. A pair of warm trousers
10. Light snacks, energy bars, and dry fruits
11. Camera
Note: The above-mentioned materials will be enough for this tour. Over-carrying can add weight so we encourage you to carry only essential clothing.
Best Time for Everest Base Camp Helicopter Tour
Everest region is located at a high altitude and due to the high altitude, the weather changes most of the time. You can do the Everest Base Camp Helicopter Tour anytime throughout the year. But sometimes weather conditions cause disruption in flight operations. So, it is important to know what is the best time to tour the Himalayas of Nepal. But when the weather is favorable and the view is clear, that time is everyone's choice.
It is not possible to operate the flight during fog or rain. Summer (June, July, and August) is the rainy season. The weather is hot and humid during this time, resulting in heavy rainfall. A cloudy sky blocks the view of the mountains. Flight delays and cancellations are common during this time due to clouds and rain. If the flight takes place but there is no clear view due to clouds then there is no point in doing the tour. So, the Monsoon season is not a good time for the EBC Heli Tour.
You can choose spring and autumn for the flight. These two seasons are the best time to visit Nepal. As the spring season is the blooming season, the settlements and the forests look pleasant and beautiful. In autumn the weather is clear and the climate is cool. During this time the green valleys and forests look natural. The Himalayan scenery looks beautiful on a sunny day with a blue sky. Autumn is often the best and least risky time for adventure activities. Clear mountains, clear skies, and warm days are the main features of the autumn season.
It is cold in the winter season, but the snow layer is thick and enhances the beauty of the mountains. So, if not in spring or autumn then winter can be an option.
How safe is Everest Base Camp Helicopter Tour?
This tour is a high-altitude flight tour of Nepal to see the highest mountains in the Everest region. So how safe is the helicopter tour in the Himalayan region of Nepal is of interest to all travelers. We focus on customer safety and use a powerful helicopter for tours. The helicopter flies at a high altitude of 5,643 meters. For that our helicopters are powerful enough to withstand weather and strong winds.
The pilots and crew members are professionals who have been flying in the Himalayas for many years. So, the Everest base camp helicopter tour is 100% safe. For an easy and safe Everest Base Camp Tour, we would always recommend using a helicopter. If the weather does not support the flight or there is a technical error, the flight will not take off. The helicopter tour will not start from Kathmandu under any pressure.
Visit also: Everest Gokyo Lake Trek, 12 Days Detail Itinerary, Season
Frequently Asked Questions
# How long does it take to complete the Everest base camp helicopter tour?
It takes around 4 hours to complete the trip. But, the helicopter only flies for about 2-3 hours altogether. The rest of the time is spent at 3-4 stops and for breakfast.
# Will the helicopter land at Everest base camp?
Most of the time, the helicopter lands on Kala Patthar. It is better to land at Kala Patthar as it offers a better view than the base camp. From this place, you can get an excellent view of Everest and the surrounding mountains.
# What is the maximum height we reach during the tour?
During the tour, you will reach a maximum height of 5,545 meters. This is the height of Kala Patthar. Kala Patthar is located a little higher than the Everest base camp. Kallapattar offers a view of the beautiful Himalayas. So, many prefer to land at this place rather than base camp.
# Does the helicopter land at Hotel Everest View and if so, how long?
Yes, the helicopter lands at Hotel Everest View while returning from Kala. The purpose of landing there is breakfast. The helicopter will stop for about 30 minutes. During this time, you can have a delicious breakfast with a view of Everest and other mountains.
# During the tour, which places will the helicopter land?
The main helicopter landing destination is Kala Patthar (5,545m). But during the tour, the helicopter stops at other places besides Kala Patthar. Landing locations are Lukla Airport, Hotel Everest View in Syanboche, and Pheriche (if applicable).
# How long does it take to reach Everest base camp from Kathmandu?
A helicopter lands at Kala Patthar for a close-up view of Everest. It takes about one and a half hours to reach Kala Patthar from Kathmandu Airport. The helicopter does not fly directly from Kathmandu to Kala Patthar but also stops at Lukla. After some procedures and refueling at Lukla, the Helicopter takes off to Kalapatthar.
# Which is the better option for Everest Base Camp, Helicopter or Trekking?
It depends on your needs and desires. If you have 2 weeks and can walk 5-7 hours daily at high altitude then go trekking. But if you don't have much time and can't walk for a long time, then choose a helicopter ride.
# Can I cancel Everest Base Camp Helicopter Tour?
Yes, you can cancel your Everest Base Camp Helicopter Tour at any time if you want. We understand that sometimes things don't go as planned. So, if you can't make the trip for any reason, we will refund your money. But, refunds will be under our booking terms and conditions. So, read our terms and conditions before booking a trip.
# Can I take a private helicopter tour to Everest?
Yes, you can take a private helicopter tour. For a private tour, you should charter a helicopter. But if the group size is small, the charter makes the Everest Base Camp Tour cost more expensive. You also have a sharing option to make the tour affordable. But if you are 5 people it is better to charter a helicopter.
# Need a permit for a helicopter tour of Everest Base Camp?
Yes, the Everest Base Camp Helicopter Tour requires a national park entry permit. The Everest national park permit fee is USD30 which will be issued by the tour company itself.
# What if someone gets acute mountain sickness during the tour?
Visiting high mountain areas can cause acute mountain sickness. Acute mountain sickness is also known as altitude sickness. If someone is suffering from altitude sickness, we provide first aid. If the condition worsens, the patient will be transferred to a lower altitude location or to Kathmandu.
# How do I book an Everest base camp helicopter tour?
You can book a tour by phone, email, or through social channels. If you want to consult a travel expert, call or drop an email at the address given on the website. Email us at [email protected] to know more.
# Does the helicopter have an emergency oxygen tank?
Yes, helicopters always have an oxygen tank for emergencies. Acute mountain sickness can occur at high altitudes. That's why helicopters always have a first aid kit and an oxygen tank.
# Is it possible to join a group for Everest Base Camp Helicopter Tour?
Yes, it is possible to join a group. We have groups with fixed departure dates that you can join. During the main season, we have fixed departures every day and you can join a group.
# What is the weight limit for the Everest base camp helicopter tour?    
The total weight limit for the Everest Base Camp Helicopter Tour is 500 kg weight limit. So, the helicopter takes a maximum of 5 people to the base camp. Up to 3 pax will be taken by helicopter to the base camp. But if there are 4 or 5 pax the helicopter flight will land at Pheriche. Due to weight limit controls for high altitudes, there will be another shuttle from Pheriche. If there are more than 5 people, another helicopter must be used.
# Does Weather Affect Everest Base Camp Helicopter Flight?
Yes, the weather affects the Everest base camp helicopter flight. Clear weather is necessary to have the best view during the trip and also for the flight. Flights do not operate in bad weather so sometimes there may be some delays due to weather. The tour will be canceled if the weather is too bad and it is not possible to take off.
# Why not land in Kala Patthar for a long time?    
We all know that the Everest Base Camp Helicopter Tour is a high-altitude Himalayan tour. The height of Kalapathar is 5,545 meters. Landing above 4000 meters is generally riskier.  Altitude sickness is possible when moving from a low altitude to a high altitude in a short period of time. So, it is not good to spend a long time in Kala Patthar. Another reason is that helicopter engines cannot be turned off due to high altitude.
# Is there an age limit for the Everest base camp helicopter tour?
No there is no age limit for this tour. Everest Base Camp Helicopter Tour is a luxurious and comfortable tour. You can complete the trip in 4 to 5 hours without any physical difficulty. Our customer's health is our first priority. If there is a problem, the helicopter stops and takes off as possible as. So, Everest Base Camp Helicopter Tour is suitable for any age group.
A lifetime experience in the Everest region
Let's have a great experience by taking an Everest helicopter Tour in Nepal. Your Everest helicopter flight will be one of the best experiences of your life.
Namaste, Have a good day.
You May Like: Short Everest Trek in Nepal, 5 Days, Detail Itinerary
Why not list the price?
Each client's needs may be different. The price of the trip varies according to the size of your group and the service you want. The cost of the trip is calculated according to the type of service and accommodation chosen by our customers.
Each trip is customized to fit the client's needs and group size, so the price of each organized trip is different. Please let us know the service you want and the size of the group. We create trips to suit your taste and travel budget per your requirements. Hope you find our price calculation reasonable according to your needs and preferences.
Google Review
Guest Review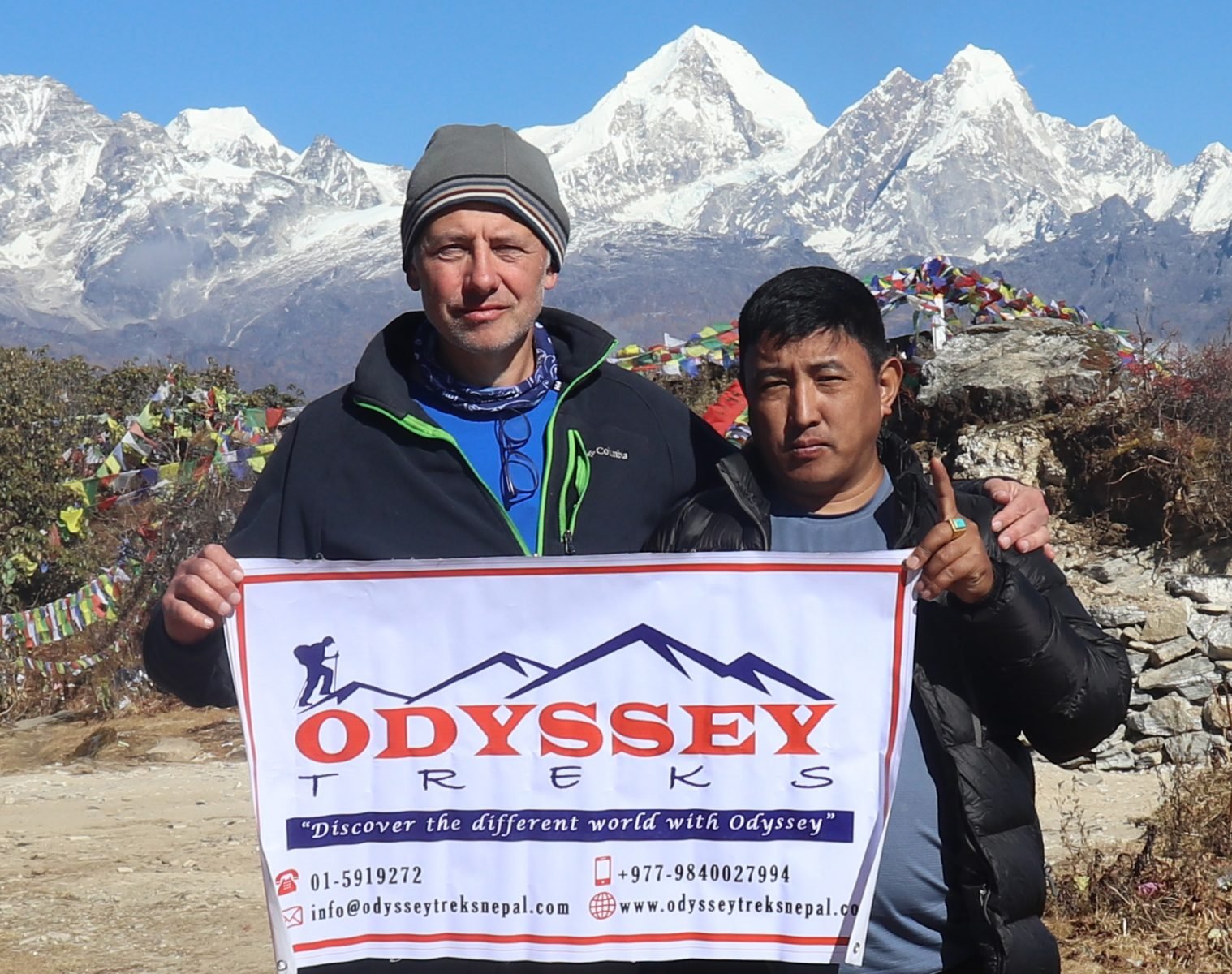 Dom Miller
2022-12-10
Nepal
*****(5 star)
Have just returned from my fourth trip to Nepal and as always Odyssey Treks organized everything superbly. We visited Makalu relatively late in the season and were rewarded with empty trails and amazing weather. Karma was as entertaining, friendly, and informative as ever along with Ang Dawa Sherpa who together made the three weeks perfect.
They also organized a few days to Helambu at short notice as I had some time spare, all done easily and professionally. Thanks for the company both and I will be back again. I cannot recommend Odyssey highly enough as a genuinely friendly, locally based company that provides not only unforgettable experiences but also great service at a very reasonable cost.
Thanks.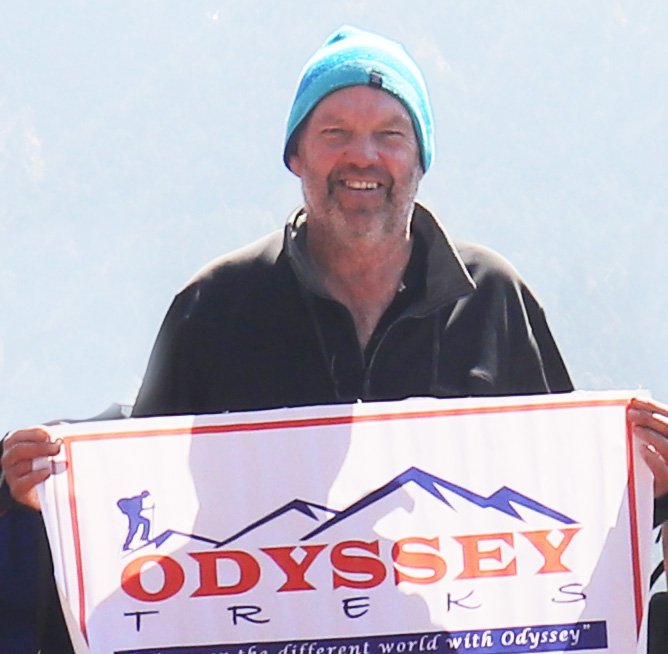 Alex Matthew
Tsum Valley Trek
I have just returned from the trip of a lifetime. Always wanted to visit and see the Himalayas and to have completed the trip with the most excellent hosts really made the trip come alive. Odyssey took care of everything and ensured that we experienced real Nepalese hospitality. We climbed up to 3700 meters, saw Ganesh Himal, experienced true excitement on the trek, ate superbly produced fresh food along the route..and above all met some amazing people. Thanks to Karma, Rinji, and our fantastic porters…without you guys it wouldn't have happened!! All the best. Alex
---
Trip Highlights

Trip Durations 1 Days
Trip Destination Nepal
Trip Style Nepal Tour
Trip Grade Easy
Best Season March-May, Sep-Nov
Max Altitude 5,545m
Trip Start Kathmandu
Trip End Kathmandu