Trip Overview
Introduction to Annapurna Base Camp Trek
The Annapurna Base Camp Trek is one of the most popular treks in Nepal. It is a high-altitude trekking trail full of natural beauty. Annapurna Base Camp (ABC) is the most popular high-altitude hiking trail in the Annapurna region. It is also known as the Annapurna Sanctuary Trek. Annapurna Base Camp is within the Annapurna Conservation Area. This conservation area was established in 1986 to protect the natural and cultural resources of the Annapurna region.
The conservation area covers an area of 7,629 square kilometers. It covers a variety of ecosystems, from subtropical forests to high-altitude deserts. It is also home to a variety of wildlife. During the trek, you can spot snow leopards, Himalayan thar, musk deer, and many bird species.
Mount Annapurna I is the 10th highest mountain in the world. This trek is an excellent way to experience the beauty and diversity of the Annapurna region. The highlight of the trek is the base camp itself, which is at an altitude of 4,130 meters above sea level.
It is one of many favorite trekking destinations in Nepal for many trekkers. There are many trekking trails to reach Annapurna Base Camp. Usually, Annapurna Base Camp trekking requires 14 days to complete. It is a good option for both experienced and novice trekkers. This is a moderate-level trek suitable for people of all ages. Any fit person with a bit of determination can complete this trip.
The Annapurna Base Camp trekking route is still not disturbed by road construction. It is classified as an "Annapurna Balcony Trekking Trail," as the trek offers ample nature and Himalayan views. The trail takes you to a quiet place away from the hustle and bustle of the cities.
Mountain views
During the Annapurna Base Camp Trek, you will have the opportunity to see incredible Himalayan ranges such as Mt. Machhapuchhre (6,993 m), Annapurna III (7,555 m), Singu Chuli (6,501 m), Annapurna South (7,219 m), Dhaulagiri (8,167 m), Baraha Shikhar (7,647 m), Manaslu (8,163 m), Gangapurna (7,454 m), Annapurna I (8,091 m), Hiunchuli (6,441 m), Nilgiri South (6,839 m), Tukuche (6,920 m), and other surrounding peaks. The view of these peaks is awe-inspiring, which is one of the main reasons for doing this trek.
The great views of the rhododendron forest will captivate you, especially in the spring season. Observing the culture and traditions of the locals will add to your enjoyment of your trip. The Buddhist prayer flag in various places will enhance the peaceful state of your mind. You can complete the trek in two different ways, whether it starts from Dhammas or Nayapul. We arrange as per the trekkers' choice with both options.
Apart from the Annapurna base camp, other trekking trails in this region are as follows:
Annapurna Circuit Trek: 19 Days
Annapurna Circuit Short Trek: 12 Days
Ghorepani Poon Hill Trek: 8 Days
Jomsom-Muktinath Trek: 12 Days
Annapurna Tilicho Lake Trek: 15 Days
Annapurna Panorama Trek: 7 Days
Trip starts
Your ABC Trek journey begins with a drive from Kathmandu to Pokhara. Before departure to Pokhara, our guide will give a trip briefing. You can use a private vehicle, tourist bus, or local bus to reach Pokhara by driving. You can also take a flight to reach Pokhara. It takes 45 minutes by flight to reach Pokhara from Kathmandu. The flight offers a beautiful landscape with panoramic views of the Himalayan range.
The drive from Kathmandu to Pokhara is a beautiful journey, so we recommend you drive to Pokhara. It offers a unique opportunity to experience Nepal's natural beauty and rural life. You will have plenty of opportunities to stop and take in the sights along the way. It takes 7 to 8 hours to reach Pokhara by car.
Pokhara is a beautiful tourist town about 200 kilometers west of Kathmandu. It is also the second-largest city in Nepal. Pokhara is a famous tourist destination for its amazing natural beauty. Some of the popular attractions in Pokhara are:
The World Peace Pagoda
Davis Falls
International Mountain Museum
Phewa Lake
Sarangkot
Mahendra Cave
Bindhyabasini Temple
Begnas Lake
Gupteshwor Mahadev Cave
Pokhara is the gateway to the Annapurna region for trekking. It is also a popular destination for adventure seekers. During your stay in Pokhara, if you have time, you can also enjoy various adventure activities. Some of the popular outdoor adventure activities in Pokhara are:
Paragliding
Zip-lining
Bungee Jumping
Ultralight Flight
Mountain Biking
Hiking
Rafting and kayaking
Canoeing
Rock Climbing
Sunrise or sunset yoga
Explore Pokhara
After reaching Pokhara, spend the rest of the evening exploring the beautiful lakeside. There are also many bars offering live music and entertainment in the evenings. You can enjoy some local music and dance performances with your favorite drink. You will spend the first night of the trip in one of the hotels on the beautiful lakeside.
On the second day of the journey, after breakfast, you will drive from Pokhara to Nayapul. It takes 2 hours to reach Nayapul, where your trekking starts. The trek will start from Nayapul and go towards Ulleri (1,960m). The trail passes through beautiful villages, farms, and forests.
After crossing Tikhedhunga and Birethanti, the trail is somewhat steep. After about 5–6 hours of trekking through rhododendron forests, you will reach Ulleri. You will spend the night at Ulleri.
The next day, you will start walking from Ulleri to Ghorepani (2,880m). Ghorepani is a small village inhabited by the Gurung community. Your journey will continue through Banthati village, with beautiful forest and Himalayan views. The trail from Banthanti to Ghorepani includes some uphill sections. The Trek distance from Ulleri to Ghorepani is 11 km. After about 5–6 hours of trekking, you will reach Ghorepani, where you will spend the night.
Poon Hill (sunrise view point)
Early the next morning, you ascend Poon Hill to witness the sunrise over the Himalayas. If you love sunrises, then this day will be special for you. Poon Hill is a famous viewpoint from which you get a stunning view of the sunrise over the Annapurna range. After spending some time at Poon Hill, you will step gradual descent to Ghorepani. You will have breakfast at Ghorepani and start your trek to Tadapani (2,630m). Crossing Deurali and Banthanti, you reach Tadapani, where you will spend the night.
On the fifth day of the trip, you will continue trekking to Chomrong (2,170m) after breakfast. On the way, you cross the Kimrong Khola (river), and after 5–6 hours of walking, you will reach Chomrong. The trek descends towards the Kimrong River before crossing a suspension bridge.
After crossing the river, the trail goes uphill toward Chomrong village. The route offers panoramic views of the Annapurna and Machhapuchhre (Fishtail) mountains. Chomrong village is in the lap of the Annapurna massif. This village is a popular overnight stop for Annapurna Base Camp trekkers.
The next morning, you will continue your trek to Dovan. You will follow the trail down to the Chomrong Khola (river). Crossing the Chomrong River, the trail continues through oak and rhododendron forests. A walk of about 6-7 hours, passing Bamboo and Sinuwa villages, will take you to Dovan.
The next day, you will trek through dense forests as well as several small villages. After about 3 hours of trekking, you will reach Deurali (3,230m). After an uphill trek of about 2 hours from Dovan, you will reach Himalaya village. It is a small, beautiful village that is a good place to take a break and have lunch.
Reach to Annapurna Base Camp
The eighth day of the journey will be a special day for you, as this day will take you to Annapurna base camp. You will cross the Modi Khola River and walk along the Annapurna Glacier. Machhapuchhre base camp on the way offers us a stunning panoramic view of the surrounding mountains. ABC offers a 360-degree view of the Annapurna, Machapuchre, and Hiunchuli mountains.
The next morning, you will descend from ABC via the same route. About 6-7 hikes will take you to Bamboo. After spending a night at Bamboo, you will trek to Jhinu Danda the next day. Jhinu Danda is a small village known for its natural hot springs. The natural hot springs are located on the banks of the Modi River, a short walk from the village. Many visitors enjoy soaking in the hot water to relieve fatigue.
The next morning, you will be ready to trek to Landruk village after breakfast. The trail from Jhinudanda to Landruk is easy. You will pass through New Bridge and reach Landruk in about 5–6 hours. Landruk village is famous for its picturesque surroundings and traditional houses made of stone and mud.
The next day's trek will take you to Dhampus. On the way, you will pass several small villages, including Tolka and Pothana. It is a beautiful village known for its stunning views of the Himalayas. This village is a popular overnight stop for trekkers. Dhampus is also a great vantage point for sunrise and sunset views over the hills.
The next morning, you will start walking for Phedi. The trail from Dhampus to Phedi is short and easy. A 2-3 hour walk will take you to Pothana, and from there you will drive for 30 minutes to reach Pokhara. Spend the rest of the day exploring Pokhara.
Back to Kathmandu
Tomorrow morning, you will return to Kathmandu from Pokhara. Your journey to the Annapurna Base Camp Trek will be complete upon your arrival in Kathmandu. You can spend the remaining time in Kathmandu visiting the local market and shopping. Thamel, the heart of Kathmandu, is a famous place for shopping.
You may visit: Nepal Buddhist Tour in Just 9 days, Cost, Package, Kathmandu
Highlights of the Annapurna Base Camp Trek
Visit the tourist city of Pokhara.
Trek to the Annapurna base camp (the tenth-highest mountain in the world).
Impressive sunrise view from Poon Hill (3,210 meters)
Spectacular mountain views of the Annapurna, Macchapucchere, Hiuchuli, Dhaulagiri, and Nilgiri Mountains
Walking through the dense forest of rhododendron trees and lush vegetation
Various landscapes, including lush green forests, terraced fields, and traditional villages
an opportunity to experience the culture, tradition, and lifestyle of the mountain people.
Natural hot springs at Jhinu Danda Village
Trekking inside the Annapurna Sanctuary, surrounded by towering peaks
opportunity to see wild animals as well as many bird species.
Food and accommodations during the trek 
You can find basic to five-star hotels during your stay in Kathmandu and Pokhara. But it is better not to expect tourist-standard hotels along the trekking routes. Although you can find simple hotels, guesthouses, and teahouses along the trekking routes, teahouses are popular for food and accommodation along Nepal's trekking trails.
A teahouse is like a simple guesthouse that provides food and accommodation. Most teahouses provide basic amenities, such as beds, pillows, blankets, and shared bathrooms. Although these teahouses are basic, they are comfortable to stay in. Some teahouses also offer hot showers at an extra cost.
Teahouses often offer dal bhat (rice, lentils, and vegetables), momos (dumplings), and noodles. Dal rice is the national dish of Nepal, so you can find it anywhere in Nepal. You can also find snacks like biscuits, chocolates, and energy bars.
Apart from these, you can also find pizza, pasta, sandwiches, burgers, etc. in some teahouses. It is a good idea to carry some snacks and water to keep yourself hydrated and energized. A vegetarian meal is best during the trek, as it can be difficult to store meat at high altitudes.
The Best Seasons for the Annapurna Base Camp Trek 
The best seasons for the ABC trek are spring (March to May) and autumn (September to November). This season attracts many trekking enthusiasts as the weather and temperature are favorable. The climate is not too hot or too cold, and the chances of snowfall and rain are lower.
During this season, the sky is clear, and the views of the Himalayas are breathtaking. The rhododendron forests are in full bloom, and the trails look beautiful. Wildlife is more active, making it a great time for bird watching. It is also the busiest time for trekking in Nepal, so the ABC trekking trail is often crowded.
The winter and monsoon seasons are not recommended for the Annapurna Base Camp Trek. Since it is colder in winter, there is a possibility of snowfall. During the winter, the temperature can drop below freezing, which makes the trek challenging. Snow and ice can make hiking trails difficult to navigate.
The chances of rain are high in the monsoon. Trails can be slippery and muddy after rain. Day temperature at higher altitudes is generally 10°C to 23°C and night temperature is 5°C to 10°C. The weather can be unpredictable, with heavy rains that can cause landslides. So, the winter and monsoon seasons are not suitable for trekking in Nepal.
Types of Annapurna Base Camp Trek Packages and Costs
Based on the services, we have categorized the Annapurna Base Camp Trek Package. Depending on the package, the food and accommodation services vary, but the rest of the services are the same. We offer three types of packages that include all expenses for trekking. Check out all three types of Annapurna Base Camp Trek packages and their costs.
1. Annapurna Base Camp Trek Budget Package:
This package includes guest houses in the city and tea houses on the trekking trails. A teahouse is a type of small guesthouse that provides basic accommodation and food. Teahouses usually have simple rooms with shared bathrooms and limited amenities.
A cup of tea or coffee is included with each meal. Other drinks are not included in this package. This budget package is available for US$800 only. Note: The package is available at this price if there is a minimum group size of 2 people.
2. Annapurna Base Camp Trek Standard Package:
If you want better service than the budget package, you can choose the standard package. This package offers food and accommodation at the best tea houses available along the trekking route. You can choose the meal based on the full menu.
Rooms with attached bathrooms are available in nice teahouses. Includes unlimited tea, coffee for drinking, and hot water for bathing. This budget package service is available for US$1200. Note: The package is available at this price if there is a minimum group size of 2 people.
3. Annapurna Base Camp Trek Luxury Package: 
If you are thinking of a luxury ABC Trek, you can skip both of the above packages. Take the Annapurna Base Camp Trek Luxury Package, which offers complete luxury services. This package includes luxury hotels and resorts. The Annapurna Base Camp Trek Luxury Package is available for US$1600. Note: The package is available at this price if there is a minimum group size of 2 people.
Let us know if you want any other type of package service. We help you prepare an itinerary and package according to your needs.
The Difficulty of the Annapurna Base Camp Trek 
The Annapurna Base Camp Trek is a moderate-to-challenging trek. It requires a good level of physical fitness. But it's not technically challenging, so you don't need any prior mountaineering experience. The trek involves walking over rugged terrain with some steep ascents and descents. But with proper preparation, a positive attitude, and a good level of fitness, you can achieve it.
Altitude Mountain Sickness can be a major challenge at high elevations. Symptoms of altitude sickness include headaches, nausea, and fatigue. Take appropriate acclimatization breaks and follow the guide's instructions to avoid altitude sickness. Doing adequate physical training before the trek helps make the journey easier.
Altitude sickness and acclimatization 
Altitude sickness is also known as acute mountain sickness (AMS). This is a condition that can occur when the body is exposed to high altitudes and is unable to adjust to lower oxygen levels. Altitude sickness is a common concern for trekkers on the Annapurna Base Camp trek. Follow appropriate environmental practices while trekking to avoid altitude sickness.
You can avoid altitude sickness by following some precautions while trekking. Drink plenty of water to stay hydrated and avoid altitude sickness. Eat a balanced diet that includes plenty of carbohydrates and proteins. If you experience headaches and dizziness, take a rest day or descend to a lower altitude. You can also take Diamox as prescribed by your doctor to prevent altitude sickness.
Security and Insurance During Trekking
Trekking in Nepal is an exciting experience, but ensuring safety is important. It is important to pay attention to some aspects of safe trekking. Choose a reputable local agency that offers various security measures. Reputable companies can create programs according to route, altitude, and weather conditions.
They have experienced trekking guides who are familiar with the routes in the trekking area. They can also help you in case of an emergency and make your trip more comfortable. Follow the safety guidelines provided by your guide and trekking agency.
It is also important to stay on designated trekking routes. A good company provides first aid kits and quality trekking equipment. Make sure to pack suitable clothing and the quality equipment needed for trekking.
According to the law of Nepal, travel insurance is not mandatory in Nepal. But it is mandatory, especially for high-altitude trekking. So, it is better to have travel insurance when coming to Nepal. Your insurance policy should cover medical, helicopter, and other transportation expenses. Guides and porters are insured by the trekking company you choose.
Water, shower, mobile battery, toilet, and electricity
Almost every village along the trek route has access to pure, boiled drinking water. Although most teahouses provide safe drinking water, using a water filter or purification tablets is still advisable. Teahouses also sell bottled mineral water, but it is expensive and not eco-friendly.
For bathing, teahouses have shared bathrooms with showers or buckets of hot water. Water for bathing is usually taken from a local stream or river. Cold water for showering is free, but in some places, you may have to pay for a hot shower.
Most of the teahouses have charging facilities for mobile phones and other devices. But in some places, they may charge a fee. It is important to bring your own charger and adapter, as power outlets may not be universal. It's a good idea to carry some extra batteries if possible.
In some remote areas, electricity may only be available for a few hours a day. Some teahouses may have solar panels that provide electricity for charging and lighting. Carrying a power bank for charging is also a good idea, especially if you use your phone for photography.
Toilet facilities are available, but most of the teahouses have basic toilets. Most teahouses may have squat toilets, which are common in Nepal. These toilets are usually located outside the room and may not have water or toilet paper.
It is a good idea to carry essentials like toilet paper, handwashing liquid, wipes, soap, and towels. Don't expect all the bathroom amenities at home in this area. But some teahouses and lodges have a Western commode toilet attached to the room.
Guides, porters, and luggage
It is important to choose a trekking agency that can provide you with experienced guides. Guides provided by a good company are experienced and licensed. The guides are locals of the area who know the trekking trail better than others. They also have good knowledge of local culture, customs, and festivals. Guides provide accommodation, food, and security during trekking.
The company provides porters to carry the luggage. You don't have to worry about carrying heavy luggage if you hire a porter. There is a provision that porters should only carry a maximum weight of 20 kg. Companies usually provide one porter for two people, and you can share with two people. You can hire an extra porter if your luggage weighs more than 20 kg. If the group size is large, you can also hire an assistant guide as needed.
Permits for Annapurna Base Camp 
For the Annapurna Aadhaar Camp trek, you need to get two main permits.
Annapurna Conservation Area Project (ACAP):
The trek is located within the Annapurna Conservation Area, so this permit is mandatory for all trekkers entering the area. You can get an ACAP permit from the Nepal Tourism Board office in Kathmandu or Pokhara. Its cost is Rs. 3000 per person for foreigners and Rs. 1000 for citizens of SAARC countries.
Trekkers Information Management System (TIMS):
You also need a TIMS card for the Annapurna Base Camp trek. This permit helps keep track of hikers and ensure their safety. The Trekking Agencies Association of Nepal (TAAN) provides a TIMS card. Its cost is Rs. 2000 per person for foreigners and Rs. 1000 for nationals of SAARC countries.
It is important to note that the Nepal government has banned trekking without a guide or company. The Nepal government only issues permits in the name of trekking companies. So choose a reliable trekking company to get the permits. The trekking company you choose will assist you in issuing all the required permits.
Equipment and Packing List
Equipment and Packing List for Annapurna Base Camp Trekking:
Clothing:
Base layers (top and bottom)
Insulating layers (fleece or down jacket)
waterproof and windproof jacket
waterproof and windproof pants
Hiking pants or shorts
Hiking socks
Warm hat
Sun hat
Gloves or mittens
Scarf or neck gaiter
Footwear:
Hiking boots (well broken-in)
Camp shoes or sandals (for wearing in teahouses)
Backpack:
Daypack (30–40 liters) for carrying daily essentials
Sleeping:
sleeping bag (rated for -10°C to -15°C)
sleeping pad (inflatable or foam)
Hydration:
Water bottles or hydration bladders (2–3 liters in capacity)
Trekking gear:
Trekking poles (adjustable and collapsible)
Headlamp or flashlight (with extra batteries)
Sunglasses (with UV protection)
Sunscreen (SPF 30+)
Lip balm (with SPF)
Insect repellent
Personal first aid kit (including blister treatment, pain relievers, and any personal medications)
Trekking map and guidebook
camera (with extra batteries or a power bank)
Trekking permit and identification documents (passport, visa, and/or ID)
Other essentials:
Toiletries (including toilet paper and hand sanitizer)
Quick-drying towel
lightweight travel towel or bandana (for wiping sweat)
Snacks (energy bars, trail mix, or other high-energy foods)
Cash (in Nepali rupees) for paying teahouse fees and purchasing snacks or drinks along the way
emergency during the trek
It is better to be aware in advance of any emergency that may arise during the trek. If you are ill, the team members will take care of you. But if there is an emergency, the guide will call us, and we will arrange the helicopter immediately. Sometimes you may have health problems due to bad weather.
A helicopter will take you to a hospital in Kathmandu or Pokhara. One of our company representatives will also look after you in the hospital. Note that all hospital, helicopter, and other incidental expenses are to be paid by you.
Payment, money, credit card
Most trekking companies accept credit cards or bank transfers as payment. Hotels in Kathmandu and Pokhara also accept credit cards. But cash is mostly used for trekking expenses like accommodation, food, and transportation. Most teahouses, restaurants, and shops along the trail do not accept credit cards.
So, bringing enough cash to cover your expenses for the trek is important. If you take the complete package, the trekking company covers all expenses. But it is necessary to carry cash for extra personal expenses. Note that extra fees may apply for credit card transactions or bank transfers.
Annapurna Base Camp is full of natural beauty, which makes it an ideal destination for trekking enthusiasts. If you are planning an adventure trek in Nepal, the Annapurna Base Camp trek is a must! Odyssey Treks offers ABC trekking packages with experienced guides and comfortable accommodations.
We have prepared the Annapurna Base Camp Trekking itinerary below. If it is not according to your plan, then let us know, and we will prepare the itinerary according to your needs. Join Odyssey Treks and make the ABC Trek in Nepal a lifetime memory. Feel free to contact [email protected] for more information.
You may also like to visit: Nepal Pilgrimage Tour in just 10 Days, Itinerary, Kathmandu, Cost
Why not list the price?
Each client's needs may be different. The price of the trip varies according to the size of your group and the service you want. The cost of the trip is calculated according to the type of service and accommodation chosen by our customers.
Each trip is customized to fit the client's needs and group size, so the price of each organized trip is different. Please let us know the service you want and the size of the group. We create trips to suit your taste and travel budget per your requirements. Hope you find our price calculation reasonable according to your needs and preferences.
Google Review
Guest Review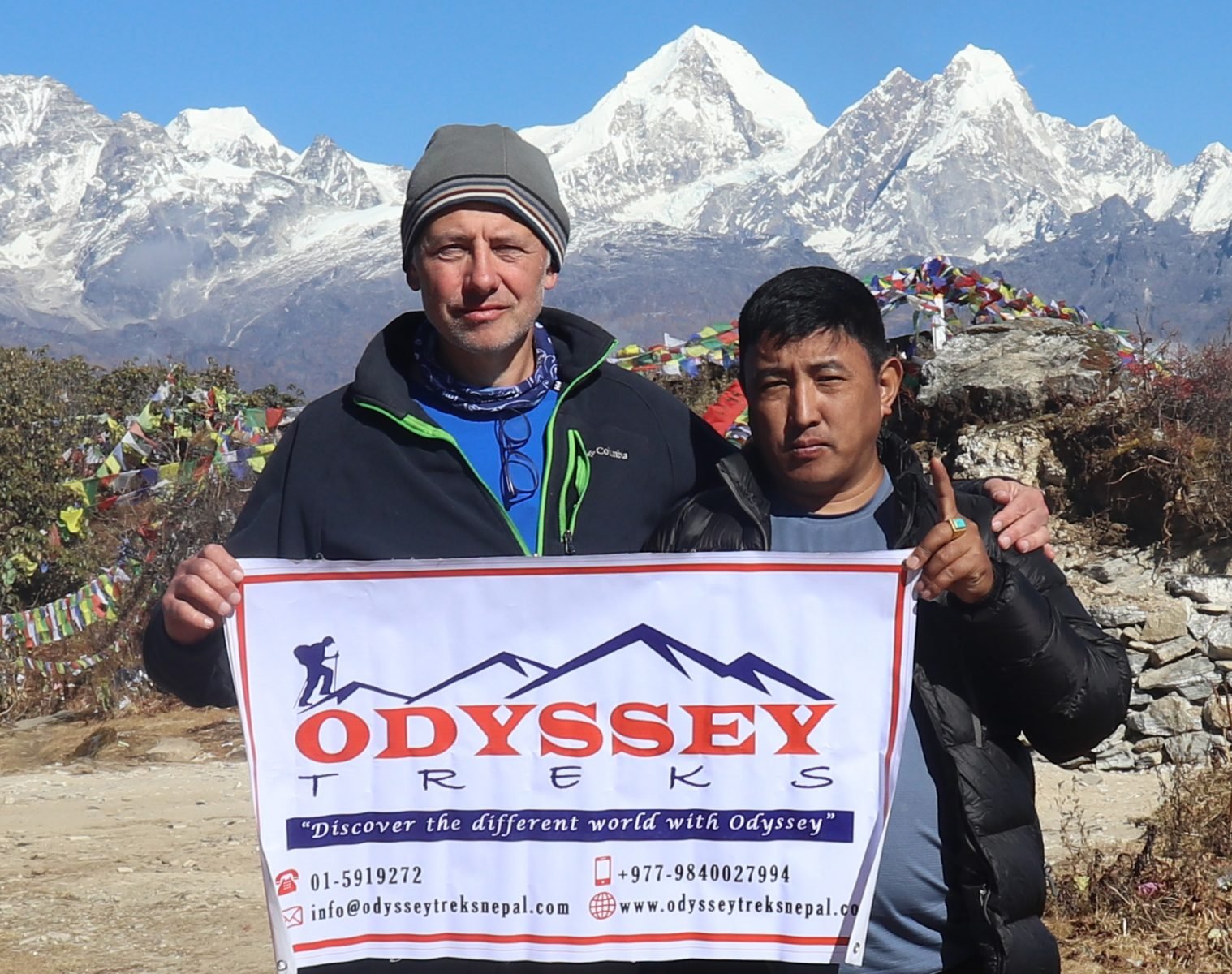 Dom Miller
2022-12-10
Nepal
*****(5 star)
Have just returned from my fourth trip to Nepal and as always Odyssey Treks organized everything superbly. We visited Makalu relatively late in the season and were rewarded with empty trails and amazing weather. Karma was as entertaining, friendly, and informative as ever along with Ang Dawa Sherpa who together made the three weeks perfect.
They also organized a few days to Helambu at short notice as I had some time spare, all done easily and professionally. Thanks for the company both and I will be back again. I cannot recommend Odyssey highly enough as a genuinely friendly, locally based company that provides not only unforgettable experiences but also great service at a very reasonable cost.
Thanks.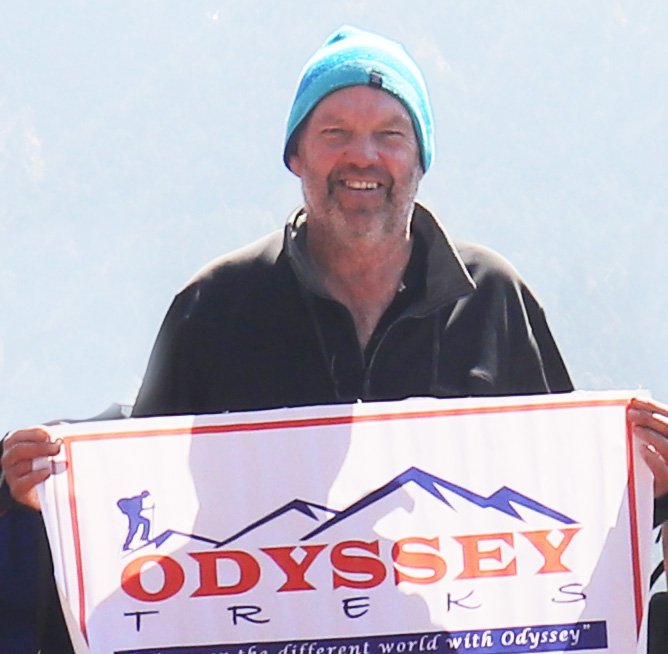 Alex Matthew
Tsum Valley Trek
I have just returned from the trip of a lifetime. Always wanted to visit and see the Himalayas and to have completed the trip with the most excellent hosts really made the trip come alive. Odyssey took care of everything and ensured that we experienced real Nepalese hospitality. We climbed up to 3700 meters, saw Ganesh Himal, experienced true excitement on the trek, ate superbly produced fresh food along the route..and above all met some amazing people. Thanks to Karma, Rinji, and our fantastic porters…without you guys it wouldn't have happened!! All the best. Alex
---
Trip Highlights

Trip Durations 14 Days
Trip Destination Nepal
Group Size 1-20
Accomodation Tea House
Trip Grade Moderate to Strenuous
Best Season Sept-Dec, March-May
Max Altitude 4,130m
Trip Start Kathmandu
Trip End Kathmandu