Trip Overview
Introduction to Everest Base Camp Trek
Everest Base Camp Trek is a renowned trekking destination in the world for trekkers. Mount Everest (8,848 meters), at the top of the world, attracts its trekkers with its awe-inspiring attractions.
The Everest Base Camp Trek is not only popular to visit the top of the world but Khumbu Himalayan Glaciers, Khumbu Icefall, beautiful landscape, Tibetan Sherpa culture, ancient Tibetan monasteries, wild animals, and green forest.
Everest Base Camp Hiking is one of the top three hiking destinations in the world with extremely Himalayan scenery, so annually thousands of trekkers make this trip to Nepal for two weeks of trekking holidays.
You can also visit: Everest High Passes trek in just 19 Days, Packages, Cost, Cheap price, Itinerary, 
This trek allows you to see many stunning Himalayan peaks from a low altitude in a short period. You can have magnificent views of the mountains, which are above 8,000 meters; Mount Everest (8,848 m), Mount Lhotse (8516 m), Mount Makalu (8,481 m), and Cho-ou (8,201 m). As you trek Everest you will have a lifetime adventure.
Miles away from the busy lifestyle, cars, conveniences, and daily luxuries, you will satisfy your spirit in natural beauty and expand your patience beyond your potential. Mount Everest Base Camp Trekking is designed for trekkers who want to spend the day on the world's tallest mountain lap.
The entire trekking is covered for around 14 days and is designed for those trekkers who have good health, general hiking experience, and who can walk up to 6-7 hours per day without any difficulty.
Monasteries, Sherpa's lifestyle, Culture, Nature
Visit the monasteries with flag prayers along the way will lift your spirituality. Interacting with locals gives you information about individuals, their culture, and their lifestyle. Himalayan people have a charming life and their warm hospitality can make you feel at home. You will be surrounded by beautiful fields, breathtaking landscapes, stunning waterfalls, and pine and rhododendron forests that lead you along this route.
The trek begins via trails that take you to the ethnic Sherpa villages to the base camp. Throughout the journey; the beautiful Himalayas will not leave your sight. Scenic hills enhance the beauty of the horizon and create ethereal beauty. Experience the remote Himalayan lifestyle of the locals away from modernization.
Everest Trek Starts
You start your Everest Base Camp Trek with a short adventurous flight to Lukla. Climate change is felt immediately when you land at the top of the world, Lukla Airport. Lukla is in the Khumbu region where Mount Everest is located. Lukla is the starting point of the trek and also the endpoint.
After landing at Lukla Airport, your trip starts at Phakding Village. The trail takes you through traditional Sherpa villages, incredible landscapes, green forests, and many suspension bridges to Phakding.
Namche Bazaar (main commercial market)
The next day you will start your trek to Namche Bazaar after lunch. This day trip will make you more excited as Namche Bazaar is the main commercial market in the Khumbu area. As you walk along the path you will find yourself surrounded by mountain peaks higher than 6000 meters. As you walk through the area you will see thousands of prayer flags and huge prayer wheels.
You will also cross the incredible Hillary Suspension Bridge with prayer flags. You can visit the Sherpa Museum in Namche where you will see art galleries and glimpses of Sherpa history. Another day you will stay in Namche again and enjoy the view of Namche Bazaar and the surrounding mountains.
On the fourth day of the trip, you will continue the journey from Namche to Tengboche. The main attraction of this place is the famous Tengboche Monastery which is located at an altitude of 3,860 m. This monastery is perfectly suited for meditation and prayer.
The next morning you will continue your journey to Dingboche from where the entire Himalayan mountain range of the Khumbu region can be seen. After spending one more day in Dingboche, your next destination will be Lobuche. To reach Lobuche, you will walk along the Khumbu Glacier.
Towards Everest Base Camp
The next day will be a great day for you as the day's walk will take you to the base camp of Everest. After enjoying the magnificent view of the world's highest peak for some time, you will return to Gorakshep by the same route.
The next morning hike will take you to the Kalapatthar from where you can see the amazing views of the sunrise on Mt. Everest and other peaks. After spending some time in Kalapatthar, you will return to Pheriche village.
You will reach Lukla again by walking to the same villages Namche and Phakding. You will reach Phortse the next day. After that, you will reach Lukla by walking again to the same village Namche and Phakding. And on the morning of the last day of the trip, you will fly from Lukla to Kathmandu
This trip is a little bit hard so you need good physical fitness with prior trekking experience. Spring and autumn seasons are good for a trek in Everest Base Camp but we arrange the trek according to your wish and holiday schedule. Hopefully, your journey with nature will be one of the most memorable moments of your life.
You May Like: 10 Best Things Every Traveler Should Do in Nepal
The attraction of Everest Base Camp Trek
Exciting morning flight from Kathmandu to Lukla Airport at an altitude of 2,846 meters.
Trek to the base camp of the world's highest peak, Mount Everest.
Magnificent views of Mount Everest, Khumbu Glacier, and Khumbu Icefall.
An opportunity to experience the unchanged age-old culture, traditions, and lifestyle of the Sherpa people
A visit to Namche Bazaar, a main business center in the Khumbu region
Walking through the dense forest of rhododendron trees and lush vegetation
Beautiful view of sunrise from Kalapathar
A visit to Tengboche Monastery, the largest Buddhist monastery in the Everest region
A visit to the world-famous Sagarmatha National Park, which is on the UNESCO World Heritage site List.
Food and accommodation in Everest Base Camp Trekking
During the Everest Base Camp Trek, you will find teahouses run by the locals. Teahouses are a type of small lodge that provides food and accommodation for hikers. These are simple rooms with beds, mattresses, and blankets but, extra blankets are available when it is cold or you can use your sleeping bag.
During the trekking, Nepali food, as well as continental food, is available in these teahouses. Depending on the location, some teahouses offer rooms with attached bathrooms, while others have fewer amenities. Hot water for bathing is available in almost all places but if not hot water is available at your request.
Everest Base Camp Trek Cost
Trekking costs depend on route, travel agency, service, and many other factors. To determine the cost, trekkers have to decide what kind of service they want to take. You can complete this trekking for USD 1350 if you take basic facilities.
The difficulty of Everest Base Camp
How difficult or easy any trekking is depends also on the season. Everest Base Camp trekking is suitable in the spring and autumn season and is also somewhat easier. This trek is somewhat challenging and passes through high altitudes. Everyone can complete with good preparation and a bit of self-determination. This trek does not require any kind of hard-core technical skills but should be able to walk for long hours as this trip involves a lot of up and down climbs. What makes this trip difficult is its altitude, which can sometimes lead to altitude mountain sickness. Therefore, it is important to acclimatize your body properly before making another attempt at an altitude. This trekking is moderate to strenuous so you need good physical fitness to complete the trek.
Best Seasons for Everest Base Camp
Autumn and spring are the best time for Everest Base Camp Trek. There is not much rain during these seasons and also not much cold which makes it easier for the trekkers to complete the trek. But you can do trekking according to your vacation throughout the year as per your wish.
What about security during Everest Trek?
There is no doubt that the Everest Base Camp Trek in Nepal is safe for trekkers. The safety of our customers is the most important to us. All of our guides and other support teams have been carefully selected for your trip. Guides are licensed by the Government of Nepal and porters are trained. Our guides and porters will protect you and your belongings. But during the trip, we advise you to take care of your personal belongings also. Take your personal belongings with you to your room in a tea house and lock your room when you need them. During the camping trek, take your personal belongings inside the tent. our guides and porters will also protect you and your belongings.
You may also like to see: Everest View Trekking in just 8 days, Itinerary, Duration, the cost for Everest trek, packages, Maps
Altitude Sickness and Acclimatization during Everest Base Camp Trek
Altitude sickness is the most important thing to keep in mind while trekking in high mountains. If you ignore altitude sickness, it can cause serious problems. Altitude sickness is a common problem when traveling to high mountains, but don't panic, you can avoid it by taking some precautions. Acclimatization days are necessary for some places to avoid this altitude sickness problem. You do not need acclimatization days when returning from base camp but need acclimatization days while going to base camp.
If you fail to acclimate well to lower altitudes, you will struggle at higher altitudes. So, it is necessary to have acclimatization days in your Everest Base Camp Trek schedule. Generally, if you go above 2,500 meters you are at risk of altitude sickness and some symptoms may appear on you. At altitudes above 3,500 meters, there is less oxygen so your body needs more time to adjust. To achieve an altitude of more than 5,000 meters, you need to pay more attention.
The more time you spend in the critical points before you gain altitude, the better you will feel. We include Acclimatization in our itineraries to help prevent altitude sickness. Our itinerary includes acclimatization at Namche and Dingboche during the Everest Base Camp Trek. Also, we allow time for the slow ascent to prevent altitude sickness. But you don't have to worry too much about altitude sickness, as our team will take care of your health as well as suggests ways to take precautions.
Purified water, Toilet, Shower, and Mobile Battery During Trek
If you are thinking of EBC Trek for the first time then toilet facilities, water, shower, battery charging, etc. are your concern. But you don't have to worry about these things because these are all available on the trekking route. Pure boiled drinking water is available in almost every village. Mineral bottled water for drinking is also available in all teahouses.
Shower
There is cold water for the shower but it is difficult to take a cold shower as it gets colder in this area. So, you need hot water for the shower but you have to pay extra for that. Here you can use a gas geyser or hot bucket of water for a shower and it costs 4 – 5 dollars per head.
Battery Charging
Among your personal belongings during trekking, mobile and camera are the most used items which need to be charged from time to time. When it comes to camera and mobile batteries it is a good idea to carry some extra batteries. If not, don't worry almost every teahouse has a facility to charge mobile/camera batteries. But you have to pay about 3-5 dollars extra per battery charge.
Toilets
Another concern you may have about the toilets available on the trekking trail. But you don't need to worry about this too because toilets are available everywhere along the Everest Base Camp Trek trail. The toilets available in teahouses are simple toilets. So, don't expect all the bathroom facilities you have at home. A simple toilet is a squat toilet and is usually available outside the room. In such simple toilets, all the accessories required for the toilet are not available. So, it is better to carry essential toiletries like toilet paper, hand washing liquid, wipes, sanitizer, soap, a small dry towel, etc.
But in nice and luxurious hotels and lodges, you can get rooms with an attached toilet. At altitudes below 4000 meters, you may find western commodes but above 4000 meters most guesthouses have squat toilets.
Permit For Everest Base Camp Trek
While trekking Everest, you may be concerned about the required permit and the fee to be paid for it. Yes, trekking in Nepal's Himalayan region and higher national parks requires a permit. But permits may also vary by region and specific trip. Trekking in a restricted area requires a special permit but since Everest Base Camp Trek is not a restricted area, it does not need a special permit.
TIMS – (Trekkers Information Management System) was required in the field before 2018 but is not required now. Instead of TIMS, Khumbu Pasang Lhamu rural municipality entry permit is currently implemented. Since this permit is not available in Kathmandu, it must be obtained in Lukla. This permit is implemented by the local government of Khumbu which collects two thousand rupees from each foreigner.
Along with this, another permit you need is the Everest National Park Entry Permit. You have to pay Rs 3000 per person for this permit and you can get it from the Tourism Board office in Kathmandu. But for your convenience, you can also get it at the entrance of Everest National Park. But we are responsible for all these permits so our guide will arrange all necessary permits for you.
Weight to be carried on Everest Trekking
While trekking, you have to carry the necessary clothes and equipment which is a bit heavy. You carry some of your items like warm clothes, water, snacks, sunblock, a camera, towel, soap, toothbrush, etc. But apart from those you need porters to carry other heavy items in Everest Base Camp Trek. On short and easy treks, you may not need porters but on long and tough treks you will need porters. Porters carry a maximum weight of 20 kg. While trekking in Nepal, porters are allowed to carry a maximum weight of 20 kg only. If your luggage weighs more, you can hire extra porters. 1 porter is provided for 2 people and you can share that porter with two people.
What happens if there is an emergency during the trek?
It is better to be aware in advance of any emergency that may arise during trekking. You can do Everest Base Camp Trek alone without a trekking agency, porter, or guide. But if you trek through a local trekking agency, you will find it easier in various situations. If you are not well or have any simple problem, our team will take care of you. A common problem at high altitude is altitude sickness for which your guide will take good care of you.
But if you have an emergency during Everest Base Camp Trek, the guide will call us immediately and we will arrange the helicopter. According to the information from the guide, the helicopter will take you to the hospital in Kathmandu. Our company representative will take care of you in Kathmandu hospital as well. You will have to pay for hospital, helicopter, and other expenses in case of emergency.
Also Visit: Everest Base Camp Short Trek in just 12 Days, Itinerary, Cost, Package
Trip Highlights
Best Everest Base Camp Trek in Nepal, Cheap Price, 14 Day Itinerary, Difficulty, Maps, Distance
Why not list the price?
Each client's needs may be different. The price of the trip varies according to the size of your group and the service you want. The cost of the trip is calculated according to the type of service and accommodation chosen by our customers.
Each trip is customized to fit the client's needs and group size, so the price of each organized trip is different. Please let us know the service you want and the size of the group. We create trips to suit your taste and travel budget per your requirements. Hope you find our price calculation reasonable according to your needs and preferences.
Trip Map
Google Review
Guest Review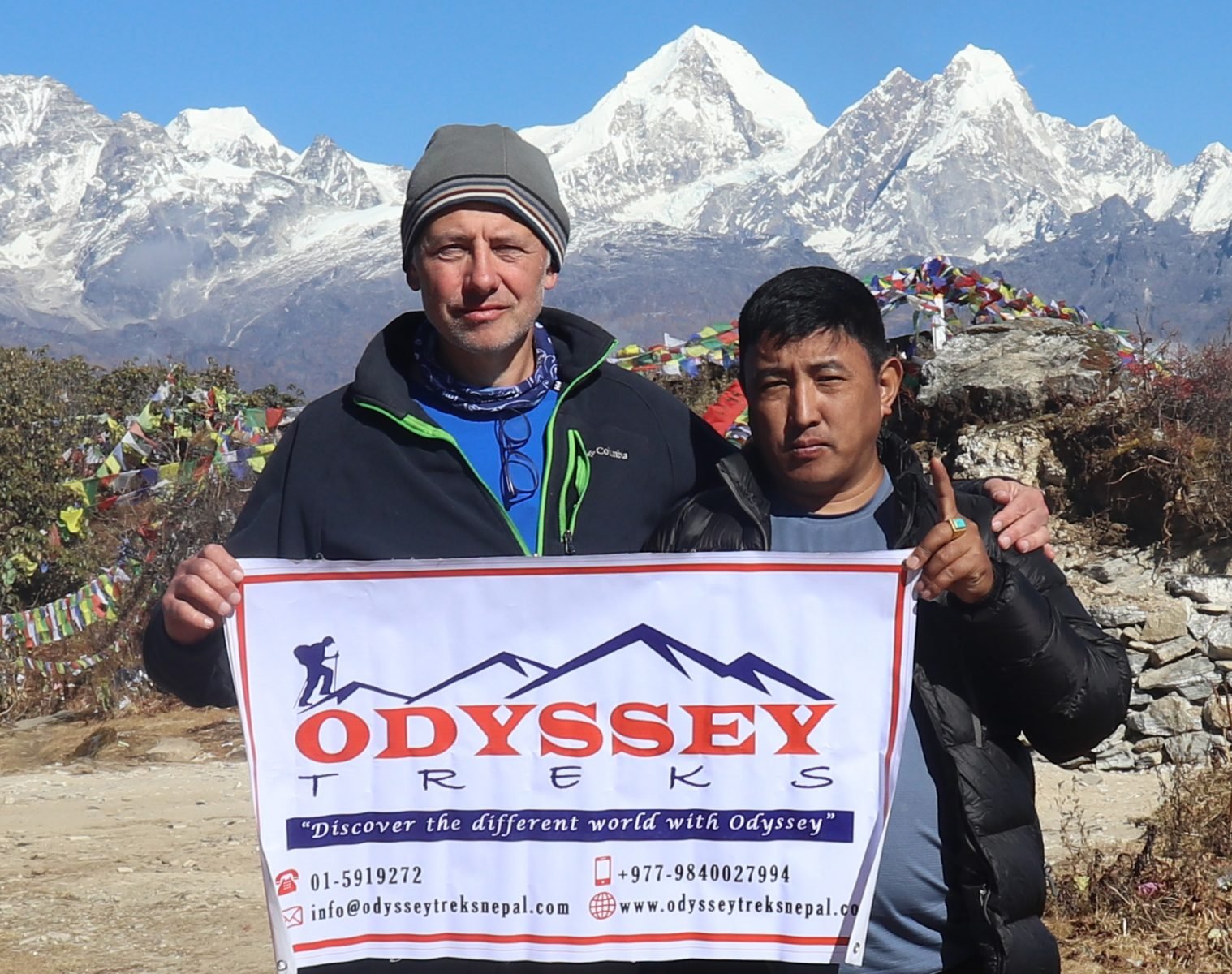 Dom Miller
2022-12-10
Nepal
*****(5 star)
Have just returned from my fourth trip to Nepal and as always Odyssey Treks organized everything superbly. We visited Makalu relatively late in the season and were rewarded with empty trails and amazing weather. Karma was as entertaining, friendly, and informative as ever along with Ang Dawa Sherpa who together made the three weeks perfect.
They also organized a few days to Helambu at short notice as I had some time spare, all done easily and professionally. Thanks for the company both and I will be back again. I cannot recommend Odyssey highly enough as a genuinely friendly, locally based company that provides not only unforgettable experiences but also great service at a very reasonable cost.
Thanks.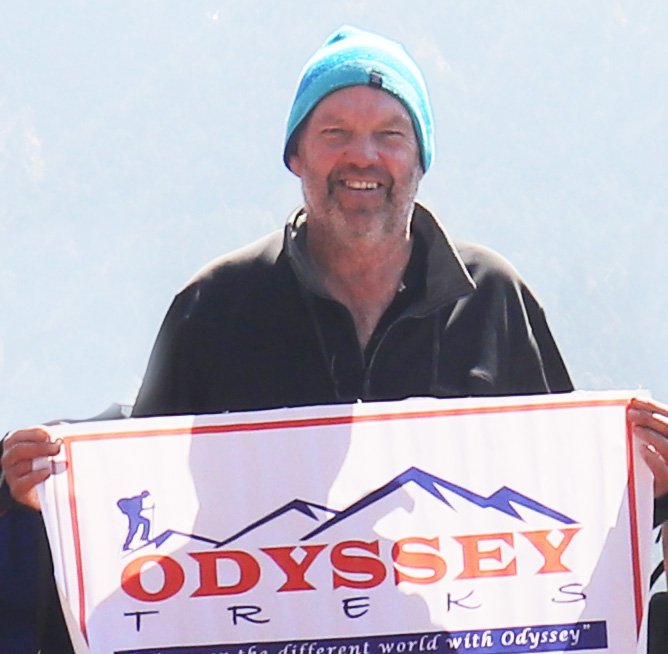 Alex Matthew
Tsum Valley Trek
I have just returned from the trip of a lifetime. Always wanted to visit and see the Himalayas and to have completed the trip with the most excellent hosts really made the trip come alive. Odyssey took care of everything and ensured that we experienced real Nepalese hospitality. We climbed up to 3700 meters, saw Ganesh Himal, experienced true excitement on the trek, ate superbly produced fresh food along the route..and above all met some amazing people. Thanks to Karma, Rinji, and our fantastic porters…without you guys it wouldn't have happened!! All the best. Alex
---
Trip Highlights

Trip Durations 14 Days
Trip Destination Nepal
Group Size 1-20
Accomodation Tea House/Camping
Trip Grade Moderate to Strenuous
Best Season Sept-Dec, March-May
Max Altitude 5,545m
Trip Start Kathmandu
Trip End Kathmandu