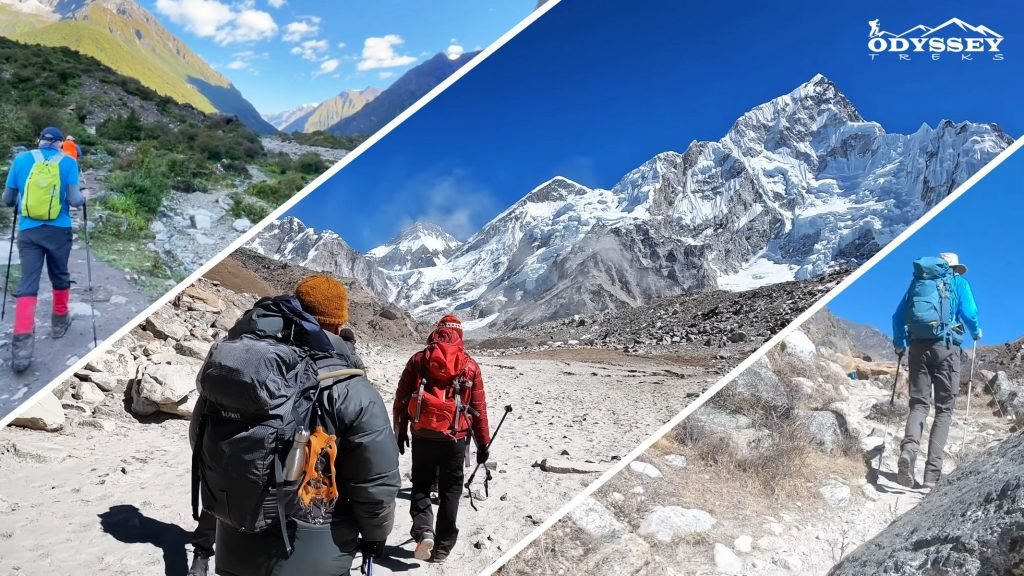 17 important things need to know before trekking in Nepal
There are 17 important things you need to know before trekking in Nepal. Trekking is a popular adventure activity in Nepal. This country is a good destination for trekking lovers from all over the world. High Himalayan peaks and peaceful nature make the trekking experience in Nepal unique.
The northern part of the country is home to magnificent mountains. Mount Everest, the world's highest mountain, is the main attraction of Nepal trekking. Out of the 14 peaks above 8000 meters, eight are in Nepal. The incredible mountain views are one of the best things for tourists. Trekking is a high-altitude activity that involves a lot of walking up and down mountains. While trekking at a high altitude, you need to prepare well from various points of view.
Trekking in Nepal is completely different from other treks in many parts of the world. If you are not prepared while trekking in Nepal, you may face difficulties. So, there are a few things you should know before trekking in Nepal.
1. Find a reliable trekking company.
Finding a reliable trekking company is one of the most important things need to know before trekking in Nepal. The trekking experience cannot be good if you choose a bad company. So, when choosing a company, you have to consider various aspects.
There are many trekking companies in Nepal, out of which you should identify a reliable one. A reliable company can provide a good trekking experience. Trekking companies have licensed guides who can provide you with good information. So, use some of the tricks mentioned below to choose the right trekking company.
Check the legal documents to see whether the company is registered with the relevant body of the government of Nepal.
Read company reviews (TripAdvisor and Google reviews) and testimonials.
Check out the profile of the company's board of directors. By checking, you can get information about their experience.
Find out how long the company has been operating. (A company that has been operating for a long time is usually reliable.)
Check that the company's landline phone number and business address are correct.
Emailing many trekking companies for inquiries. Two-way communication helps you get information about the services they offer.
2. Trekking Permits

Another important thing to know before trekking in Nepal is about trekking permits. A permit is mandatory when trekking in Nepal. Permits vary depending on the trekking area you visit. So, it's important to know which permit you need for the area you're visiting. Here are the permits required for different trekking areas:
TIMS (Trekkers Information Management System) Card:
The TIMS card is mandatory for trekkers entering all areas except restricted areas. It helps maintain important records about trekkers and ensures their safety. The TIMS card contains the trekker's personal information and trekking details. The Trekking Agencies Association of Nepal (TAAN) provides a TIMS card. You can get a TIMS card from official trekking agencies. Its cost is Rs. 2000 per person for foreigners and Rs. 1000 for citizens of SAARC countries.
Annapurna Region:
Annapurna Conservation Area Permit (ACAP) is mandatory for trekking in the Annapurna Area. ACAP permits are available at Nepal Tourism Board offices in Kathmandu or Pokhara. Revenue from permit fees is used for environmental protection and community development in the area. Its cost is Rs. 3000 per person for foreigners and Rs. 1000 for citizens of SAARC countries. Some famous treks in the Annapurna region:
Muktinath-Jomsom trek
Mardi Himal Trek
Australian Camp Trek
Tilicho Lake trek
Everest region:
An Everest National Park entry permit is mandatory for the Everest region. You can get this permit from the Nepal Tourism Board office in Kathmandu. If not, you can also find it at the entrance of Everest National Park near Namche Bazaar. The cost of this permit is Rs. 3390. Another permit you need is the Khumbu Pasang Lhamu Rural Municipality Entry Permit. Since this permit is not available in Kathmandu, you have to get it in Lukla. The cost of this permit is Rs. 2000. Some famous treks in the Everest region:
Everest High Pass Trek
Everest Classic Trek
Gokyo Lake trek
Langtang Region:
A Langtang National Park entry permit is mandatory for trekking in the Langtang area. You can get it from the Nepal Tourism Board office in Kathmandu or at the entrance of Langtang National Park. Its cost is Rs. 3000 per person for foreigners and Rs. 1500 for citizens of SAARC countries. Some famous treks in the Everest region:
Helambu trek
Langtang-Gosainkunda Trek
Langtang Ganjala Pass trek
Restricted Areas:
You need a special permit to trek in restricted areas. These permits are issued by the Nepal Immigration Department only in the names of authorized trekking agencies. The cost of this permit varies according to the trekking area and duration. Individual trekking is not allowed in the restricted area, so there must be at least two trekkers. Some famous treks in restricted areas:
Upper Dolpo Trek
Nar Phu Valley Trek
Tsum Valley Trek
3. Research Trekking Trail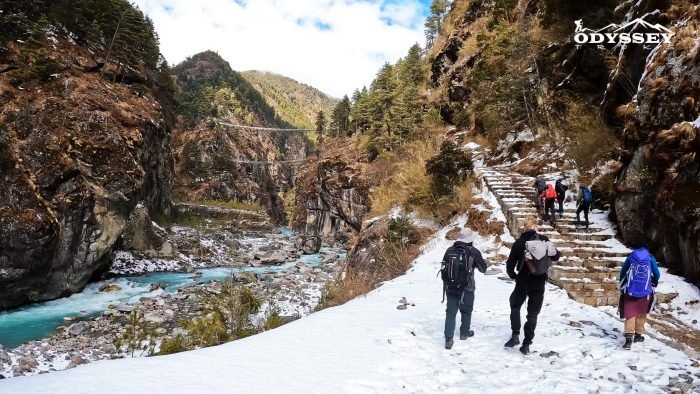 Another important thing to know before trekking in Nepal is the trekking trail. Trekking in Nepal involves crossing diverse terrains, high altitudes, and challenging conditions. Researching trekking trails helps you plan your trip well. It also helps to understand the potential risks you may face while trekking.
Trekking also requires a good level of physical fitness. You can assess your fitness level according to trail conditions and train accordingly. Trail research also helps you identify the permits you need to get. Not all trekking trails in Nepal have the same facilities. Research helps you gather information about the facilities available in the trekking area.
4. Choosing the right trek
It is important to choose the right trek before going trekking in Nepal. Always choose the trek that suits you. Nepal offers a range of trekking options, from easy to challenging and from low altitude to high altitude. Choose the trek that matches your physical fitness level, experience, and preferences.
Nepal Trek offers you breathtaking landscapes, diverse cultures, and stunning natural beauty. By choosing the right trek, you can match your interests with certain areas and sights. Nepal also offers treks ranging from a few days to several weeks. Choose the trek that fits your available time.
Some treks in Nepal attract a large number of trekkers, while others attract fewer. Popular routes are often crowded, and remote areas are less crowded. If you want to meet more trekkers and share experiences, you can choose popular routes. But if you prefer a quieter trekking experience, you can opt for less crowded routes.
5. Choose the best trekking season.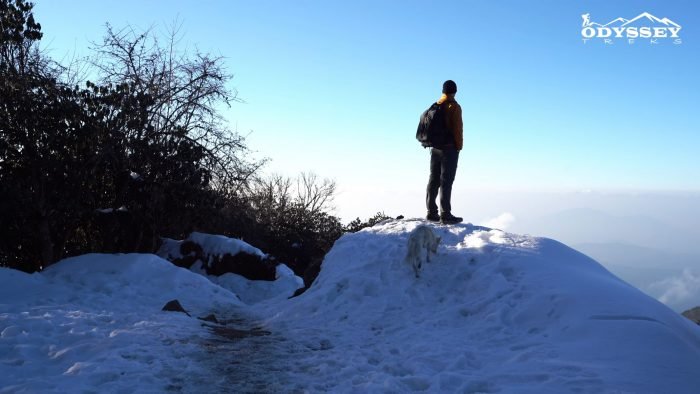 Choosing the best season is another important thing to know before trekking in Nepal. Good weather is essential to making trekking more enjoyable and successful. The best seasons for trekking in Nepal are spring (March to May) and autumn (September to November). Spring and autumn are the peak seasons for Nepal trekking.
During these seasons, the weather is usually stable and the sky is clear. The chances of rain or snow are also low. It offers excellent visibility of the surrounding mountains, landscapes, and stunning vistas. Ensures you access to the trekking trails and allows you to enjoy them without any hindrance.
The monsoon and winter seasons are not good for Nepal trekking. Heavy rainfall occurs during the monsoon season (June to August). Trekking routes become challenging and unsafe due to heavy rainfall. During the winter season (December to February), trekking is difficult due to heavy snowfall at higher altitudes. So, choosing the best time is essential for a fun, safe, and memorable trekking experience.
6. Types of trekking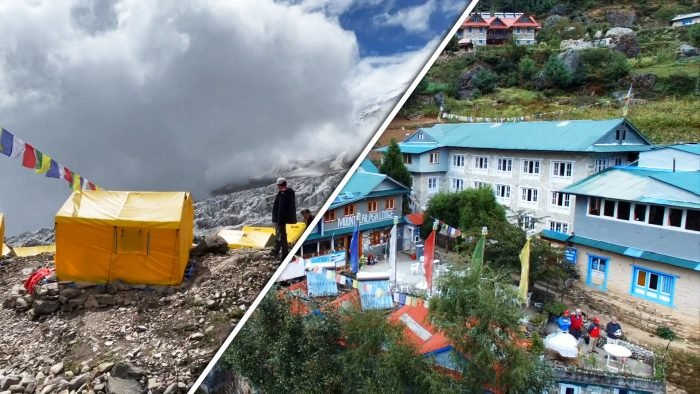 Before trekking in Nepal, it is necessary to know the type of trek. There are two types of trekking in Nepal based on food and accommodation: 1. Teahouse treks 2. Camping trek
1. Tea house trek
Teahouses are available on most of the popular trekking routes in Nepal. You can also find many teahouses along the Everest Base Camp trekking route. These teahouses provide both food and accommodation to trekkers. This means you can get food and accommodations in one place.
Most tea houses have basic facilities. There are few facilities available in teahouses located at higher altitudes. Although you can find luxury hotels along famous trekking trails like Everest Base Camp and Annapurna Base Camp,
2. Camping trek
Camping trekking is less popular than teahouse trekking in Nepal. You can camp on all trekking trails, although camping is not necessary where teahouses are available. Some trekking destinations in Nepal are very remote, where teahouses are not available. You have to camp on trekking trails where teahouses are not available. Camping involves carrying food, fuel, trekking equipment, and camping equipment.
It is mandatory to go camping and trekking on trails that do not have teahouses. Camping trekking is a bit more difficult and expensive than teahouse trekking. If you want a different experience, you can do camping treks on any of the trails. Trekking-type information also helps you plan the budget for your trek.
7. Know your physical ability.
Some of the treks involve challenging terrain, high altitude, and long durations. So, it is important to know your physical capacity before trekking in Nepal. Understand your physical capabilities and choose a trek that matches your fitness level. By choosing a trek within your capacity, you can enjoy the journey without much stress.
You can take steps to prepare in advance if your current fitness level is not sufficient for the chosen trek. Walking and cardio workouts help improve your endurance, stamina, and fitness. If you are not acclimatized to a high-altitude trek, you may be at risk. Knowing your physical ability will help you choose a trek with suitable altitude and acclimatization days.
8. Altitude sickness
Another important thing to know before trekking in Nepal is altitude sickness. Altitude sickness is also known as acute mountain sickness (AMS). Altitude sickness can be a major problem when trekking in high mountains. So, you should be very careful about it and prepare yourself to avoid it. Altitude sickness is common when trekking at high altitudes. But you can avoid this problem by taking some precautions.
Generally, headaches, nausea, dizziness, fatigue, etc. are symptoms of altitude sickness. There is less oxygen at higher altitudes, so the body needs more time to acclimate to the environment. A schedule with acclimatization days is an important way to avoid altitude sickness.
Some places need acclimatization while walking uphill. The trek is easy if you are well-acclimated to the low altitude. Ascend slowly if symptoms of altitude sickness appear. Drink plenty of fluids and avoid smoking and alcohol.
9. Travel Insurance
Travel insurance is also one of the most important things to know before trekking in Nepal. According to Nepalese law, travel insurance is not mandatory when traveling in Nepal. But it is mandatory for your safety, especially for high-altitude trekking. While trekking, you may face various risks, including altitude sickness, injuries, or illnesses.
Travel insurance covers emergency medical expenses, including hospitalization, medication, and evacuation if necessary. Make sure your insurance policy covers medical, helicopter, and other transportation expenses.
Trekking plans can sometimes get disrupted due to flight cancellations or natural disasters. In such cases, it helps to reduce financial losses. So, keep yourself safe with travel insurance and enjoy Nepal trekking.
10. Packing List
Another important thing to know before trekking in Nepal is the packing list. While packing, it is essential to pack wisely to ensure your comfort and safety in the mountainous terrain. Depending on the season, area, and trail, the things you need may be different. Yet, here is a list of essential items you should consider for a Nepal trek:
Clothing:
Lightweight and quick-drying trekking pants
Long-sleeved shirts
Fleece or down jacket for colder temperatures
Waterproof and windproof jacket
Thermal underwear or base layers
Trekking socks (wool or synthetic blend)
Hiking boots with ankle support
Gaiters (optional, for certain treks with snow or dust)
Sun hat and beanie or warm hat
Gloves (lightweight for lower altitudes, insulated for higher altitudes)
Bandanas or buffs for dust and sun protection
Equipment:
Backpack (45–65 liters) with rain cover
Sleeping bag suitable for colder temperatures (check with your trekking agency).
Sleeping pad or mat for insulation and comfort
Trekking poles for stability and support
Headlamp with extra batteries
Water bottles or hydration bladders (2-liter capacity recommended)
Duffel bag or waterproof bag for porters to carry your gear
Waterproof dry bags or plastic bags for organizing and protecting your belongings.
Sunglasses with UV protection
Trekking map or guidebook
Personal locator beacon or satellite phone (if trekking in remote areas)
Portable solar charger or power bank for electronic devices
Personal Items:
Personal identification documents (passport, visa, permit)
Travel insurance information
Cash (Nepalese rupees), credit, or debit cards
Toiletries (toilet paper, toothbrush, toothpaste, biodegradable soap, hand sanitizer, wet wipes)
Sunscreen (SPF 30+), lip balm, and moisturizer
Personal medication and a basic first-aid kit
Trekking towel
Miscellaneous:
Lightweight and quick-drying travel towel
Lightweight and compact trekking clothes for teahouses
Flip-flops or camp shoes for evenings
Camera or smartphone for capturing memories
Travel adapter (Nepal uses type C, D, and M plugs)
Ziplock bags (useful for waterproofing and organizing)
Snacks and energy bars for trekking days
Trekking permits and necessary paperwork (arranged in advance)
Note: It is a good idea to consult your trekking agency for specific gear recommendations based on the trek you choose.
11. Trek with a guide.
It is always better to go with a reliable guide while trekking in Nepal. Choose a good trekking company that can provide you with experienced trekking guides. It is also important to ensure that the guide provided by the company is licensed.
Trekking often involves challenging terrain with high altitudes and unpredictable weather conditions. Guides are trained in safety, first aid, and emergency procedures. They can take appropriate measures to ensure safety. In an emergency, a guide can provide immediate help and coordinate rescue operations.
The guides are locals of the trekking area, so they are very familiar with the trekking trail. They can provide good information about local culture, customs, and festivals. Guides will help you arrange accommodation and food, as well as provide security. The help of the guide allows you to enjoy the journey and immerse yourself in the picturesque landscapes.
12. Respect the local culture and environment.
When trekking in Nepal, it is important to respect the local culture and environment. Nepal is a diverse country with different ethnic groups and traditions. It is also your responsibility to respect local customs, traditions, and social norms. Dress modestly, especially when visiting religious sites and villages. Get permission to photograph people, especially in remote areas.
The natural beauty of Nepal is its main attraction. Help preserve the environment by practicing responsible trekking. Walk only on designated trails to avoid damaging vegetation. Dispose of waste by using designated bins or carrying it back with you.
If you are doing a camping trek, choose designated camping areas to minimize the impact on the environment. Follow the principles of Leave No Trace. Leave no trace by disposing of waste, including human waste.
Nepal is home to diverse wildlife. Observe wildlife from a distance and avoid disturbing them. Do not disturb wildlife by making unnecessary noise. Respect and follow local regulations in restricted areas or national parks.
13. Stay hydrated and eat well.
Staying hydrated and eating well are essential when trekking in Nepal. Most trekking in Nepal involves long hours of walking and physical exertion. Proper hydration and nutrition provide the energy needed to continue throughout the journey. Eating well can give your body the fuel it needs to meet the physical demands of trekking.
Trekking at higher altitudes can lead to dehydration due to lower humidity levels. Dehydration can lead to fatigue, headaches, dizziness, and reduced physical performance. Staying hydrated helps regulate body temperature and reduces the risk of altitude-related illnesses. It can also increase your mental clarity and enjoyment of the trekking experience.
You'll need to drink plenty of water and carry a reusable water bottle during your trek. Include a variety of nutrient-dense foods. Whole grains, lean proteins, fruits, etc. help maintain a balanced diet on your trip.
14. Food, accommodation, and other facilities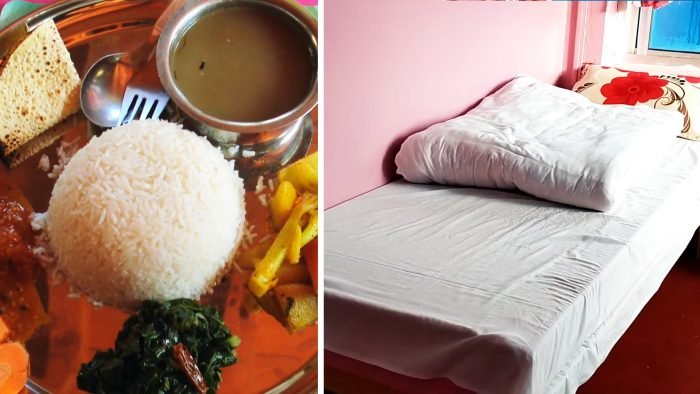 Another important thing to know before trekking in Nepal is food and accommodation. If you are trekking on one of the popular trails, you will likely stay at teahouses along the way. Locals run teahouses in various villages along the trekking trail. A teahouse is like a small lodge with a simple room with beds, pillows, mattresses, and blankets. All those teahouses can guarantee basic bedding and hot food but don't expect much else.
You can often find newer lodges with private ensuites next to more basic and older teahouses. But if you are trekking at high altitudes or in remote areas, then you should appreciate what they have to offer. Teahouses will be a great experience as part of your trek if you don't have high expectations.
Famous mountain trails have access to boiled drinking water. But it is better to carry water purification tablets. Cold water is available free of charge, but it is difficult to take a bath due to the cold at higher elevations. So, you need hot water to shower, but in many places, you have to pay extra for it. For a hot shower on famous trails like Everest Base Camp, you have to pay 4–5 dollars per head.
Toilets are available almost everywhere. But toilets in teahouses and basic trekking lodges are simple, i.e., squat toilets. At lower elevations, you can find western commodes, but above 4000 m, there are squat toilets.
Food
These teahouses offer local Nepali food as well as continental food. Most of the teahouses offer Nepali food like dal bhat, momos, noodles, and soup. Daal Bhaat is a traditional Nepalese meal that includes pulses, rice, and vegetables. It is a staple food that provides a good balance of carbohydrates and proteins. Teahouses are available along most of the famous hiking trails. Luxury hotels and lodges are also available on some trekking trails. If your budget is high, then you can use those hotels and lodges.
Teahouses are not available on trekking trails in some remote areas. You have to do a camping trek in those areas. You have to arrange your own food and accommodations for the camping trek. Camping involves carrying food, fuel, trekking equipment, camping equipment, etc.
15. Prepare for safety in case of an emergency.
Another important thing to know before trekking in Nepal is safety preparation. Trekking is a rewarding and adventurous experience, although there are some risks involved. So, it is better to prepare in advance for any emergency that may arise during the trek.
First of all, research the area you are trekking in thoroughly for safe trekking. Be aware of any potential hazards associated with the area. It is also important to choose a reputable local agency that offers various security measures. Select a trek that matches your fitness level and experience. It is advisable to hire an experienced guide who is familiar with the area to reduce the risk.
Sometimes you may have health problems due to bad weather. If you get sick during trekking, the guide will take care of you. But if there is an emergency, the guide will immediately arrange for a helicopter. The helicopter will take you to the hospital. Note that all hospital, helicopter, and other incidental expenses will be paid by you. So, your insurance policy should cover medical, helicopter, and other transportation expenses.
16. payment system
Many trekking companies accept cash, credit cards, or bank transfers as payment. Hotels in Kathmandu and Pokhara also accept credit cards. But you need cash for trekking expenses like accommodation, food, and local transport. ATMs may be rare or unavailable in remote and mountainous areas. Most teahouses, restaurants, and shops on the trail do not accept credit cards. But some established hotels in popular trekking areas do accept
So, it is important to bring enough cash to cover your expenses for the trek. If you take the full package, your company covers all expenses. Yet, it is necessary to carry cash for extra personal expenses. It is always a good idea to carry enough cash as a backup, along with credit cards. Having both options available will give you flexibility, convenience, and a safety net in case of an emergency.
Note: Extra fees may apply for credit card transactions or bank transfers.
17. The trip booking and cancellation system of the agency
It is also important to know the trip booking and cancellation policies of the company. The trip booking and cancellation policies of trekking companies may vary. Yet, you need to know the trip booking and cancellation policy information in Nepal. It is better to choose a trekking company that is flexible regarding trip booking and cancellation.
For trip booking, you can make a reservation by paying a specified percentage of the total trip cost. for bookings, you need to send 20% of the total payment as security, which is non-refundable. This payment confirms your commitment to the trek. After your payment, the trekking company will provide confirmation of your booking.
If you cancel the trip, the company will not be responsible for refunding the advance payment. But you can postpone your trip for up to a year to avoid cancellation. The remaining balance of the cost is usually payable before the start of the trek. Customers are free to cancel the trip for any reason. Most companies refund customers a fixed amount, depending on cancellation times. For detailed information on trip booking and cancellation policies, you may contact the company of your choice.
You may like: Top 10 major attractions of Everest Base Camp