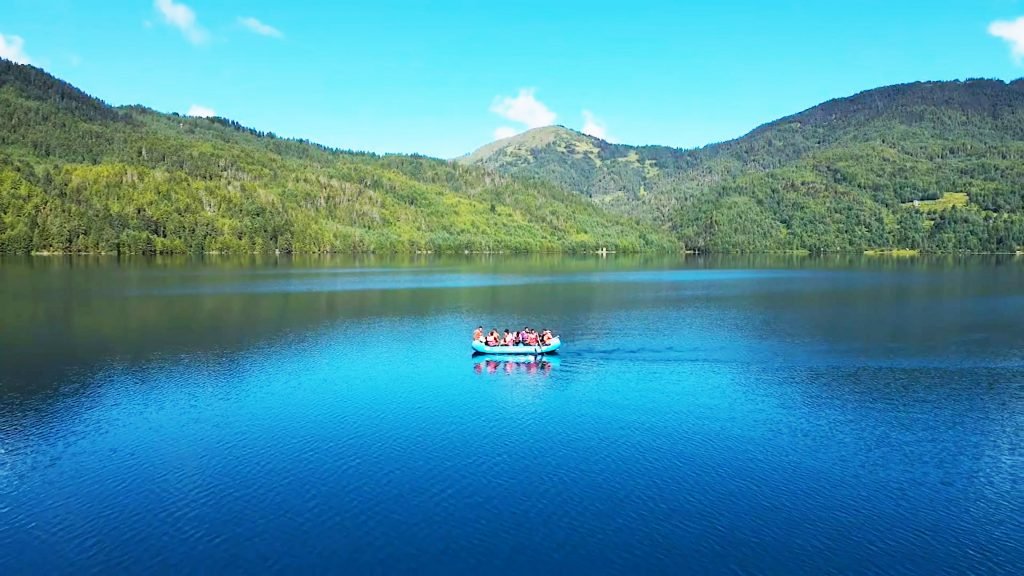 Introduction to 15 Best Places to Visit in Nepal
Are you thinking about the Best Places to Visit in Nepal? If yes then this article will be beneficial for you. Nepal is one of the most popular tourist destinations in Asia. It is a beautiful country that is famous all over the world for its various tourist activities. Nepal is also famous for its Himalayan scenery, culture, religion, temples, and monasteries. As Nepal is a beautiful country with the Himalayas and diversity in nature, the number of tourists coming here is increasing day by day.
The amazing diversity of this country attracts visitors. Tourist activities within the country can be different. Some come to climb the Himalayas and some trek in the Himalayas. Some come for cultural, religious, and historical tours, and some for adventure tours.
Since Kathmandu is a historical and cultural place, most travelers visit Kathmandu and then go to other places in the country. There are many Beautiful Places to Visit in Nepal, the land of the Himalayas. These beautiful and unique tourist places will mesmerize you.
We have compiled a list of Nepal's best places to visit to help you plan your trip. A list of the 15 Best Places to Visit in Nepal has been prepared based on popularity among tourists.
1. Kathmandu
Kathmandu is the capital and largest city of Nepal. It is a valley surrounded by green hills. Kathmandu is the center of the history, art, culture, and economy of Nepal. Religious and cultural festivals are a major part of life for people living in Kathmandu. The city is the gateway to the Himalayas and home to several World Heritage Sites. There are many beautiful historical places to visit within Kathmandu. There are many must-see places in Kathmandu.
#Pashupatinath Temple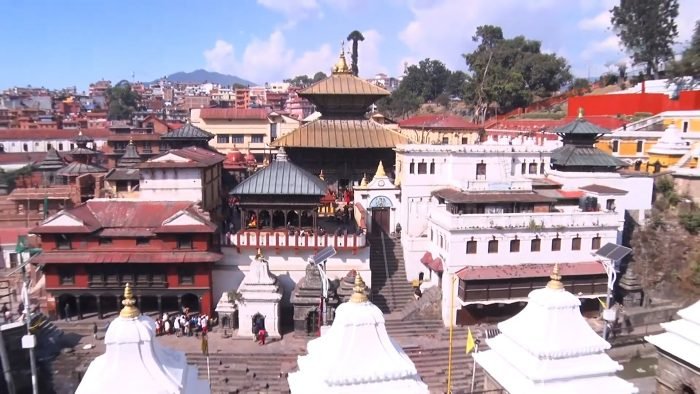 Pashupatinath Temple is one of Nepal's oldest, most famous, and holiest temples. Located on the banks of the Bagmati River, it is a place of great religious importance for Hindus. Pashupatinath, the revered deity of Nepal, is also known as Lord Shiva. Built-in pagoda style, this temple is an excellent example of Nepalese art.
This Temple is one of the Best Places to Visit in Nepal. This temple is on UNESCO World Heritage List. Usually, every year during the Mahashivratri many people come to visit this temple.
#Bouddhanath Stupa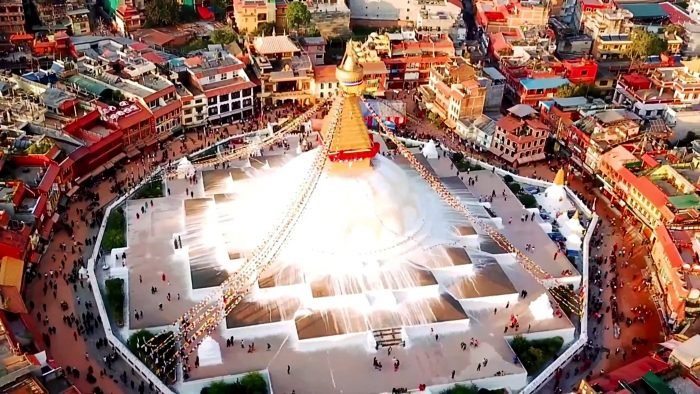 Bouddhanath Stupa is another beautiful place to visit in Kathmandu. This stupa is the largest stupa in the world and a sacred place for Buddhists. This is another beautiful UNESCO World Heritage Site in Kathmandu. It is one of the must-visit places in Nepal. The 36-meter-tall stupa adds to the beauty of Kathmandu. This magnificent stupa attracts a large number of visitors from far and wide. Known worldwide as a unique structure, this stupa is one of the best places to visit in Nepal.
#Swayambhunath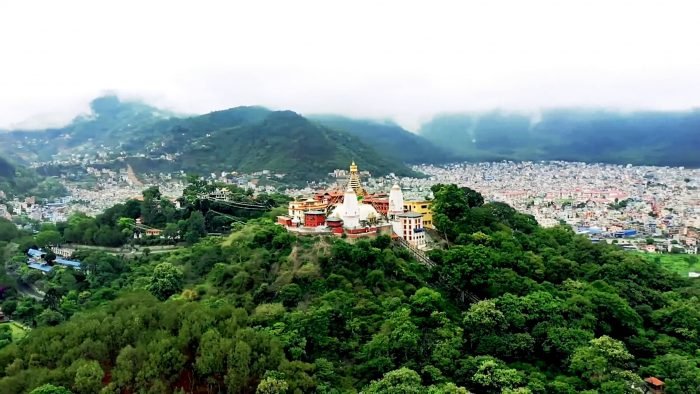 Swayambhunath is one of the popular holy pilgrimages and tourist spots in Nepal. It is on top of a small hill. It is one of the finest examples of ancient religious architecture. Swayambhunath is also known as the Monkey Temple. Swayambhunath Stupa is also a UNESCO World Heritage Site. This historic landmark has been on the UNESCO World Heritage List since 1979. Swayambhunath Stupa is one of the oldest religious sites in Nepal. You can see the panoramic view of Kathmandu valley from the top hill of Swayambhunath.
#Kathmandu Durbar Square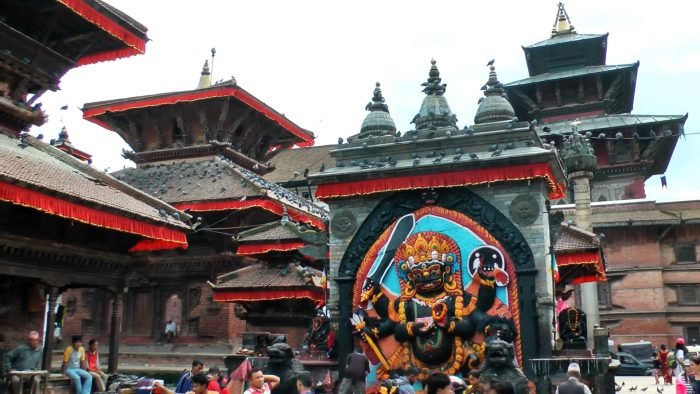 Kathmandu Durbar Square is one of the UNESCO World Heritage Sites in Kathmandu. It is in Basantpur, the old city of Kathmandu. Built during the time of the Malla kings, this durbar square is surrounded by about 50 temples including the Taleju Bhavani temple. Kathmandu Durbar Square is one of the best historical places in Kathmandu. This Durbar Square presents the best example of traditional Nepalese architecture. It tells the history of the royal kings who ruled the country for a long time.
#Thamel
Thamel is the center of the tourism industry. Here you will find many travel agencies, trekking agencies, hotels, restaurants, and shops. The narrow streets of Thamel are crowded with hundreds of pedestrians and vehicles. Most tourists prefer to stay in Thamel as it is a tourist center. Different types of hotels are available from luxury international hotels to budget hotels. Thamel is also famous for its nightlife. All the necessary facilities for tourists are available here.
Visit Also: 6 Best Places to Visit in Nepal for Bird Watching
2. Bhaktapur 
Bhaktapur is a historical city very close to Kathmandu. The city is in the eastern corner of the Kathmandu Valley, about 13 kilometers (8.1 mi) from Kathmandu. Bhaktapur was an independent Newar kingdom under the Malla kings. Malla kings ruled from the 15th century to the 18th century. It was a golden age for Bhaktapur as architecture flourished during the Malla era. Bhaktapur is also famous for many festivals and carnivals. This city is a Newar settlement and is famous for its handicrafts.
The main attraction of Bhaktapur is Bhaktapur Durbar Square. Bhaktapur Durbar Square is a UNESCO World Heritage Site. The Bhaktapur Durbar Square is in the center of the city. It is one of the most attractive and best architectural showcases of medieval art in Nepal. Durbar Square is a group of temples and palaces built in pagoda and shikhara style using brick and wood. It is one of the best places to visit in Nepal as it attracts many tourists. You can visit Changunarayan Temple, another UNESCO heritage site. It is the oldest temple built in the 5th century.
You may like: 10 world heritage site of Nepal listed in the UNESCO
3. Patan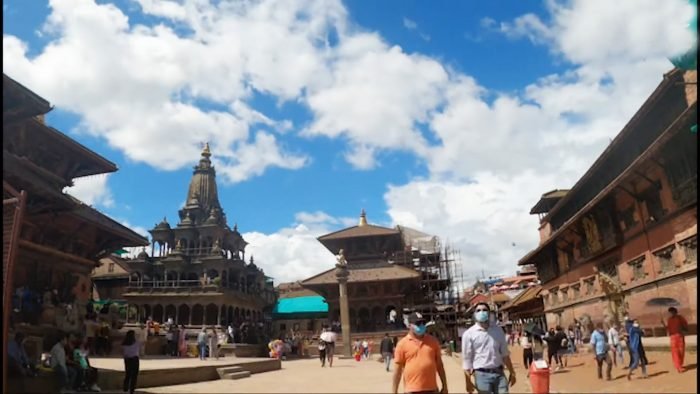 The city of Patan within the Kathmandu Valley is one of the best places to visit in Nepal. The most famous place here is Patan Durbar Square which is a UNESCO World Heritage Site. Patan Durbar Square in the heart of Patan city is about 6 km from the Thamel area of ​​Kathmandu. Patan Durbar Square is another royal palace built during the reign of the Malla kings.
Inside Durbar Square you can find carved temples, statues, and palaces. It is a fine example of ancient Newari architecture, rich cultural heritage, and tradition of crafts. You can also visit the Patan Museum within the premises to learn about the glorious history of Patan. Here you can find many Buddhist temples, stupas, and monasteries. So, this city is also considered a Buddhist city.
4. Nagarkot
For nature lovers, Nagarkot is the best place to spend holidays near Kathmandu. Nagarkot, 32 km from Kathmandu, is a beautiful tourist destination. Nagarkot is a popular place not only for foreigners but also for domestic tourists. This place is famous for its sunrise view. The view of the sunrise looks exciting and mesmerizing from this place. This place offers amazing views of the Himalayan ranges. From here you can see the panoramic view of Ganesh Himal, Langtang Himal, Gaurishankar Himal, Dorje Lakpa, etc.
On a clear day, you can even catch a glimpse of Mount Everest. In Nagarkot, you can find normal to luxury hotels. If you have a short time and looking for a beautiful tourist place near Kathmandu then this place is a good option. You can also enjoy paragliding along with Himalayan views. If you are a hiking lover, you can also do a short one-day Nagarkot hike. At an altitude of 2,195 meters, the natural beauty of this place makes it a very popular hiking route for tourists.
5. Pokhara
Pokhara is the most beautiful city in Nepal. This is the second-largest valley in Nepal and is a famous tourist spot. Pokhara is one of the major cities of Nepal, which is about 203 km away from Kathmandu Valley. This beautiful city offers stunning views of the Annapurna and Dhaulagiri ranges. If you are looking for a tour that offers a genuine and relaxing experience, Pokhara valley is the best option.
You can do the best things in Pokhara. Pokhara is also famous for adventure activities like hiking, rafting, paragliding, mountain biking, and bungee. Pokhara promises a very peaceful and blissful environment for nature lovers. You can visit World Peace Pagoda, Davis Falls, Phewa Lake, Rupa Lake, Begnas Lake, Mahendra Cave, Bindabasini Temple, etc.
Pokhara is the gateway to the famous Annapurna Base Camp Trekking and Poon Hill Trekking. Pokhara is a city of lakes which is another reason why many tourists are attracted to this place. Sarangkot in Pokhara is also a famous place for sunrise. From Sarangkot you can witness the breathtaking view of the sunrise.
6. Chitwan National Park 
Another of the best places in Nepal is Chitwan National Park. This park is a UNESCO World Heritage Site. It is one of the top and most famous tourist destinations among the tourist places of Nepal. It is the first national park of Nepal which was established in 1973. The park was listed as a UNESCO World Heritage Site in 1984. Located in the south-central part of the country, this national park covers an area of ​​952.63 sq km.
With many numerous species of wildlife and flora, this national park is a great place for jungle safari lovers. The tropical monsoon climate makes it an ideal location for jungle safaris. It is at a distance of 170 km from Kathmandu and you can travel by road by bus which takes about 5 to 6 hours. In this park, you can do a jungle safari, elephant ride, nature walk, jeep drive, bird watching, village tour, etc.
The park is home to various species of animals that preserve rare species of birds and animals. The park is especially famous for the one-horned rhinoceros and the Bengal tiger. You can also find elephants, monkeys, deer, wild boars, wild cats, sloth bears, pythons, crocodiles, and many other animals in the park. The Rapti River in the western part of the park is an excellent spot for Gharial viewing. You can also watch the beautiful view of the sunset from the banks of the Rapti River. A nature walk is another way to explore the forest.
It is also a good opportunity for bird watchers as there are more than 500 species of birds. You can also visit Tharu villages near the park and explore their unique culture, traditions, and lifestyle.
Read also: Top 10 Best Treks in Nepal
7. Bardia National Park 
Bardia National Park is another famous tourist destination in Nepal. This National Park is an excellent destination for nature lovers and wildlife enthusiasts. Covering an area of ​​968 sq. km., Bardia National Park was established in 1988 as Royal Bardia National Park. Located in the west-south region of Nepal, this Park is home to various rare species of animals and birds. Bardia National Park is at a distance of 376 km from Kathmandu. It shelters endangered species like rhinos, crocodiles, tigers, wild elephants, etc.
It is also home to more than 350 species of beautiful birds. Bardiya National Park is the second most popular jungle safari park in Nepal. It offers you a full nature view, rare wildlife, authentic Tharu culture, and other small activities. Elephant rides and jeep drives are great ways to explore wildlife.
8. Lumbini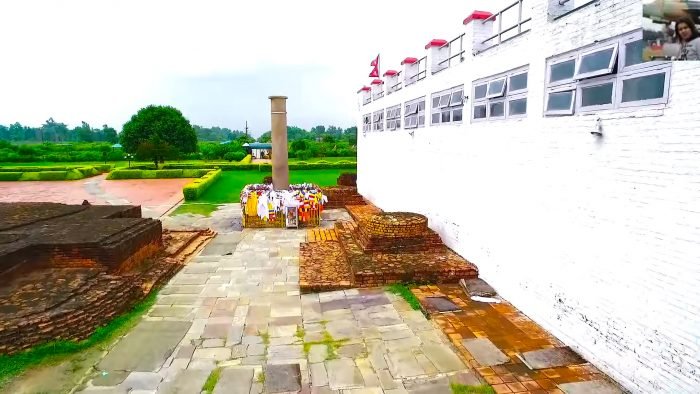 Lumbini is a place of special importance for Nepal. This is one of the holiest places in the country as it is the birthplace of Lord Buddha. Lord Buddha was born in 623 BC in Lumbini which soon became a place of pilgrimage. Your visit to Nepal will be incomplete without visiting Lumbini. Religious and historical, this place is one of the most visited places in Nepal. Lumbini is a holy place, especially for people who follow Buddhism. Lumbini is a UNESCO World Heritage Site with many attractions. This place holds great importance in Buddhism and Hinduism.
Here you can visit gardens and various artistic monasteries built by different countries. You can also visit Mayadevi Temple and the sacred pond. Mayadevi Temple is one of the most important attractions which is the main birthplace of Lord Buddha. You can also enjoy meditation in the peaceful atmosphere of Lumbini. Lumbini is 255 km away from Kathmandu in the southwest. You can reach Lumbini from Kathmandu by flight or overland drive. By flight, you can reach Bhairahawa airport in 30 minutes and then Lumbini by 1-hour drive. If you go by bus, you can reach in 9 to 10 hours.
9. Everest Region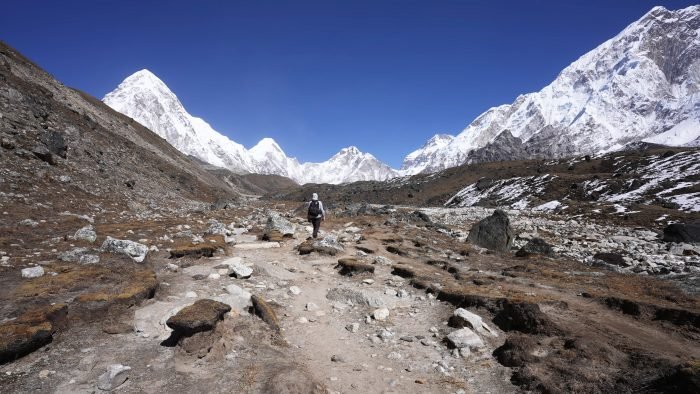 The Everest region is the most famous place for tourists in Nepal. Everest region is also the most popular trekking destination for tourists in Nepal. This area is also the choice of many tourists as the world's highest peak Mount Everest (8,848m) is in this area. Thousands of tourists visit this area every year with the dream of having a close view of Mount Everest. Everest base camp trekking in this area is the most famous trekking in Nepal. The region is also famous for its high mountain passes and the beautiful Gokyo Lake.
With Mount Everest as well as other high peaks, deep gorges, and Himalayan glaciers, this region is one of the most beautiful places on earth. The Everest region is within the Sagarmatha National Park. This national park is 120 km northeast of Kathmandu. Sagarmatha National Park is the highest national park in the world. Covering an area of ​​1,148 square kilometers, this national park is a UNESCO World Heritage Site.
You'll find incredible snow-capped mountain views, Buddhist monasteries, and friendly Sherpa people. You can also visit Namche Bazaar, Sherpa villages, and Tengboche Monastery. It offers a variety of options for short and medium to challenging treks, climbing, and expeditions. Most of the trekking trails in this area have good teahouses for food and accommodation. Your trip to Everest Region will be one of the most memorable moments of your life.
10. Annapurna Region
Annapurna region is one of the most popular regions of Nepal to visit. This area is also an excellent destination for trekking. Annapurna region is famous for trekking. This region is in north central Nepal which is a natural heaven of Nepal. According to a survey conducted by Modern Maturity (USA), the Annapurna region is one of the best trekking routes in the world which more than 50,000 tourists visit every year. Covering an area of ​​7,629 sq.km., the Annapurna region was established as a protected area in 1985.
The main attractions of this area are Annapurna Base Camp, Tilicho Lake, Poon Hill, Old Nun Settlement of Manang, Thorang-La Pass, Muktinath Temple, and the world's deepest gorge (Kaligandaki). Mainly the famous city of Pokhara is the gateway to the Annapurna region. A visit to this region leads to the majestic mountains Dhaulagiri (8,167 m), Manaslu (8,156 m), Annapurna I (8,091 m), Tukche (6,920 m) Annapurna South (7,219 m), Machhapuchhre (6,996 m), Nilgiri (6,940 m), etc.
Annapurna Circuit Trek, Jomsom Muktinath Trek, Ghorepani Poon Hill Trek, Mardi Himal Trek, Nar Phu Valley Trek, Tilicho Lake Trek, etc. are popular treks in Annapurna area. A visit to Annapurna is an unforgettable experience of a lifetime with stunning mountain views, mixed cultures, picturesque valleys, and beautiful landscapes. A good service of tea houses is available along most of the trekking routes in the Annapurna region.
11. Langtang Region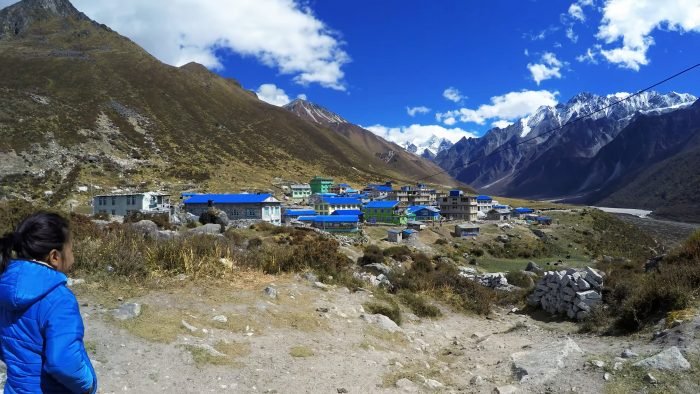 Located 51 km north of Kathmandu Valley, Langtang is for trekking. Langtang region is a famous tourist region after Everest and Annapurna region. Covering an area of ​​1,710 sq. km., Langtang is Nepal's first Himalayan National Park which was established in 1971.
Although close to the city, the Langtang area is rich in wild scenery and glaciers. It describes the beauty of the Himalayas, the unique biodiversity, and the Tibetan way of life. The Tamang people are the ancient and prominent inhabitants of the Langtang Valley. The religious practices, language, and dress of the people here are similar to those of Tibet.
We can find wild animals like Himalayan Black Bears, Himalayan Tahar, Assam Macaque, and Red Pandas in this area. Gosaikunda Lake in this area is a famous destination for tourists. It is a sacred lake for Hindus. Another spiritual site is Kyanjin Gompa which is a religious site for Buddhists.
The rhododendrons, majestic waterfalls, bamboo forests, and snow-capped mountains will mesmerize you. A visit to the Langtang area leads to beautiful mountains like Shishipangma (8,013 m), Langtang Lirung (7,246 m), Ganesh Himal (6,704 m), Dorje Lakpa (6,988 m), Gaurishankar (7,145 m), Lanashisha Ri (7,134 m), Na Kanga Peak (5,846 m), Langtang Lirung (7,246 m).
12. Mustang Region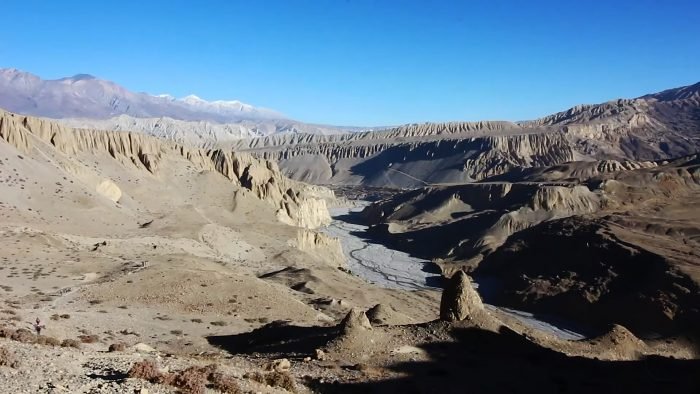 Mustang region is another famous place to visit in Nepal. A visit to this region is a challenging and adventurous journey. A trip to this region is an amazing trip for travelers to experience the best vacation of their life in Nepal. Thousands of tourists visit Mustang every year to see its amazing history and culture. It is in the shadow zone with an average altitude of 4,000 meters.
Mustang is a remote Himalayan region of Nepal and its headquarters is Jomsom. The people here are influenced by the Tibetan way of life. So, many peoples in the region still speak the traditional Tibetan language. This place offers a rich Himalayan cultural experience. A visit to this area is a perfect combination of cultural heritage and natural diversity.
With many caves, monasteries, forts, temples, and monks, Mustang is one of the most inspiring historical places in Nepal. Mustang offers two peaks above 8,000 meters Annapurna (8,091 m) and Dhaulagiri (8,167 m). Visiting Mustang King Palace, Monasteries, etc. is a wonderful experience of a lifetime.
The famous Lo-Manthang surrounded by 40 unique peaks is another attraction. Climb to the top of Lo-Manthang and enjoy panoramic views of the Mustang and the Annapurna range. This is a restricted area and a special permit issued by the Government of Nepal is required to visit it. Nowadays, tea houses/lodges are available in the region. Camping is not necessary as before, you can find tea houses/lodges almost everywhere.
13. Manaslu Region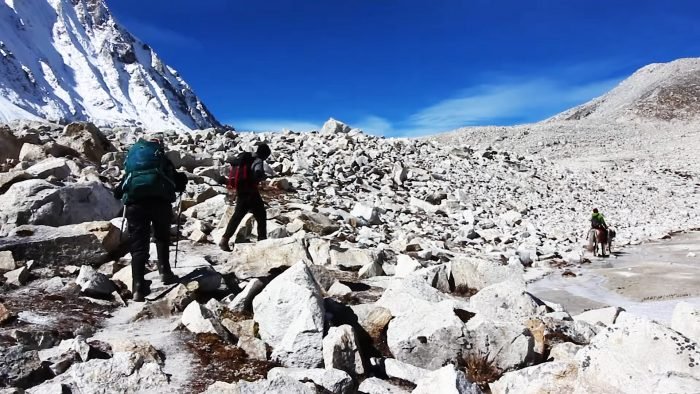 Manaslu area is a good choice for nature lovers. It is one of the best places to visit in Nepal. The region is also famous for the eighth-highest mountain in the world, Manaslu (8,156 m). In 1998, this area was declared a conservation area to conserve natural resources, cultural heritage, and wildlife. The conservation area covers an area of ​​1,663 square kilometers. It is managed and protected by Nepal's National Trust for Nature Conservation (NTNC). The area has 10 peaks over 6,500 meters and the highest point of the route is Larkya La Pass at 5,160 meters.
The influence of Tibetan Buddhism can be seen in various villages in this place. Culture and festivals inspired by Tibetan Buddhism are unforgettable things to experience. Manaslu, Ganesh Himal, Shringi Himal, Naike Peak, Larky Peak, Cheo Himal, Ratna Chuli, Kangaroo Himal, etc. are the attractions of this area. As it is a restricted area, at least 2 people must take part according to the regulations of the Nepal government to visit. A special permit can be obtained from the Nepal Immigration Department.
14. Tilicho Lake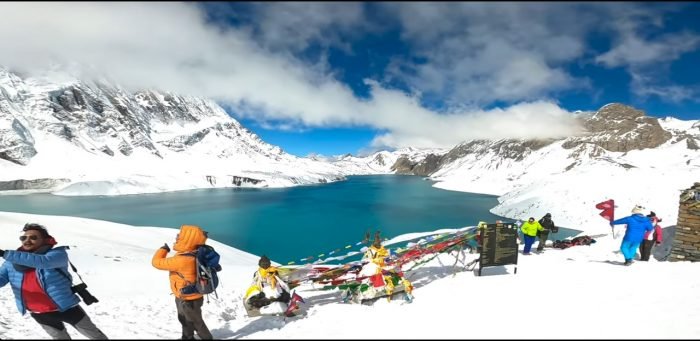 Tilicho Lake is a famous and one of the best places to visit in Nepal. This lake is located at the highest point on earth. A large number of tourists come to visit this lake at an altitude of 4,919 meters. This is a special place for tourists as they can enjoy the natural beauty of the area. This lake is in the Annapurna region which is a famous trekking destination in the region. Gaining a high altitude to get a view of the lake is not an easy task. But the journey is exciting, thrilling, and more or less rewarding.
The view of the tranquil and clear water of Tilicho Lake is delightful. The trail to Lilicho Lake offers a magnificent view of 3 mountains above 8000 meters Dhaulagiri, Annapurna I, and Manaslu. There is a new lodge and teahouse available between Manang and the lake, so there is no need to camp. Food and accommodation facilities are available in these lodges and teahouses.
15. Rara Lake
Rara Lake is one of the most beautiful and scenic tourist destinations in Nepal. This lake is the largest freshwater lake in Nepal. Located at an altitude of 2,990 m, the lake has a maximum depth of 167 m, a length of 5.1 km, and a depth of 2.7 km. The lake is surrounded by mountains. You can see the reflection of the majestic Himalayas in the water of the lake.  The lake is unique and will be one of the most beautiful things you will ever see in your life.
Located in the northwest of Nepal, this lake is within the Rara National Park. Rara National Park is a protected area that was established in 1976. Spread over an area of ​​106 square kilometers, it is the smallest national park in the country. The park protects various species of birds and mammals along with Rara Lake. Rara National Park is home to animals like Musk Deer, Himalayan Black Bear, Leopard, Himalayan Goral, Red Panda, etc.
A trip to Rara Lake offers Himalayan views, beautiful landscapes, rhododendron forests, and lush valleys.  A visit to Rara Lake can be the perfect trek for all nature lovers and remote solitude travelers.
You May Like: 5 Best Climbing Peaks in Nepal
Food and Accommodation
during the Nepal visit
When visiting Nepal, your flight lands at Tribhuvan International Airport in Kathmandu. So, the journey of all 15 best places to visit in Nepal starts from Kathmandu. Luxury hotels to budget hotels are available in Kathmandu according to your choice. Thamel is the tourist center of Kathmandu so most tourists prefer to stay in Thamel. There are many hotels and restaurants in Thamel.
Good hotels are also available in other tourist spots outside the Kathmandu Valley. Pokhara, Chitwan, Nagarkot, Lumbini, etc. also have many class tourist hotels. Teahouses are available on many trekking routes. A teahouse is like a lodge that provides food and accommodation to trekkers. But teahouses are unavailable in some remote areas trekking routes. So, camps should be arranged on those trekking routes.
Daal, Bhat, and vegetables (rice, lentils, and curry) are the main food of Nepali people. Apart from this, you can enjoy other traditional Nepali food. Along with Nepalese food, you can also find continental food. Chinese, Thai, Indian, Korean, Japanese, and other restaurants are also in Kathmandu and Pokhara.
Best time to Nepal Visit
It is important to have information about the best weather when visiting any place in Nepal. The winter season (December, January, and February) brings cold and snow to the hilly areas. Because of the cold, few people come to visit Nepal. Although the sky is clear and the scenery is beautiful, traveling in cold weather is difficult. So, the winter season is not a good time to visit Nepal.
Summer (June, July, and August) is the monsoon season. It rains a lot during this season which hampers travel. Rain can cause landslides and road closures that affect your travel. So, this season is also not a good time to visit. Spring season (March, April, and May) is the best time to visit Nepal. Although the beginning of this time is a little cold, it gradually warms up. The weather is stable which creates favorable conditions for travel.
Autumn (September, October, and November) is the most popular and best season to visit Nepal. During this time the weather is clear and the climate is cool. This season is suitable for any tourist activity in Nepal. So, you can plan a trip to Nepal in spring and autumn.
Agency for Nepal Visit
You may be confused about which agency and guide to choose when visiting Nepal. You can find many tour companies and guides in Nepal from different mediums.  But the main thing is that you should choose the best one. While choosing the company check all the documents whether the company is genuine or not. You can visit Nepal without any company although it is better to travel through a company. But visiting the restricted areas of Nepal must be done through an agency. You will be safe and comfortable while traveling through the company.
Guide d
uring
visit best places in Nepal
When trekking or touring in Nepal, you need an experienced guide. If you are knowledgeable about the places of Nepal, you can do the tour without a guide. But visiting some restricted areas must be done through agencies and guides. If you are not familiar with the different aspects of Nepal, it is better to hire a guide. There are many freelance guides available in Nepal but it is better to use a company guide. The guide provides you with information about the place, local culture, and traditions.
Visa for Nepal Visit
All foreigners except Indian citizens need a visa to enter Nepal. Visas are available at Kathmandu International Airport when entering Nepal by air. And if entering by land, visas are available at the border crossing. Or if there is a Nepalese embassy in your country, then you can get it from there as well. A passport must be valid for at least six months to get a visa.
Citizens of Ghana, Nigeria, Zimbabwe, Swaziland, Liberia, Ethiopia, Somalia, Cameroon, Iraq, Palestine, and Afghanistan are not eligible for visas on arrival. There is a provision that they should get a visa from the Nepali embassy or diplomatic mission in their respective countries. You can pay the visa fee in US Dollars, Euros, Pound Sterling, Canadian Dollar, Australian Dollar, Swiss Franc, Hong Kong Dollar, Japanese Yen, and Singapore Dollar. But Indian currency, Nepali currency, and credit cards are not accepted.
On arrival visa fee is USD 30 for 15 days at the point of entry. USD 50 for 30 days and USD 125 for 90 days. You can extend your visa for a minimum of 15 days by paying USD 45. And can extend the visa for extra days by paying USD 3 per day. In case of delay, an extra USD 5 per day is payable as a late penalty.
Insurance and Safety During
visit best places in Nepal
Nepal is one of the safest countries in the world to visit. Insurance is not mandatory for visiting Nepal. But it is better to have insurance for your personal and financial security. It is better to have travel and medical insurance when visiting Nepal. insurance is more important if you are trekking in the high Himalayas.
It is always recommended to go through a good agency for a safe visit. Trekking or tour companies are registered by the Nepal government and guides are licensed. It is the responsibility of the guide to protect you and your belongings during the tour.
Transportation During visit best places in Nepal
Public transport is available in Nepal for short and long distances. Generally, public vehicles are cheaper than other vehicles. Sometimes it is difficult to get a seat on public transport and you have to stand in the middle of the bus. Public transport includes buses, vans, and tempos. Taxis are also available in Kathmandu and Pokhara cities which are more expensive than public transport. But for short journeys, using a taxi is a better option.
You also get tourist vehicles that are more comfortable, luxurious, and well-maintained. Tourist vehicles are more expensive than public transport. You can also rent private vehicles such as jeeps, cars, and motorcycles. Another means of transport is air transport which is very popular among tourists. Flights are available from Kathmandu to the most famous cities of Nepal. Flights are also available to remote areas like Lukla, Jomsom, Dolpa, and Rara. Helicopter service is also available but it is very expensive.
Permit and entry fees during the Nepal visit
We all know that there are many best tourist places to visit in Nepal. Tourists have to pay the entrance fee to visit these popular places. When visiting World Heritage Sites, you can pay the entrance fee at the ticket counters there. You can get a permit to visit protected areas by paying a certain fee. Permits are available at the entry point of the conservation area or in Kathmandu.
But to get a restricted area permit you have to go through an agency. This permit is provided by the Nepal Immigration Department and requires at least two participants. The entry fee is different for Nepali citizens and foreign citizens. Similarly, there is a different entry fee for SAARC nationals and other foreign nationals.
Also, visit: Kathmandu valley tour, 6 days itinerary, package, cost