8 Most Popular Adventure Activities in Nepal
Are you looking for adventure activities in Nepal? If yes, then you are in right place. Although Nepal is a small country, it is an excellent destination for tourists in the world. The country attracts more than 1 million tourists every year through various activities.
Here you can enjoy various activities along with beautiful mountain scenery, mysterious culture, heritage, multi-ethnic, and various colorful festivals. Among the tourist activities, Nepal is the choice of many for adventure activities. It is the best place for travelers who love to do adventure activities with beautiful nature. Some of the main reasons why it is popular for adventure activities:
The Himalayas:
Nepal is home to the Himalayas. It includes some of the highest peaks in the world, including Mount Everest. These Himalayas are the main attraction and a major attraction for adventure seekers.
Nepal's Himalayas offer a wide range of trekking, climbing, and mountaineering options. You can find hiking options ranging from easy treks to strenuous high-altitude treks.
Diverse Terrain:
There are plains in the south of Nepal and high mountains in the north. Nepal offers a variety of terrain including deep valleys, high mountains, fast-flowing rivers, and lush forests. Such diverse terrain makes the country an ideal destination for adventure activities.
Good Infrastructure for Adventure Tourism:
Nepal has a good infrastructure of transport, accommodation, communication, and the internet. There is a well-established network of adventure tourism companies, guides, and support staff. With good infrastructure, tourists get a high level of expertise, safety, and support.
Affordable Prices:
Nepal is an affordable destination for adventure travel. The cost is generally less compared to many other destinations around the world. Overall, it is a budget-friendly destination if you plan and manage accommodation, food, transportation, and activities well.
Rich Culture and History:
Nepal is a country with a rich and diverse culture with a diversity of ethnicities and religions. It is also home to many ancient temples, and shrines where you can explore culture, history, and architecture. You can experience great cultural heritage as well as adventure activities.
Here is a comprehensive list of the 8 most popular adventure activities in Nepal.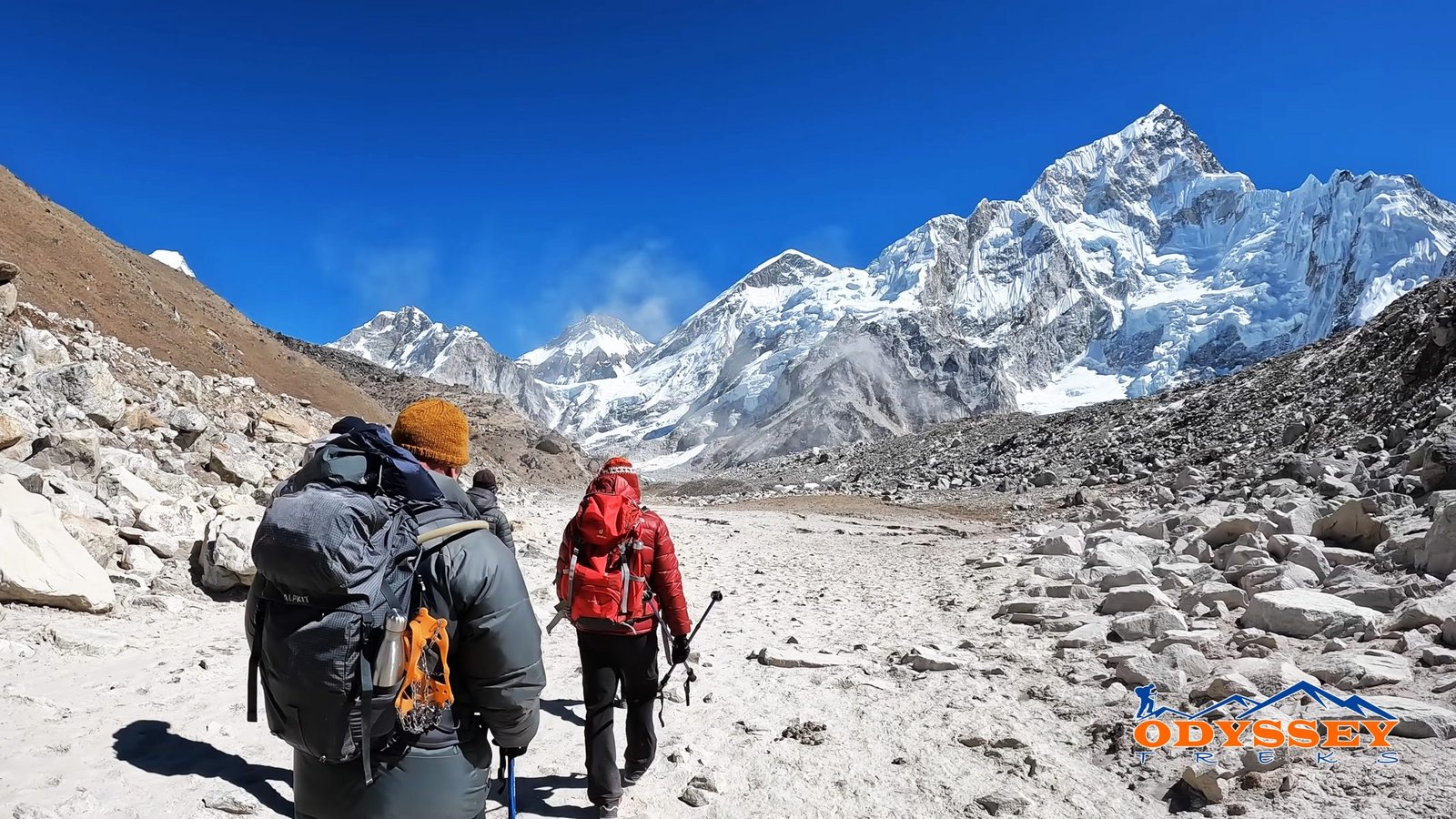 Trekking is one of the most popular adventure activities in Nepal. Moreover, Nepal has become a remarkable focal point for trekking adventure lovers. Trekking is also a great way to experience the natural beauty and cultural heritage. You can get various trekking packages that only some countries in the world can offer.
Since Everest is the highest peak in the world, the first choice of many is to trek the Everest region. Annapurna, Langtang, Mustang, and Manaslu regions are also famous for trekking and hiking. There are many trekking routes in Nepal ranging from short to long and easy to strenuous.
There are 2 types of trekking: teahouse trekking and camping trekking. Teahouse trekking is the most popular type of trekking, where trekkers stay in local teahouses or lodges during the trek. Teahouses provide basic food and accommodation. This type of trek is easy and convenient to arrange.
Types of Trekking
Camping trekking is not that popular but you can do it in the Himalayas of Nepal for a different experience. This trekking involves camping in tents instead of in teahouses or lodges. Camping is also not necessary as teahouses are available on most trekking trails. But in some remote areas, camping is necessary as there are no teahouses available on the trails.
Camping trekking usually requires more planning and equipment. You have to arrange all the food and accommodations for trekking. Camping trekking is more expensive than tea house trekking.
Trekking may vary in difficulty depending on the particular trek. Some famous treks like Everest Base Camp Trek, Annapurna Circuit Trek, Manaslu Trekking, and Kanchanjunga Trekking are more challenging.
Such treks need a good level of fitness and previous trekking experience. Treks like Ghorepani Poon Hill or Langtang Valley are easy. These treks are more suitable for beginners.
While choosing a trek, it is important to consider the fitness level, previous experience, budget, length of the trek, and altitude. It is best to consult a reputed trekking agency that will help you decide on a suitable trek.
Some popular treks in Nepal:
Everest Base Camp Trek
Everest Three-Pass Trek
Pikey Peak Everest Trek
Annapurna Base Camp Trek
Annapurna Circuit Trek
Ghorepani Poon Hill Trek
Jomsom Muktinath Trek
Mardi Himal Trek
Langtang Valley Trek
Langtang Circuit Trek
Manaslu Trek
Upper Mustang Trek
Chisapani Nagarkot Trek
Makalu Base Camp Trek
Kanchenjunga Base Camp Trek
Nepal is a center of attraction for climbing and mountaineering as it is home to many majestic and attractive Himalayas. Nepal's majestic snow-capped peaks offer thrills to climbers and mountaineering enthusiasts. If you want to do more adventurous and exciting activities then trekking, climbing or mountaineering is the best option.
After Tenzing Norgay Sherpa and Sir Edmund Hillary climbed Mt Everest in 1953, it became popular among many adventure seekers. Peak climbing and mountaineering are now popular adventure activities in Nepal.
Climbing peaks are also called trekking peaks. Peaks that are less than 7000 meters above sea level are climbing peaks. Climbing is tougher than trekking but easier than mountaineering. So, you don't need any special training and previous climbing experience, but you should be fit.
Climbers with no previous experience can choose smaller and easier trekking peaks. But those with some past climbing experience may opt for the more difficult high peaks. Some famous climbing peaks of Nepal:
Mera Peak
Island Peak
Lobuche Peak
Yala Peak
Pisang Peak
Mountaineering is the activity of climbing high mountains. Usually, those mountains are steep and difficult to climb. It is a physically and mentally challenging adventure activity. It requires strength, endurance, technical equipment, and technical skills.
Proper planning, permits, and experienced climbing guides are also required for mountaineering. It has risks and can be dangerous if proper safety precautions are not taken. Everest, Lhotse, Makalu, Cho Oyu, Dhaulagiri, Manaslu, and Annapurna are famous for mountaineering.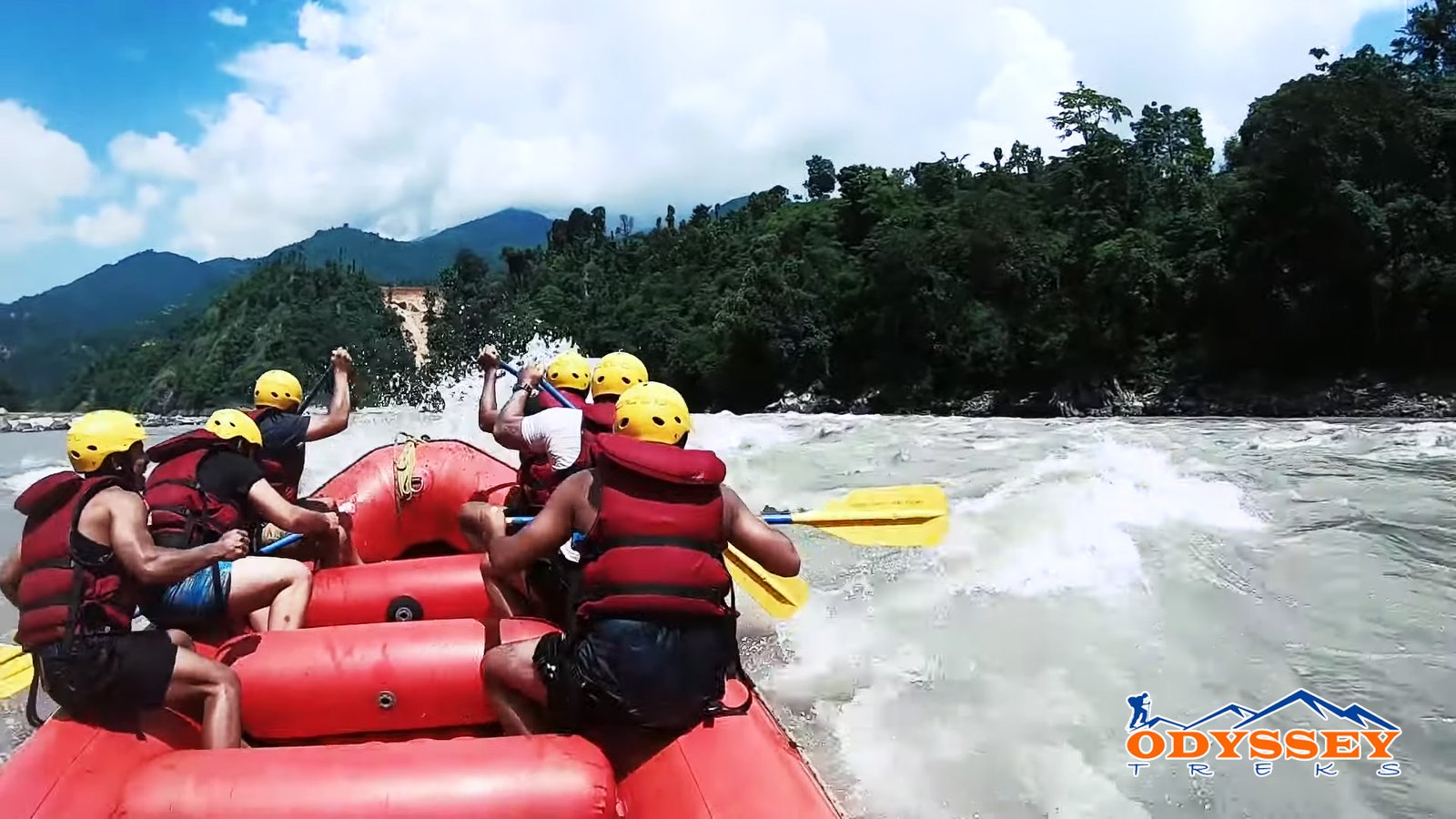 White Water River Rafting is also a popular adventure activity in Nepal. Nepal is the most popular whitewater river rafting destination in Asia due to its diverse geography and the many rivers that flow through the country. Nepal is home to many high Himalayas which have fast-flowing rivers and rapids.
Rafting in the fast-flowing water and rapids gives a lot of thrill. The country has dense forests, deep gorges, and high mountains that contribute to providing unique and challenging rafting experiences.
Nepal is rich in cultural heritage and many rafting trips in Nepal pass through villages. It also gives an opportunity to experience the local culture and history. You can find many options to suit your preferences, from easy trips to challenging multi-day ones.
Trishuli, Bhotekoshi, and Sunkoshi are the most famous rivers for rafting. There are different grades of rafting that you can choose according to your preference. For short and easy rafting you can choose Trishuli river.
If you are looking for a long day rafting then you can choose Sunkoshi River Sunkoshi River. But if you are looking for fast-flowing rivers for more thrill then Bhotekoshi is the best option.
Paragliding is a popular adventure tourism activity in Nepal. It is an amazing experience for adventure seekers in Nepal. Many tourists like to do it after the trek or before it starts. This exciting adventure activity allows you to fight the fear of heights and fly freely like a bird in the sky.
Paragliding is especially popular in the beautiful tourist town of Pokhara. The landscape of lakes, jungles, settlements, and mountains looks fascinating from the sky. Paragliding in Pokhara offers beautiful mountain views of Dhaulagiri (8,167 m), Annapurna (8,091 m), Fishtail (6,998 m), Nilgiri (7,041 m), and Hichuli (6,441 m).
Sarangkot is a beautiful hilltop village west of Pokhara where paragliding starts. Sarangkot is at a height of 1522 meters which is also a famous viewpoint of Nepal. This place is most famous for its sunrise and sunset views.
Flights are usually 15 to 25 minutes long depending on weather conditions and the altitude of the take-off point. The exact flight start time cannot be guaranteed due to changing weather conditions. Flights may also be canceled or delayed due to inclement weather.
Paragliding is a weather-dependent activity and may not be suitable for year-round flying. So, it is important to fly with an experienced guide and check weather conditions before flying.
You can do paragliding solo but it is not generally recommended. Solo paragliding is considered a high-risk activity, especially if you don't have previous experience or proper training. Tandem flights where you are flown by an experienced guide.
If you want to experience the thrill of freefall, Nepal is your right destination. Bungee jumping is one of the most popular adventure sports in Nepal. Nepal is one of the top 10 bungee jumping destinations in the world.
Bungee jumping is an extreme sport of jumping from a high platform. Jumping from a high platform is a unique and thrilling experience that is not available in many other countries of the world.
The most famous bungee jump is the Bhotekoshi River near the Nepal-Tibet border. It is also the first bungee jump in Nepal. Bungee jumping in the Bhotekoshi river is the most loved destination for many adventure and thrill seekers.
The suspension bridge over the Bhotekoshi river is one of the highest foot suspension bridges in the world. It is located 160 meters above the river. Standing in the middle of a bridge over a fast-flowing river and jumping is thrilling.
This free fall game ends a few inches above the river which is very adventurous and exciting. Bhotekoshi is also famous for river rafting so you can combine rafting and bungee in one trip.
Another bungee jump is at Kushma, 60 km from Pokhara. With a height of 228 meters, it is the highest bungee jump in Nepal and the second highest in the world. You can also enjoy bungee jumping in Pokhara but its height is only 70 meters. Although the height is less, you will find it exciting enough.
Jungle safari in Nepal is a popular activity for nature lovers and adventure seekers. It is an easy and great way to explore a forest and wildlife. Although it is an adventurous activity, it is suitable for people of all age groups.
The forest of Nepal is home to 180 species of mammals such as one-horned rhinoceros, elephants, tigers, snow leopards, Himalayan black bears, red pandas, crocodiles, turtles, pythons, cobras, etc.
Safaris take deep into the jungle and offer a chance to see some rare and endangered animals and birds. You will find a relaxing and peaceful natural place away from the pollution and noise of big cities.
You can explore the forest by elephant ride or jeep drive. A jungle safari by elephant ridge or a jeep drive is an exciting experience. Jungle safaris are usually conducted in national parks. The parks are also popular for nature walks, dugout canoeing, bird watching, and visiting local tribal villages.
You can go on jungle safaris in Chitwan National Park, Koshi Tappu Wildlife Sanctuary, and Bardia National Park. Chitwan National Park covers an area of 932 square kilometers and is also a World Heritage Site. Chitwan National Park is the most famous jungle safari in Nepal. The main attractions of this park are the one-horned rhinoceros and the Bengal tiger.
Nowadays, mountain biking is becoming a popular adventure activity in Nepal. Nepal is a great destination to experience mountain biking adventures on mountain trails. Mountain biking offers more thrills, especially in the Himalayan region.
since Nepal is the land of the Himalayas, it is a great destination for many mountain biking enthusiasts. The country offers a diverse range of terrain including rugged mountains, lush forests, and winding rivers. If you are an outdoor adventure lover, you can enjoy mountain biking in the Himalayan region of Nepal.
Nepal offers a choice of trails for mountain biking from easy to challenging. You can also choose a day trip or a multi-day trip. Enjoy mountain biking on mountains, remote villages, beautiful valleys, and sometimes single tracks. Good food and lodging facilities are available on most trails.
There are many trails available but Kathmandu to Pokhara is the most popular route. This route covers a distance of about 200 km and takes about 7-8 days to complete. The route passes through picturesque villages and paddy fields.
Another popular option is the Annapurna Circuit route. It is a challenging off-road route that takes around 12-15 days to complete as per the performance. Infrastructure in Nepal is not as developed as in other countries so some trails can be difficult and challenging. So, it is a good idea to go with a professional guide and a good quality mountain bike.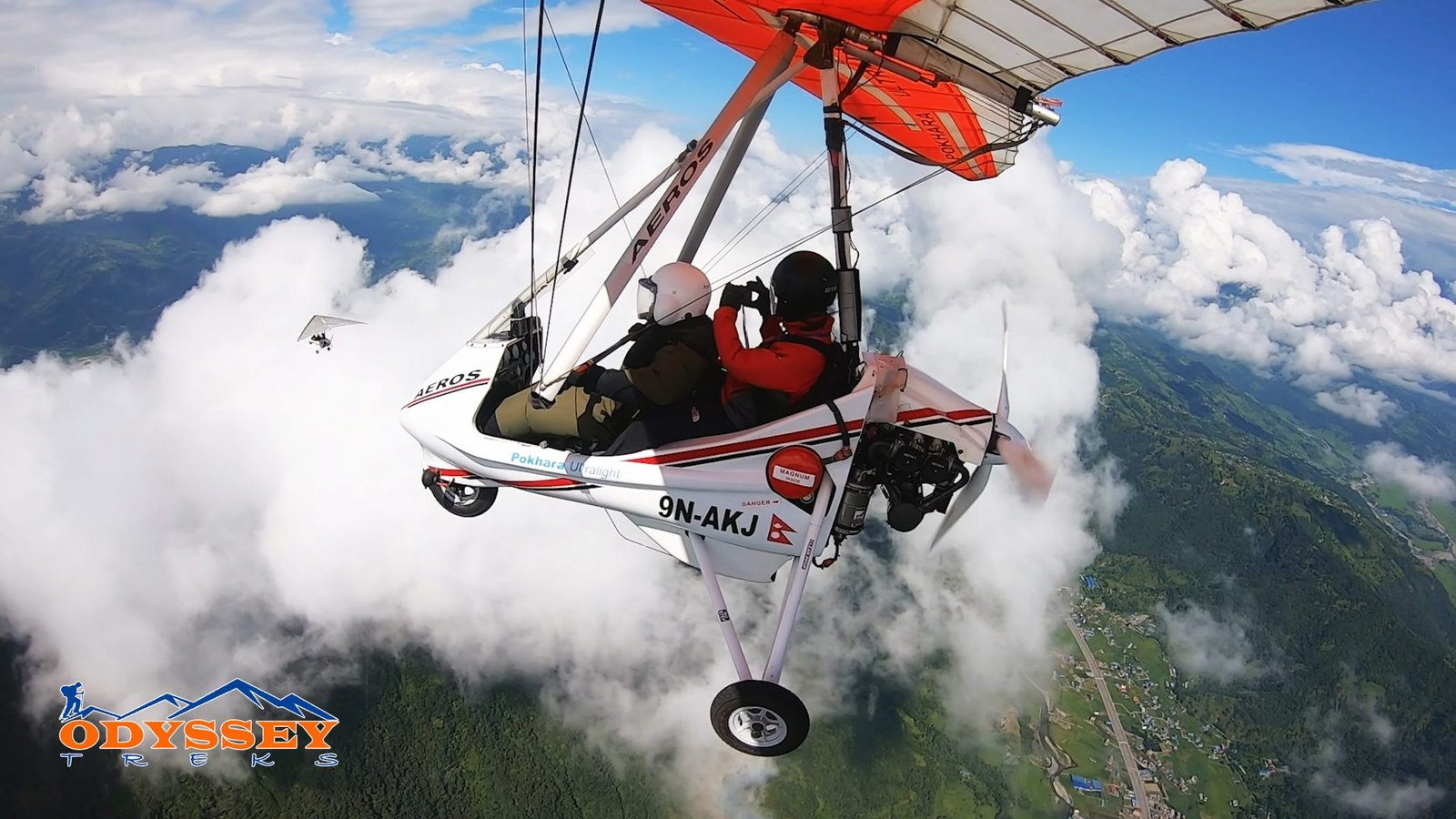 Ultra-light aircraft is also one of the popular tourist adventure activities in Nepal. It allows you to experience the breathtaking beauty of the Himalayas from a bird's eye view. The flights are operated by small lightweight aircraft known as ultra-light aircraft. These aircraft fly at low altitudes that can take off and land on short runways.
Flights usually depart from the tourist town of Pokhara. Pokhara is a popular destination for various tourist activities and the gateway to the Annapurna region. You can fly like a bird from the low ground to the majestic snow-capped white Himalayas.
It is a great option for panoramic views of Pokhara city, monasteries, lakes, mountains, and villages from the sky. Some flights even land at mountain airstrips. These flights offer tourists a chance to see the mountains up close and take photos.
You can choose the duration of the flight as per your preference. The shortest flight time is 15 minutes which offers a panoramic view of Pokhara city, Phewa Lake, Sarangkot hills, Buddha Gumba, and the entire Annapurna range.
You can fly for 30 minutes, taking you a bit higher and farther. The flight reaches close to Lamachaur and Fistel hills in the northern part of the valley. A 60-minute flight will take you higher and farther. It offers a panoramic view of the entire Pokhara valley including Annapurna 1, Annapurna 2, Fishtail, Dhaulagiri, and Manaslu mountains.
A 90-minute flight that takes you from the Pokhara valley to the heart of the mountains is also available. Overall, ultra-light flight in Nepal is a popular adventure activity among those looking for a unique, scenic, and safe way to experience the Himalayas.
Visit Also: Everest Base Camp Trek Package, Affordable Price, Full Package, Difficulty
Some Frequently Asked Questions:
What types of food and accommodation are available in Nepal?
Food and accommodation in Nepal depend on the location and budget of the traveler. Most Nepali cuisine uses spices, herbs, and pulses. Dal Bhat (lentils, rice, and vegetables) is the staple food of Nepal.
Apart from dal bhat, local Nepali dishes such as momos (dumplings) and chow mein (stir-fried noodles) are also available in most places. Depending on the location, you can also find more familiar international dishes such as pasta, pizza, and sandwiches.
Nepal offers a wide range of accommodation options. You can find it from budget homestays and guesthouses to luxury resorts and hotels. In cities and tourist spots, you can find hotels ranging from local to international hotels that offer a range of services.
In rural areas, you can find homestays and teahouses that offer an authentic cultural experience. Teahouses are a type of small lodges run by locals. These teahouses provide food and accommodation to travelers. Some remote trekking trails do not have food and accommodation facilities. You have to make all arrangements on these trails yourself.
What is the best time for Adventure activities in Nepal?
If you are planning to do any adventure activity in Nepal then it is important to know which is the right time. Spring (March to May) and Autumn (September to November) are the best time to do adventure activities in Nepal. These seasons have the best weather that offers clear views.
Although the summer is over in autumn, the winter has not yet started, so this is the perfect time to visit Nepal. During this time the weather is clear and the climate is cool. The green valleys and forests look natural and the scenery is breathtaking.
Cool weather, clear skies, and warm days are the main features of autumn. Autumn is the best time to experience high-altitude trekking and peak climbing. As spring begins after winter, this season is also the best time for adventure activities.
It is very cold in winter and rains a lot in monsoon, so winter and monsoon seasons are not recommended. Weather can affect activities, so it is better to check the weather before planning your trip.
What about security and insurance for adventure activities in Nepal?
Nepal is generally a safe country to visit, but it is important to always be aware of your surroundings and take precautions to ensure your safety. For adventure activities, you need to have proper equipment and guides.
Although travel insurance is not mandatory for visiting Nepal, it is recommended. There are many risks associated with adventure activities that insurance can provide financial protection when they occur. Your insurance should cover medical expenses, evacuation, and trip cancellation.
Medical services can be difficult to access in remote areas of Nepal. Hence the insurance policy needs to cover emergency medical evacuation. Also, make sure the guide you choose is reputable, qualified, and insured.
Do I need a visa to visit Nepal and if so, how can I get one?
Yes, all travelers other than Indian citizens need a visa to visit Nepal. You can get a visa on arrival at Kathmandu International Airport and land border crossings. A passport must be valid for at least six months to get a visa. You can also apply for an advance visa at your country's Nepali Embassy or Consulate.
You can pay the visa fee in Euro, Swiss Franc, US Dollar, Pound Sterling, Canadian Dollar, Australian Dollar, Hong Kong Dollar, Singapore Dollar, and Japanese Yen. Indian currency, Nepali currency, and credit cards are not accepted as payment.
Citizens of Ghana, Zimbabwe, Nigeria, Swaziland, Somalia, Liberia, Ethiopia, Cameroon, Iraq, Palestine, and Afghanistan do not receive visas on arrival. They have to get a visa from the Nepali embassy or diplomatic mission in their country.
Arrival visa fees at the point of entry are as follows:
15 days – USD 30
30 days – USD 50
90 days – USD 125
Minimum 15 days visa extension – USD 45
Additional charge as late penalty in case of delay – USD 5 per day
Can I use a debit/credit card as payment?
Debit/credit cards are accepted by most major hotels, restaurants, shops, and travel companies but this is not guaranteed. Some places do not have facilities to use the card, especially in remote rural areas. Some major locations may not even have the facility to process card payments. Even if they do, it may not be functional all the time. It's a good idea to keep some cash on hand as a backup in case you can't pay by credit card.
What should I pack for adventure activities in Nepal?
A list of some useful items:
Warm and waterproof clothing including jackets, pants, and gloves
Warm thermals, woolen socks
Hiking boots or sturdy shoes
A daypack to carry essentials
Sleeping bag and down jacket
Camping equipment (if camping trip)
A water bottle and water purification tablets or filters
First aid kit with essential medicines
Sunscreen, sunhat, and sunglasses
A flashlight or headlamp with extra batteries
Camera with extra batteries and charging device
Cash and credit card
Travel Insurance
Necessary permits and documents
Trekking Pole (if required)
Hand sanitizer, toilet paper, wipes, and a small towel.
Snacks and energy bars
Map, Guidebook (if required)
Pocket knife
Do I need a permit for adventure activities in Nepal?
Yes, some adventure activities in Nepal need a permit. Permits are not required for all adventure activities. But activities such as trekking, climbing, and mountaineering are required. Permits are issued by the Government of Nepal to regulate and manage the number of visitors to certain areas.
Most of the popular trekking routes need a TIMS (Trekkers Information Management System). And you can get this card from Nepal Tourism Board or Trekking Agency. Climbing or mountaineering requires a climbing permit. This climbing permit is issued by the Nepal Mountaineering Association (NMA).
If you are trekking inside a conservation or national park, you need to pay the conservation fee. But for trekking in restricted areas, you need a special permit. This type of special permit is issued by the Immigration Department. The cost and procedure of obtaining a conservation fee depend on the trekking area.
Adventure activities will give you a wonderful experience of a lifetime. If you are also an adventure lover, choose Nepal as your destination and make your trip more exciting. Odyssey Treks is a famous adventure tour operator in Nepal that conducts exciting outdoor activities as per your needs. If you have any queries mail us at [email protected].
You may like: Mountain flight in Nepal, best view from the sky