Trip Overview
Introduction to Dagala Thousand Lakes Trek
Dagala Thousand Lakes Trek is also known as the Bhutan Dagala Trek which is a popular trekking route in Bhutan. This is a short trek near Thimphu which takes you to some beautiful high-altitude lakes.
Dagala Thousand Lakes Trek takes you to the heart of beautiful Bhutan. The Dagala Trekking Trail leads from the ridges and meadows up to an altitude of 4,240 meters to a spectacular view of the entire Dagala range.
For those who love fishing, this trip is a paradise because the lakes are full of trout. The beautiful Utsho Tsho, Relitsho, Setsho, Hentsho, and Jagetsho lakes in Labatama are enough to entice you.
The trail is rich in alpine flowers, rhododendrons, various species of pheasants, and musk deer. During this 9-day Dagala trek, you also visit the monasteries and temples in beautiful natural surroundings.
The experience of being disconnected from the materialistic and commercial world cannot be compared to the experience of walking in remote places with views of the Himalayas in the background.
Dagala Thousand Lakes Trek is also an opportunity to learn about the culture, rituals, and traditions of Bhutan, which is predominantly Buddhist.
Before starting Dagala Thousand Lakes Trek you visit Tiger's Nest Monastery, the most famous and beautiful monastery in Bhutan. The next day the trek starts from Genakha Primary School which is 29 kilometers away from Thimphu city.
Start Trekking
Bhutan Dagala Trek starts from Genakha village and continues with alpine flora and fauna. After a two-hour gradual uphill walk, you reach a huge rock platform that offers a panoramic view of the valley below.
visit: Ultra Light Aircraft in Pokhara City, Phewa Lake, Sarangkot Hill, Mountains
You stay in Labatama for an extra day to visit Relitsho, Hentsho, and Jamatsho Lake. This extra day is also ideal for trout fishing. The trail takes you to the western side of Dala Tsho at an altitude of 4,520 meters from where you can enjoy the best views of Mt. Everest (Nepal), Mt. Kanchenjunga (Sikkim), Mt. Jomolhari, Mt. Jichu Drake, Mt. Tshering Gang, Mt. Khangbum, Mt. Masang Gang, Mt. Tsende Gang, and Mt. Ganache Ta. The trek ends at Chamgang and from there you drive to Thimphu.
Dagala Thousand Lakes Trek is a great option for those looking for adventurous trekking in the land of thunder Dragon. Having to walk at an altitude of over 4000 meters and walk an average of 6 hours each day, this trek requires good physical fitness.
There are no "teahouses", villages, or people on this trekking route. So trekkers need to set up camps in many places. Autumn and spring are the best seasons for Bhutan trekking, but we Odyssey Treks arrange trekking packages at any time of the year, depending on the holiday of trekkers.
Pack your bags and get ready to trek the beautiful and peaceful Bhutan with Odyssey Treks. Make your trip to Bhutan an unforgettable moment for a lifetime.
You may also visit: Bhutan Snowman Trek in 27 Days, Cost, Distance, Itinerary, Solo, Maps
Trip Highlights
Bhutan Dagala Trek in 9 days, Trek Path, Distance, Maps, Itineary
Why not list the price?
Each client's needs may be different. The price of the trip varies according to the size of your group and the service you want. The cost of the trip is calculated according to the type of service and accommodation chosen by our customers.
Each trip is customized to fit the client's needs and group size, so the price of each organized trip is different. Please let us know the service you want and the size of the group. We create trips to suit your taste and travel budget per your requirements. Hope you find our price calculation reasonable according to your needs and preferences.
Google Review
Guest Review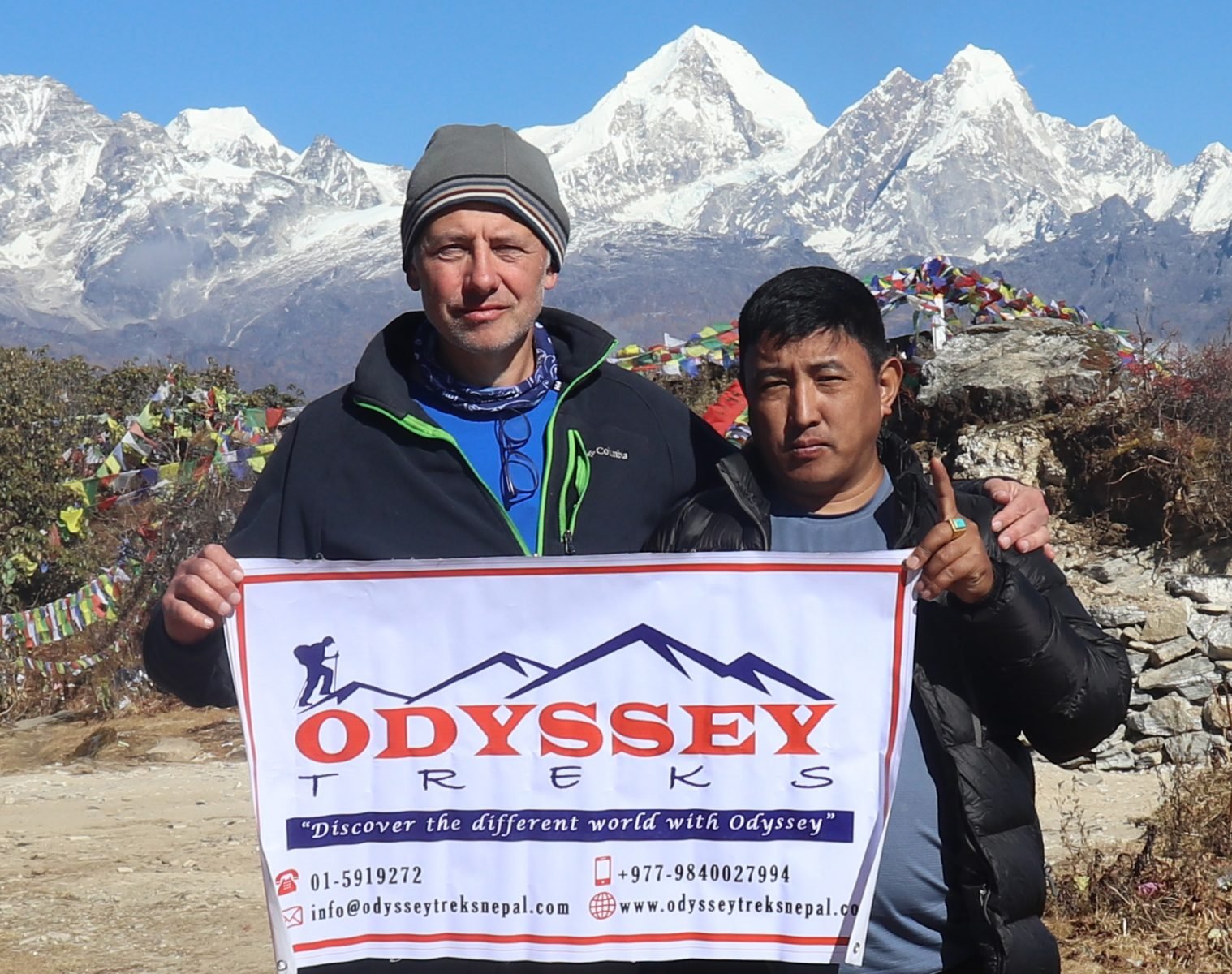 Dom Miller
2022-12-10
Nepal
*****(5 star)
Have just returned from my fourth trip to Nepal and as always Odyssey Treks organized everything superbly. We visited Makalu relatively late in the season and were rewarded with empty trails and amazing weather. Karma was as entertaining, friendly, and informative as ever along with Ang Dawa Sherpa who together made the three weeks perfect.
They also organized a few days to Helambu at short notice as I had some time spare, all done easily and professionally. Thanks for the company both and I will be back again. I cannot recommend Odyssey highly enough as a genuinely friendly, locally based company that provides not only unforgettable experiences but also great service at a very reasonable cost.
Thanks.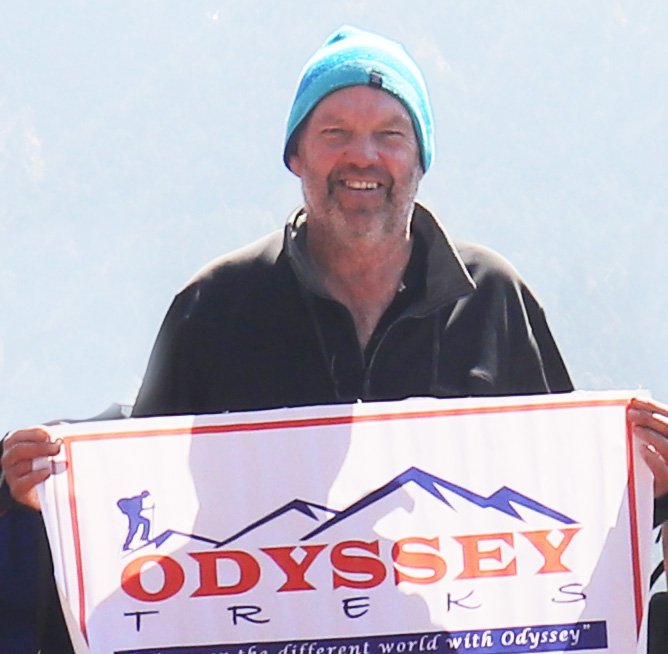 Alex Matthew
Tsum Valley Trek
I have just returned from the trip of a lifetime. Always wanted to visit and see the Himalayas and to have completed the trip with the most excellent hosts really made the trip come alive. Odyssey took care of everything and ensured that we experienced real Nepalese hospitality. We climbed up to 3700 meters, saw Ganesh Himal, experienced true excitement on the trek, ate superbly produced fresh food along the route..and above all met some amazing people. Thanks to Karma, Rinji, and our fantastic porters…without you guys it wouldn't have happened!! All the best. Alex
---
Trip Highlights

Trip Durations 9 Days
Trip Destination Bhutan
Group Size 1-12
Accomodation Hotel/Tented Camp
Trip Style Bhutan Trekking
Trip Grade Moderate
Best Season March-May, Sep-Nov
Max Altitude 4,520m
Trip Start Thimphu
Trip End Thimphu